3M Inspire Challenge – Internship Opportunity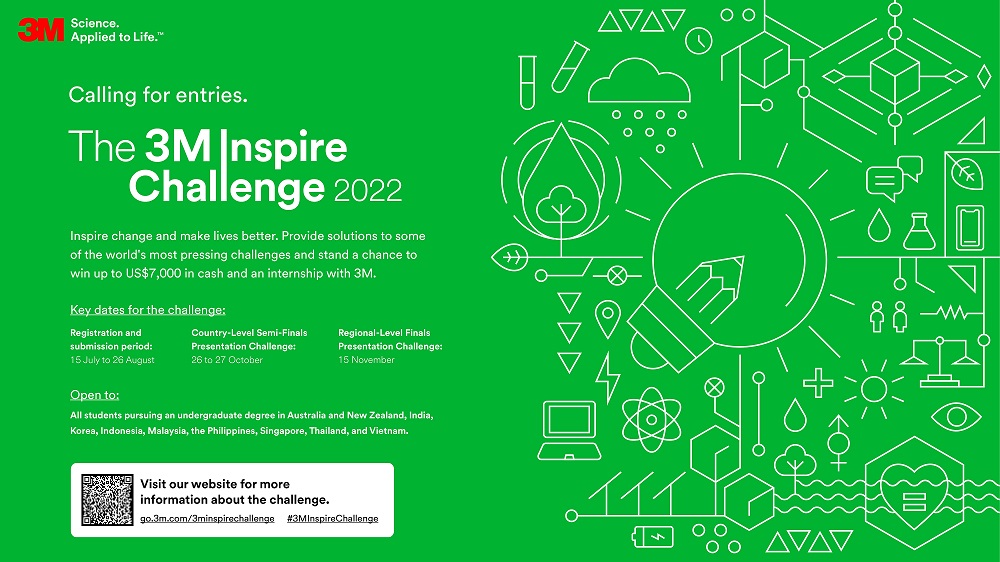 3M unlocks the power of people, ideas and science to reimagine what's possible.  Through the 3M Inspire Challenge, 3M seeks to uncover innovative ideas and solutions to solve the world's greatest challenges, and create a more positive world.
3M has launched the 3M Inspire Challenge 2022, a case competition open to undergraduate students from all courses of study. This competition will be a valuable opportunity for students to showcase their creativity, innovation, business acumen and gain industry exposure.
Details of the Case Competition
Taking place from now until 15th November, 2022, the challenge seeks innovative ideas across three themes: (1) Sustainable Materials, (2) The New Paradigm (A Pandemic Aware World), and (3) Equity (Through Science and Technology). 
The challenge features two stages. Three shortlisted teams from submissions collected across Australia and New Zealand will compete in front of a live judging panel on 27th October. The winning team will be awarded the title of "Australia and New Zealand Country Champions", receive a cash prize of USD$2,000, and secure internships at local 3M offices. 
The Country Champions will then proceed to the Asia-Pacific Finals, where they will face-off against one another to clinch the ultimate title of "Asia-Pacific Champions" and top prize of USD$5,000. 
Throughout the challenge, participating teams will also receive mentorship from 3M professionals.     
A total of 122 teams from Southeast Asia participated in the challenge last year. Winning ideas included smart bandages that could monitor wound healing, a 3M 360° virtual store, and sustainable bioplastic surgical masks.
Registrations and submissions are open from now until 26th August 2022. Please refer to the timeline below: 
Date
Activity
 
Launch of challenge: registration and submissions open for 3M Inspire Challenge 2022
26 August 2022
Registrations and submissions close at 2359 hours (local time)
 By 23 September 2022
Shortlisted teams notified to compete in the Australia and New Zealand Country Semi-Finals
26 September-14 October 2022
3M Mentor sessions with the shortlisted teams (with in-country representatives)
27 October 2022
Round 1 Australia and New Zealand Country Semi-Finals Presentation Challenge

Australia and New Zealand Country Champion announcement
27 October-11 November 2022
3M Mentor sessions with Country Champions in preparation for Asia-Pacific Finals
15 November 2022
Round 2 Asia-Pacific Finals Presentation Challenge

Asia-Pacific Champion and runners-up announcement
Please find more details on the 3M Inspire Challenge website. 
The steps for applications are:
Visit the 3M Inspire Challenge website http://go.3m.com/3minspirechallenge
Register yourself and/or your team members
Choose one out of the three themes https://multimedia.3m.com/mws/media/2193005O/3m-inspire-challenge-2022-case-themes.pdf
Review the Submission Guidelines template here and;
Submit via

[email protected]
About 3M
3M supports a diverse pipeline of talent for the next generation of great leaders, thinkers, and creators. We are powered by inclusion, and believe diversity enables a wide array of perspectives, abilities, experiences, and personalities that spurs creativity, new ideas and disruptive innovation.
Since our start in 1902, 3M has evolved into a global powerhouse driven by science, innovation and integrity. With more than 60,000 products and sales in approximately 200 countries, all of our 96,000 employees are dedicated to science and exploration – driving to understand our customers' needs. We strive to solve today's challenges and prepare for the future, aiming to create a more positive world through science by delivering innovative solutions that add value for our customers. Our impact spans markets – from advanced health care, personal safety, and industrial abrasives to traffic safety, food safety, commercial solutions, stationery products, and more.  
3M is well known for innovating Scotch tape in 1925 as well as a wide variety of adhesive products – from delicate skin tapes used in health care to incredibly strong VHB tapes that can hold components of skyscrapers together.
3M's Art Fry innovated Post-it Notes after his bookmark kept falling out of his hymn book during church choir. He tried to find ways to create a "sticky" bookmark that would stay in place but ended up with an a-ha! moment after he started writing little notes on them to his boss. They were not a bookmark but in fact a new way to communicate! After 12 years and many iterations, Post-it Notes were launched in 1980.
28-07-2022
Job type:Internships
Disciplines:

Business and Commerce, Engineering, Information Technology,

...

Work rights:

Australian Working Visa, Australian Permanent

...

Locations:
Closing Date:26th Aug 2022, 1:59 pm
Search
Enter an employer or university you want to find in our search bar.