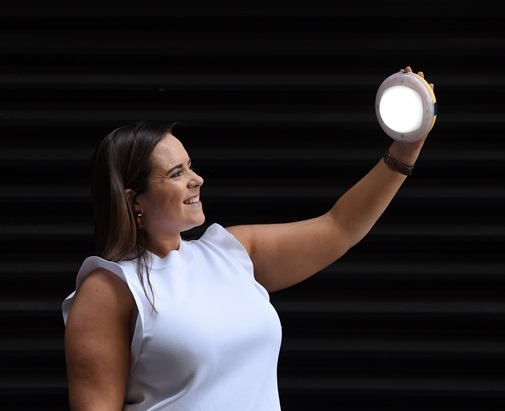 Amy Forsyth, Structural Engineer, Melbourne
When I went to university, I initially enrolled in a dual Bachelor of Science/Arts because I had no idea what I wanted to do, and studied languages, statistics, psychology and biology — really keeping my options open! After a month or two, I heard about what some of my friends were learning in engineering and it sparked my interest straight away. I sat in the back of a few of their lectures, then made the official move across after one semester and I graduated with a Bachelor of Engineering (Civil).
I am currently based out at a major project office in Melbourne working on the Rail Infrastructure Alliance (RIA) as part of the Metro Tunnel Project. My role is Deputy Project Manager for the design team, so I help to look after program, resources and budget as well as coordinating the design among all of the disciplines. Being part of delivering a project means you are in a very fast-paced environment, with constant challenges, which is my favourite thing about my current role. I also really enjoy the client-facing aspect and working with different people to solve problems.
I lead AECOM's Connect Committee in Melbourne, which is our early professionals' committee. Getting involved in the committee and attending events is an easy way to form friendships with grads and networking with senior leaders and clients. I love the support network that Connect provides for early professionals as we find our feet in the business and the industry.
Last year, I received a Blueprint Travel Grant to spend time in India, participating in Pollinate Energy's Professional Fellowship. Pollinate Energy is a social business, based in Australia and India, that delivers life-changing products to millions of people in India's urban slum communities, while building community resilience and empowering locals with meaningful employment opportunities. With likeminded professionals from around the world, we collaborated to offer fresh perspectives on Pollinate's business operations and to develop recommendations and strategies for making an even greater impact.
If I could offer some advice to grads, I'd suggest they try everything and say yes to every opportunity — you never know where you may end up! The industry is so varied and there are so many diverse and interesting career paths you can take. I've actually just been given an opportunity to step into a design management role at the RIA, which is really exciting as it gives me the chance to combine the project management skills I've been developing with my technical engineering background.
---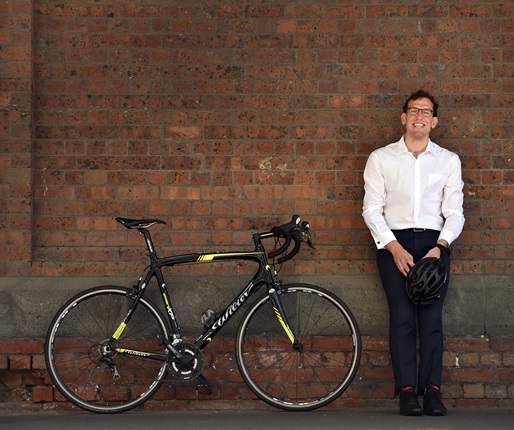 Cameron Gook, Economist, Melbourne
I started my post-high school studies with a Bachelor Commerce, having no idea at the time what I really wanted to do. I saw Commerce as a good way to gain an understanding of the fundamentals of business and give me some direction. During and after my degree, I travelled a lot and did a few business-related internships that gave me insights into what I was interested in and what industry I wanted to work in. This, plus growing up on a farm, led me to engineering and I added a Masters of Engineering (Mechanical). It's funny that although I started my life at AECOM as a mechanical engineer I now work as an economist… go figure!
I generally get into the office early and get my pick of desk (our Melbourne office has hot desking). I work on a large variety of projects, so some mornings will be spent following up on emails, whereas on other mornings I'll dive straight into something like economic modelling for a range of infrastructure investments or doing some project- management tasks. The economics team also has a routine coffee run where we head out of the office in the morning to have a quick coffee and catch up to talk about our projects.
Lunch is a very important part of the day in the kitchen where the daily quiz takes place. The quiz comes with (friendly) heated debate and a lot of fun. My afternoons consist of things like writing reports or researching economic data and economic parameters used in models and analysis. Generally, I will have a couple of project meetings and — on a good day — Cake Club (yes, Melbourne has a Cake Club and it's amazing!). If all goes well, I'm on my bike at 5:30 or 6 p.m. to head home.
While Cake Club and the quiz are great engagement tools, there are challenging aspects of being part of the economics team that also keep me interested and engaged. The projects I work on are highly varied; one day, I might be interviewing cargo owners to find ways to improve the efficiency of their supply chain, and the next I might be building a model to investigate the economic benefits of urban renewal. Being able to wear multiple hats and quickly switch them can be challenging, but it's very rewarding. I have had the opportunity to learn a lot about industries that I previously never knew anything about.
In addition to team outings, the Connect Committee (AECOM's early professionals' group) and the Social Club put on a huge range of events throughout the year that are heaps of fun and a great opportunity to meet people from across the business.
I'm also lead AECOM's Corporate Social Responsibility program, called 'Give Back', here in the Melbourne office. This is a committee of 15 people who promote our corporate social responsibility program. My role means that I am part of the roll-out of a huge range of initiatives across the office from volunteering at the Asylum Seeker Resource Centre to meditation and yoga in the office. The Melbourne office has a focus on mental health, the environment and education outreach this year, and we provide opportunities for staff to get involved and make a difference.
It is a fantastic time to join the infrastructure industry with unprecedented government spending. City-shaping projects are happening across the industry meaning it's the perfect time to learn and make your mark. Infrastructure impacts everyone and is presenting major challenges, and the industry is going to have to move quickly and to respond innovatively.
I am looking forward to new, different, challenging projects this year that allow me to improve outcomes in public infrastructure and innovate in the way we approach investment in infrastructure.
---
Jordan Bartlett, Graduate Electrical Engineer, Brisbane
As a young, Indigenous male growing up in a small country Queensland town, university wasn't the first thing that came to mind about what I wanted to do in the future, let alone studying electrical engineering. Although having moved to a bigger town and bigger school in my mid-teens, this soon became possible. I decided I wanted to study electrical engineering during senior high school, as I became very interested in, and performed well in, subjects such as physics, chemistry and maths. That, combined with my love for anything electronics related, meant I thought that electrical engineering would be the best fit for me. After high school, I decided to move straight to Brisbane to study electrical engineering at the Queensland University of Technology.
My role as a graduate electrical engineer generally involves assisting in the technical design phase of projects. Currently, I am working on a large copper-and gold-mining project located in South Australia, which will mine one of Australia's largest undeveloped copper deposits. So far, I have been able to assist in the design of the power and communication networks for the mine. This work will become an integral part of what makes the mine run and this project achievable.
The task I most enjoy in my job is the design aspect. The design phase of a project is when you see an idea become a reality through the creation of drawings, lists and models. These are sent to the client to be constructed, and eventually become the finished project. 
I started with AECOM through the CareerTrackers Program, which provides internship opportunities for Aboriginal and Torres Strait Islander university students. I was one of the first two CareerTrackers interns at AECOM. Over my years of interning, I watched the relationship between the program and AECOM strengthen as AECOM went from just two interns to signing a '10×10' deal with the program, which means AECOM is taking on 10 Indigenous interns each year for the next 10 years. During my time with AECOM, I have been involved in all events involving AECOM and the CareerTrackers program, as well as assisting to improve the relationship and helping to advise AECOM on what it can do to improve the experience for CareerTrackers. Now that I am a full-time AECOM employee, I hope to keep assisting AECOM with the program and possibly to mentor students or be a buddy for an intern. I was also proud to have the opportunity to be involved in creating AECOM's Reconciliation Action Plan.
Outside of work, I am passionate about sport — mainly touch football, rugby league and basketball. AECOM is great in that it is very team orientated when working on large projects, so I see a definite relationship between working in a team on the sporting field and in the workplace.
One piece of advice I would give to someone interested in a career in infrastructure and engineering would be to try as many different aspects of the industry as possible, and to network with as many people as you can. Companies such as AECOM, which are global and are multi-faceted, can provide amazing opportunities to learn and advance your career!
In the next year, I just hope to learn as much as possible and meet as many people in our business as possible, so I can set a good foundation for the rest of my career.
---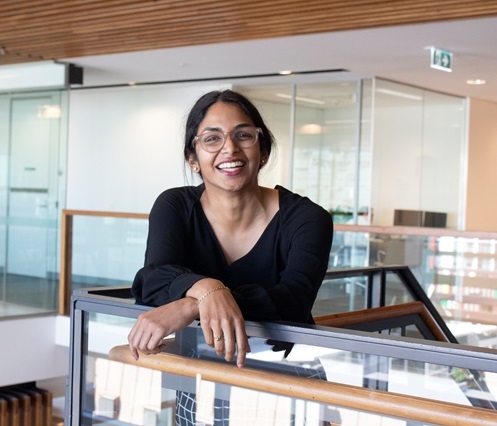 Kesh Preeyadarshanan, Civil Engineer, Brisbane
I've always enjoyed problem-solving and, given that I was enjoying studying maths and science in high school, I looked into engineering. I ended up graduating with a Bachelor of Engineering (Hons, Civil & Environmental) and a Bachelor of Science (Geographical).
Engineering is a diverse and wide-ranging degree, so there's definitely something for everyone. Variety is the spice of life!
During my work day, I use design software to create my designs, and I chat with colleagues from other disciplines to get their input into those project designs. Sometimes, I'll even be out on site witnessing proof rolls! Working in infrastructure is challenging and interesting work that ultimately benefits people in the local community and across the country.
AECOM at its core is about the people, and I enjoy coming in to work and having chats with people from a variety of backgrounds and career levels, about both work and life! There are so many people to learn from in the business. I love working in a team, so learning about other disciplines and how your design can interact and change with them is what I enjoy most. If you love team work and diverse projects, then you'd enjoy working here.
I've found the graduate and early professional culture at AECOM to be very welcoming and supportive. The Connect Committee puts on events for socialising, networking and helping us advance our careers. I get a kick out of events such as Corporate Games (doing 10-pin bowling, basketball and dragon boating with my AECOM colleagues) and the 10,000 steps a day challenge. I've made incredible friendships at AECOM, not just within my discipline of engineering, but with people from many different fields.
AECOM not only encourages, but also helps to facilitate volunteering opportunities by providing every employee with volunteer leave. This year, I used mine to help run 'Power of Engineering' workshops to encourage school-aged girls to consider pursuing a career in STEM subjects.
Through Connect, our early professional committee in the Brisbane office, I helped to bundle new socks, underwear and toiletries for homeless young people in Brisbane. Connect had held a drive in our office where AECOM employees donated these essential items. We then took the donated items to the Property Industry Foundation and Anglicare, who provide them to families in our local community who need them most.
This year, I'm working towards becoming chartered with Engineers Australia, and I hope to spend some time in a different Civil Infrastructure team to broaden my knowledge and learn about and appreciate different aspects of engineering.
---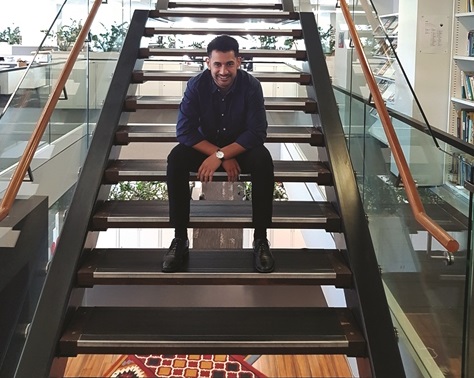 Semisi Ikahihifo, Undergraduate Electrical Engineer, Auckland
I decided to study engineering because I always enjoyed problem solving and finding out how things work, so engineering seemed like the natural thing to study. In fact, every time I did those job surveys in high school engineering came up, so I just went with it and earned a degree in electrical engineering.
On a typical day, I get in to the office around 9 a.m. and check emails and my calendar. If I have no meetings planned, I continue working on outstanding projects or ask my manager if he has anything I can help with. Most of the work I do is lighting and/or power layouts for buildings. I use programs like AGI32, AutoCAD, Bluebeam and Revit. On the lighter side, I am working on my latte art on the coffee machine we have here. I recently made a fern, which was one of my goals for the summer.
I enjoy learning more about the technical side of engineering work from my team and then trying to figure things out using my skills and knowledge. It's satisfying knowing that you're working on a real project. I also enjoy our team meetings and seeing the excellent teamwork here at AECOM, and I especially enjoy the inter-office collaboration. I think being able to communicate and work in a team are the skills that I have used the most in my role. My team has supported me from the get-go, slowly helping me build up my knowledge and skills.
AECOM has a really welcoming culture. I was surprised that on my first day on the job, I was able to play in the work touch football team. I'm into sport, which seems to be a theme as lots of people here are as well. There are quite a few work teams in different sports, which is nice to see. I like to hang around with the grads and interns, although I have a missed karaoke session to catch up on!
In my spare time, I volunteer at Auckland City Mission one weekend per month, just helping out in the kitchen or wherever I'm needed. It has just moved to a new location, so that the old mission building could be demolished and replaced. I'm excited to see the new City Mission building start going up this year. It was a nice surprise to discover that AECOM was working on this important project. I also like how AECOM supports charities and provides a volunteer leave day employees can use helping a charity they support.
In the next year, I hope to finish up with university while keeping up with my extracurricular activities.
---