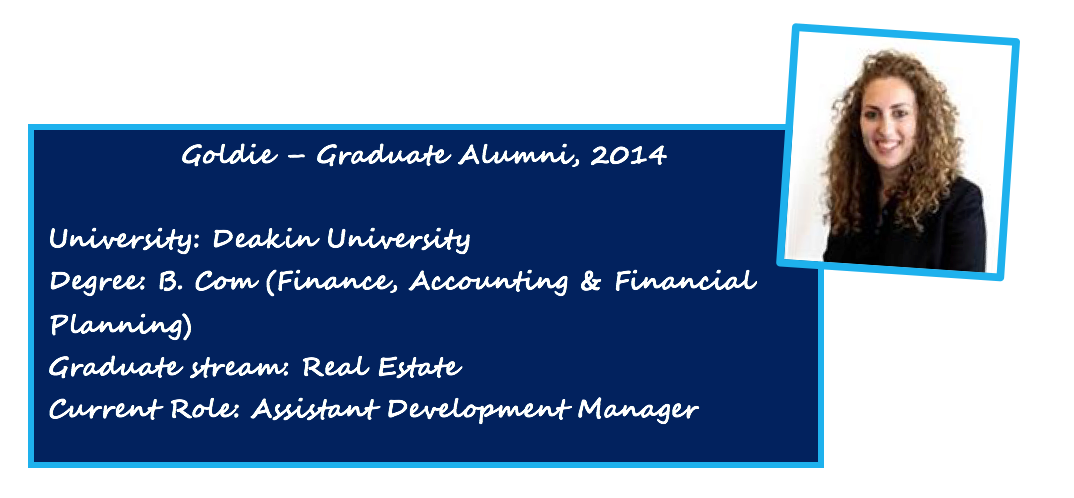 Career journey post Graduate program:
Post the Graduate program I rolled off into an Assistant Development Manager role within AMP Capital Real Estate. Within that, I spent the first six months focusing on feasibility analysis for a couple of major new projects we were putting together. A few months later I got my own project to run at 330 Collins Street which I took from concept planning all the way through to achieving Development Consent from the City of Melbourne.
In September 2017 I went on secondment in the US and UK with Infrastructure debt for three months. That was an amazing development opportunity. I was lucky enough to take part in two major transactions with the teams in London and New York. I have recently returned and am settling back in to the real estate team.
During my time with AMP….
I have had a number of highlights in my career at AMP Capital, but more importantly have found the individuals in the business have a great culture of sharing learnings and are always happy to help.
Probably the two highlights of my time here would be winning the international challenge and heading to NY to research new models of business for real estate, and going on an international secondment. Both have been eye opening experiences, particularly as AMP Capital grows internationally and aims to be a preeminent global asset manager. I really felt the growth in the business, particularly in London!
How did the Graduate program prepare you for your career post program?
The diversity of roles and teams I had experienced within Real Estate ensured that after the program I had a clear idea of what I actually wanted to do, what each team did, and how they spent their time. It has also been very useful to have a network across the asset class that I can ask questions to and learn from even after the graduate program.
My best advice to Graduates….
Learn as much as possible whilst on the graduate program. Learn the art of asking someone to coffee – it is a good way to learn about the business and grow the network. Take the time to experience all the teams that seem interesting to you and take advantage of your time in the learning zone.
My AMP is…. GROWING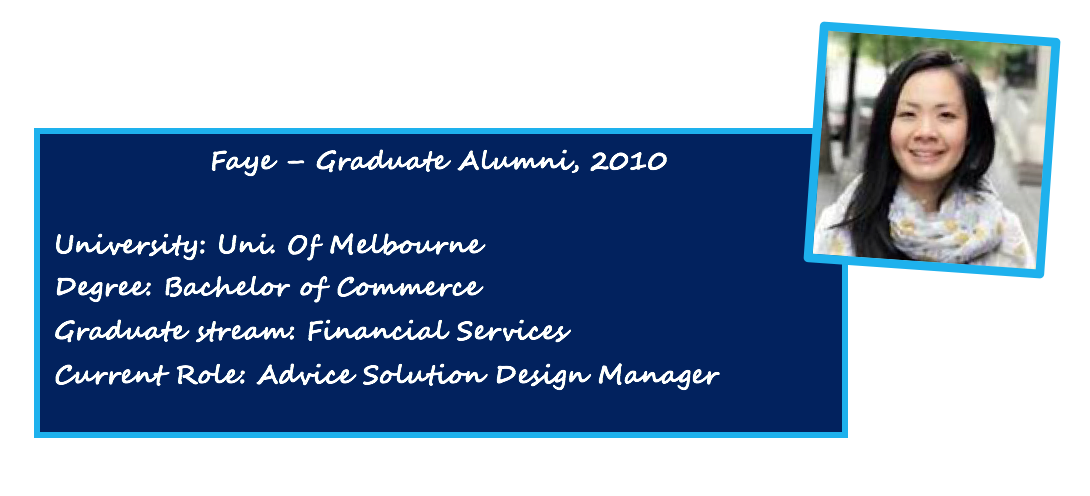 Career journey post Graduate program:
After completing the Graduate program in Financial Services I stepped in to a Hedging Analyst role in the North Risk Management Team (Product). From here, I moved on to Solution Design Consultant in the Customer Segments Team, and then my current position of Advice Solution Design Manager in Channel Services (Advice).
During my time with AMP….
Starting as a Finance Graduate, I never thought I'd have the type of career I've had at AMP.
I've worked across so many different parts of the business, even after rolling off the graduate program where I was able to gain exposure through a number of different rotations. I have spent time in Product in a highly technical financial markets role, moving on to a design based creative role in Customer, and more recently taking the design lens and leading teams to deliver a range of strategic technology projects in the Advice space.
How did the Graduate program prepare you for your career journey post program?
I believe the rotation structure of the Graduate program set me up really well for the type of career I've had at AMP. The program cultivated the ability to be able to learn quickly and apply broad knowledge and skills to new roles and opportunities. The wide stakeholder network gained through the Graduate program also continues to benefit me today.
My best advice to Graduates….
Don't be afraid to try something that feels outside of your comfort zone, because that is when you will experience the most amount of growth in your career.
My AMP is…. SUPPORTIVE