Diversity and Inclusion at Aon

Aon
---
Diversity & Inclusion Strategy
"At Aon, we believe that innovation and a true customer focus can only be achieved through harnessing an inclusive and diverse workforce. In a fast moving world, unique and varied perspectives allows for customer solutions that are equally dynamic, relevant and has the added benefit of enhancing collaboration amongst our many talented colleagues. Diversity and inclusion empowers Aon to empower results" – Josephine Simeone, Director of People and Culture – Aon Pacific.
Aon is committed to creating a winning and inclusive culture with growth and development opportunities for everyone. Diversity is the foundation on which we have built our world-class organization, unparalleled in delivering distinctive value to clients in risk, retirement and health services.
Inclusion at Aon can be defined as a sense of belonging, feeling respected, valued for who you are; the achievement of a work environment where all colleagues can do their best work, have fair and equal access to opportunities and resources, and can contribute fully to the organisation's success. It is the power to align and integrate Inclusion concepts and offerings into all areas of Aon that ultimately drive business, create opportunities, and serve our clients internally and externally.
Aon's Inclusion strategy aligns with our overall business and talent goals, Aon Leadership Model (ALM), and leading workforce priorities in key areas including Unmatched Talent, Workforce Diversity, Cultural Competence, and Inclusive Culture.
Inclusion Strategy: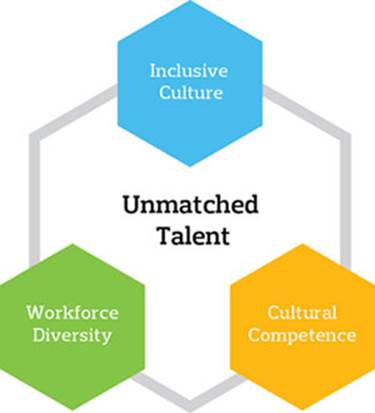 Cultural Competence: build differentiated capability through innovation
Workforce Diversity: live our values
Inclusive Culture: deliver distinctive client value
Unmatched Talent: attracting, developing, and retaining top talent is at the core of our inclusion vision
By embedding the Inclusion strategy into the Aon Leadership Model and the Aon Colleague Experience, we continue to leverage and maintain strong leadership support, a compelling business case, and action plans that lead to attraction, engagement, retention, and advancement for colleagues.
Through inclusion, we are able to increase colleague engagement and career growth opportunities at Aon, serve our clients better by providing them unique and effective solutions to help them address their diverse issues, and strengthen our global business through understanding cultural nuances and others' interpretations of values and worldviews.
Aon's Reflect RAP (Reconciliation Action Plan)
Download a copy of Aon's Reflect RAP
Aon's vision is to partner with Aboriginal and Torres Strait Islander people and their communities to empower economic and human possibility and to create social impact. We aim to deliver community value through our collective expertise in risk management across all of Aon's core capabilities.
Reconciliation Australia has endorsed Aon's Reflect Reconciliation Action Plan and we are looking forward to building mutually beneficial partnerships with Aboriginal and Torres Strait Islander peoples and communities.
---