Summer Internship - Cyber
Do you want to work with a leading Australian energy infrastructure business?
APA is a leading Australian energy infrastructure business, connecting Australian's to responsible energy since the year 2000. We employ around 1900 people around Australia. We own and/or operate around $22 billion of energy infrastructure assets across Australia, including wind and solar farms, gas storage, gas transmission and processing facilities, and gas-fired power stations. We are also making significant and exciting progress in renewable storage and hydrogen.
Bring your energy!
We want you to help us shape the future of the energy industry. Our vision to be world class in energy solutions. We harness the strengths and experiences of our people to tackle challenges our communities face in this ever changing world. We pride ourselves on being collaborative and we celebrate diversity and inclusivity.  
If you have the energy and courage to make a positive impact, we would love to hear from you.
Cyber Opportunity available
Security Operations team help keep critical infrastructure safe from cyber threats. Security Operations team provide threat detection & response services including monitoring; intelligence gathering; threat mitigation and maintenance of key security controls.  
You would be expected to review and assist with:
the update of procedures and guideline documentation for the security operations team
daily phishing incidents and learn to tell the difference between spam and malicious emails
operational and reporting tasks 
first level compliance monitoring and investigations 
forensics analysis and fact gathering
running vulnerability assessments and following raise requests to mitigate vulnerabilities 
applications and tools including, but not limited to SIEM, Proxy, EDR, e-mail gateway protection, and DLP tools 
compliance audits against security controls
record and track IT security incidents, including but not limited to policy violations, compromised accounts, e-mail threats, and abuse    reports from various sources
To be eligible to apply for the Summer Internship, you will be:
graduating in 2021, 2022 or 2023
studying a degree in Cyber, Information Technology or Computer Science
located in Melbourne
available to start your Internship full time 12 January until 23 February 2022
How to apply:
Submit your Cover Letter, CV, academic transcript and application via the "Apply" button
Applications close on Sunday 31 October 2021
APA is an equal opportunity employer. The safety and sustainability of our people, community and environment is our focus. We embrace diversity in our people to ensure our workforce is representative of the communities that we operate in.
Applicants must be eligible to work in Australia to be considered. APA Group is not accepting submissions from recruitment agencies for this role.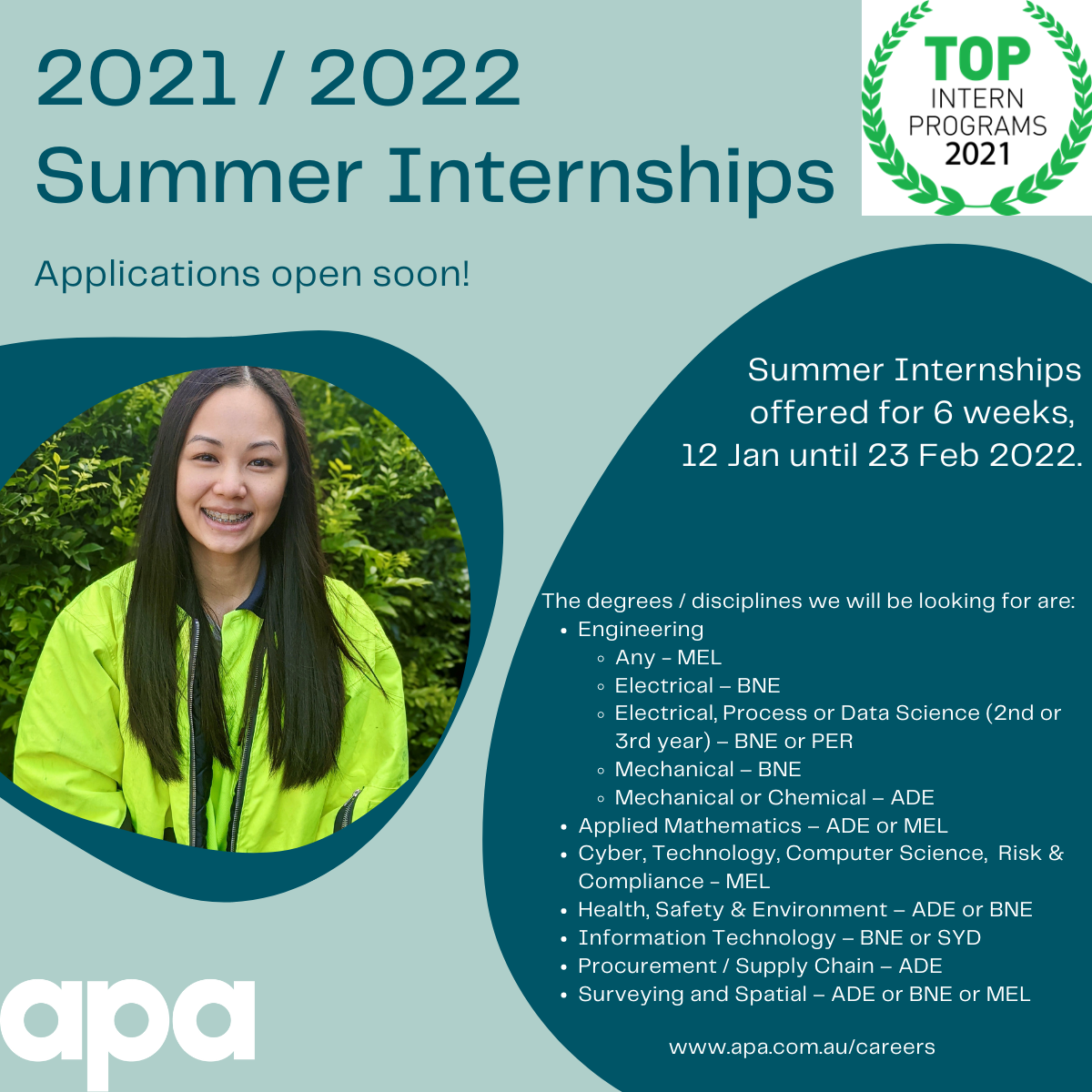 19-10-2021
Job type:Internships
Disciplines:

Computer Science, Cyber Security, Information Technology

Work rights:

Australian Permanent Resident, Australian Citizen

Locations:

VACANCIES

1

POSITION START DATE

Jan 2022 (approx)

Program Duration

6 Weeks

Remote Friendly

Blended

Closing Date:31st Oct 2021, 12:59 pm
Search
Enter an employer or university you want to find in our search bar.