Current Grad - Peter

APA's key involvement in Australia's energy industry initially drew me to investigate their graduate program. Throughout my tertiary study, energy was a continuous interest of mine which motivated me to apply for a position in the APA graduate program.
Being able to get a taste of different engineering departments through the graduate program rotations has been a great way to enter the industry and begin my engineering career. The rotations have been beneficial in helping me determine the areas of engineering at APA I enjoy the most and where I feel I can add the most value moving forward.
Since starting with APA, I have experienced working in the Asset Engineering and Infrastructure Construction Engineering teams. In Asset Engineering, I was primarily providing engineering support to transmission operations through the design and delivery of small rectification and upgrade projects. Whilst Infrastructure Construction has offered me the opportunity to get involved in engineering teams delivering large-scale projects.
Throughout the Graduate Program, I have also had opportunities to supplement my on-the-job learning experience by attending a variety of training courses. This extra training has allowed for me to fast-track my understanding and development. I will soon be completing my Graduate Program and will transition into my new role as Project Engineer with APA.
Grad Program Alumni - Cameron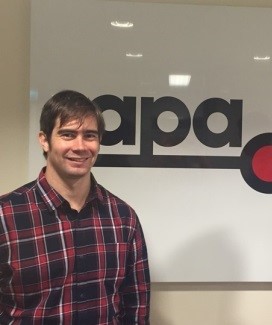 APA Project Engineer – Mechanical
APA's graduate program was an attractive opportunity as I had always held an interest in gas infrastructure. However, with the worlds continual increase in focus on renewable energy it was important to me that APA was looking to the future and investing in renewable energy opportunities such as solar and wind energy. My role as a graduate engineer within APA has seen me work in a number of different teams throughout the business. I was lucky enough to be exposed to a variety of projects in which my role would entail anything from engineering calculations to project management. I have been given the opportunity to work on major high profile growth projects such as the Reedy Creek to Wallumbilla Pipeline, as well as smaller projects that are important to day to day operations.
I have been lucky enough to see remote parts of the country through my work that many people only dream of seeing. The rotations undertaken as part of the graduate program have assisted me to network with different teams and disciplines throughout the business and have provided me with a greater understanding of how the business operate.. The support of mentors and team leaders as well as the networking connections that have been developed throughout my time as a graduate have greatly benefitted me in transitioning into my role as a Project Engineer with APA.
I enjoy working at APA for a variety of reasons. APA have continued their support in my career development post graduate program. Yearly development plans ensure that I'm always learning and continually improving myself. Colleagues and senior staff throughout the business are continually supportive in all aspects of the business. The flexible working arrangements are excellent and it's great to have a company that is supportive in that way. I've also enjoyed social events with colleagues, such as Tough Mudder. I've also found that APA is quite supportive when it comes to charity events and I enjoyed taking part in Movember last year.
I would encourage anyone looking for a challenging and fulfilling career with opportunities to be involved in major infrastructure projects from design through to construction to apply to be part of APA's Graduate Program.