At ASX, we are looking for early adopters of new technology, innovative thinkers and customer-focused graduates.
People are our future and this year ASX will bring on its first cohort of 6 in our new two-year Graduate Program.
We will be hiring 6 roles in the areas of:
Digital
Developers
Cyber
Analytics
As a part of this two-year program, you will participate in three different rotations across a variety of business areas while completing a purpose-driven professional development program. Your two-year program will commence with an extensive induction, followed by your professional development, based on a three-phased building block approach of getting graduates established, building graduate competencies and rounding out with emerging graduate leaders. Topics such personal brand, self-awareness, influencing, and emotional intelligence will help your career flourish.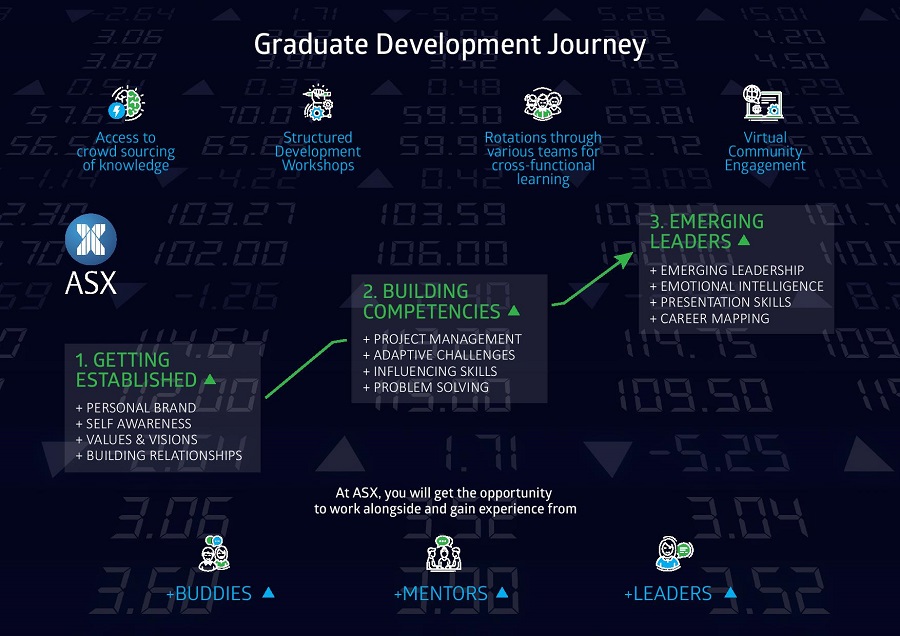 As an ASX Graduate, you will have access to:
Support via a buddy and mentor
Senior leaders
Cross-functional learning
Virtual community engagement
Crowdsourcing knowledge
Industry specific training
We will be hiring in the areas of:
Digital
Developers
Cyber
Analytics