Attorney-General's Department

AGD 2022 Graduate Program (Affirmative Measures Disability)
The Affirmative Measures – Disability (policy and program stream) is open only to people with disability.  
Find out more about the definition of disability on the Australian Public Service Commission website. 
As well as the essential requirements of the Policy and Program Stream, you will be need to provide further evidence of disability. This could be a: 
certificate or letter from a registered medical practitioner
letter from a Disability Employment Service or jobactive provider
letter from a secondary or tertiary institution disability services unit where you were a recent student.
Successful applicants in this process will participate in the policy and program stream graduate program. 
Privacy
We respect and acknowledge your privacy. For the purpose of this affirmative measure process, you may be required to provide evidence that you meet the eligibility requirements.
Policy and Program Stream
As a policy and program graduate, you can expect to work on a variety of thought-provoking and challenging work, such as improving the family law system's response to domestic violence, working to better protect children or older Australians from abuse and collaborating with the private sector, states and territories and international partners to improve community safety, legal services and national security.
Placement rotations
Policy and program graduates will participate in rotations across the department, working on policy and programs in areas that may include:
civil justice
family law and legal assistance
criminal justice
law enforcement
crime prevention
national and protective security
international law
human rights
native title
constitutional law
protective security and integrity
industrial relations policy
You may also rotate through our corporate areas including:
human resources
strategy and governance
finance
You may also have the opportunity to experience a rotation in one of our portfolio agencies.
As part of your role you may:
help to develop and implement legislation, policies and programs
undertake analysis, research and critical thinking
prepare written briefs, submissions, reports and ministerial correspondence
manage events including ministerial and council meetings.
You will also:
participate in development activities including a major project, which you will present to senior leadership
contribute to a range of cultural and social activities including a high profile speaker series and fundraising initiatives
receive ongoing support, coaching and on the job development from supervisors
have access to learning and development activities, including the opportunity to complete further study.
We invite applications from graduates of all university disciplines including arts, business, commerce, communications, economics, humanities, international studies, law, management and science.
To be eligible for the policy and program stream you must:
have completed a minimum qualification equivalent to a three year Australian undergraduate degree.
have completed your undergraduate degree, or postgraduate qualification within the four year period at the time of applying (December 2017 to December 2021).
have achieved a credit average or above at the time of applying in the qualification you completed within the last four years.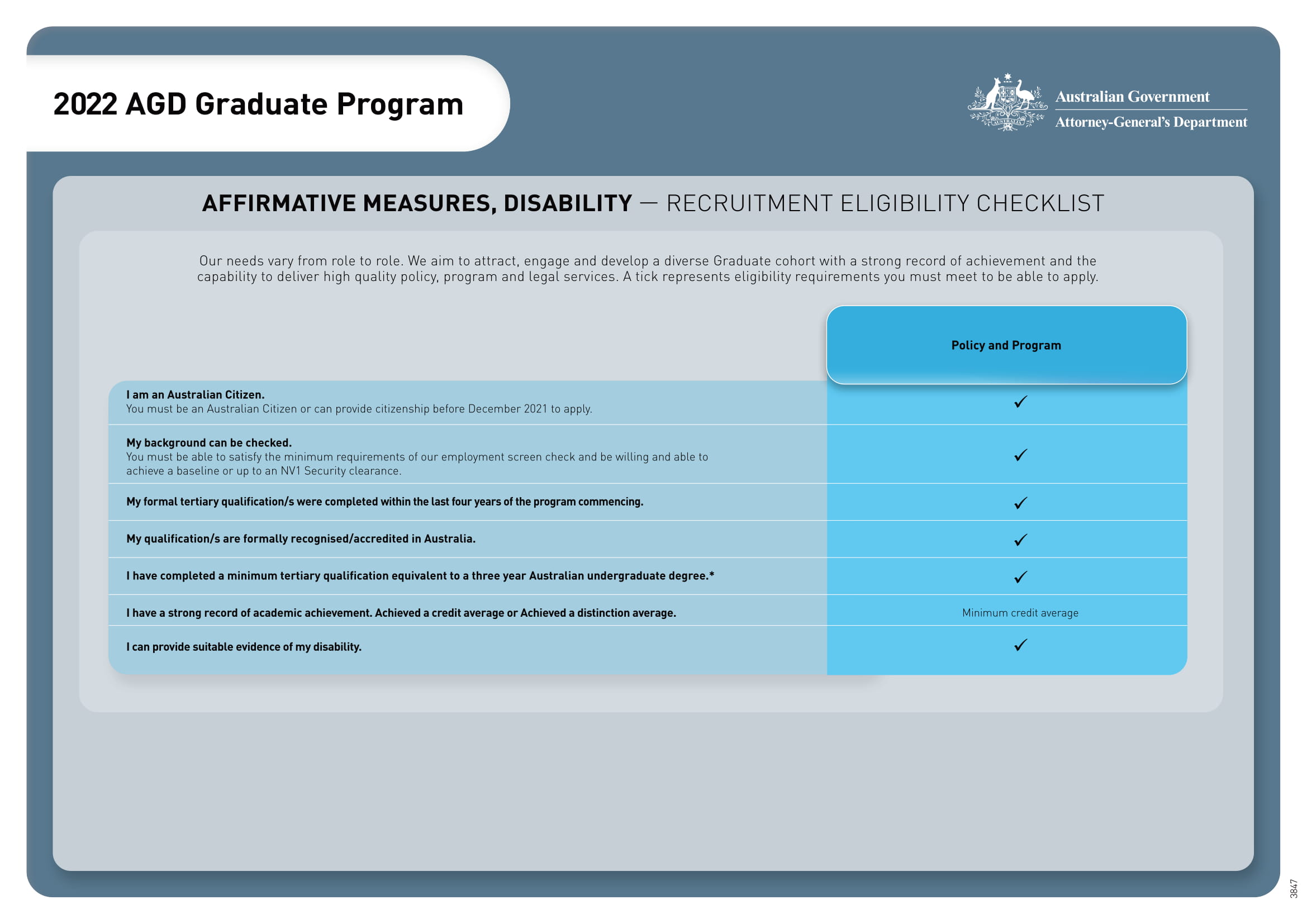 If we offer you a position on the program, you will also need to:
pass a police record check
get and keep a security clearance at the appropriate security level.
All policy and program graduate positions are based in Canberra. Financial assistance may be offered where graduates are relocating from their home state.
Visit our Graduate profiles to find out more from our most recent graduates.
17-03-2021
Job type:Graduate Jobs
Disciplines:

Business and Commerce, Data Science and

...

Work rights:

Locations:

SALARY

$61,000-$75,000

VACANCIES

60

POSITION START DATE

Feb 2022 (approx)

Program Duration

12 Months

Closing Date:15th Apr 2021, 1:55 pm
Search
Enter an employer or university you want to find in our search bar.