Attorney-General's Department

AGD 2022 Graduate Program (Affirmative Measures Indigenous)
The Affirmative Measures (Indigenous) vacancy is open only to Aboriginal or Torres Strait Islander people. 
As well as the essential requirements of the stream/s you choose to apply for you will be need to provide evidence that you are an Aboriginal and/or Torres Strait Islander person. Suitable evidence may include:
a letter signed by the chairperson of an incorporated Indigenous organisation confirming that you are recognised as an Aboriginal and/or Torres Strait Islander person
a confirmation of Aboriginal and/or Torres Strait Islander descent document, executed by an Indigenous organisation.
Find out more on the Australian Institute of Aboriginal and Torres Strait Islander Studies website.
Successful applicants in this process will participate in the policy and program stream, or the legal practice (AGS) stream graduate program.
Privacy
We respect and acknowledge your privacy. There is ordinarily no obligation for an employee to share information about their Aboriginal or Torres Strait Islander status. However, for the purpose of this affirmative measure process, you will be required to confirm that you are an Aboriginal or Torres Strait Islander Australian in order to demonstrate that you meet the eligibility requirements. 
Policy and Program Stream
As a policy and program graduate, you can expect to work on a variety of thought-provoking and challenging work, such as improving the family law system's response to domestic violence, working to better protect children or older Australians from abuse and collaborating with the private sector, states and territories and international partners to improve community safety, legal services and national security.
Placement rotations
Policy and program graduates will participate in rotations across the department, working on policy and programs in areas that may include:
civil justice
family law and legal assistance
criminal justice
law enforcement
crime prevention
national and protective security
international law
human rights
native title
constitutional law
protective security and integrity
industrial relations policy
You may also rotate through our corporate areas including:
human resources
strategy and governance
finance
You may also have the opportunity to experience a rotation in one of our portfolio agencies.
As part of your role you may:
help to develop and implement legislation, policies and programs
undertake analysis, research and critical thinking
prepare written briefs, submissions, reports and ministerial correspondence
manage events including ministerial and council meetings.
You will also:
participate in development activities including a major project, which you will present to senior leadership
contribute to a range of cultural and social activities including a high profile speaker series and fundraising initiatives
receive ongoing support, coaching and on the job development from supervisors
have access to learning and development activities, including the opportunity to complete further study.
We invite applications from graduates of all university disciplines including arts, business, commerce, communications, economics, humanities, international studies, law, management and science.
To be eligible for the policy and program stream you must:
have completed a minimum qualification equivalent to a three year Australian undergraduate degree.
have completed your undergraduate degree, or postgraduate qualification within the four year period at the time of applying (December 2017 to December 2021).
have achieved a credit average or above at the time of applying in the qualification you completed within the last four years.
If we offer you a position on the program, you will also need to:
pass a police record check
get and keep a security clearance at the appropriate security level.
All policy and program graduate positions are based in Canberra. Financial assistance may be offered where graduates are relocating from their home state.
Visit our Graduate profiles to find out more from our most recent graduates.
Legal Practice Stream (Australian Government Solicitor)
Australian Government Solicitor (AGS) is the Australian Government's central legal practice and part of the Attorney-General's Department. AGS helps Commonwealth clients to manage legal issues, navigate new challenges and find solutions which deliver the best outcomes for Australia. We are a self-funded legal practice and compete for our work.
Who we are
AGS IS UNIQUE. AGS is dedicated to the national interest and is a trusted adviser to Government.
AGS IS INNOVATIVE. Drawing on an exceptional depth of experience and expertise, we assist the Australian Government in the development and implementation of solutions to legal issues that have national importance.
AGS IS DIVERSE. With offices in every capital city and a team of 650 staff, including 370 lawyers, we work in more than 40 different areas of law related to government.
Work with the top legal minds
Working with AGS provides the perfect pathway to a dynamic career in Australian law.
The graduate program is a 12-month development opportunity with rotations across our 3 practice areas where you will get the opportunity to work with many of Australia's best government lawyers, including our 5 in-house Queen's Counsel. 
You will get the opportunity to work with an in-house legal team within a Commonwealth agency and also with a community legal centre/charitable organisation as part of our pro bono program. You will be mentored and will have access to a variety of learning and development activities, including the opportunity to complete your practical legal training to be admitted to practice.
AGS delivers services through three national legal practices:
Commercial (corporate and commercial law)
Dispute Resolution (dispute resolution and litigation)
Office of General Counsel (OGC) (government and administrative law).
The practices work together on complex matters that require expertise across several areas of law:
Public law (Administrative law; FOI, privacy and public interest disclosure; human rights and discrimination; debt recovery)
Legislative development
Statutory interpretation
Corporate and commercial law (general contract law; procurement and tendering; governance and probity; financial services and consumer credit; insurance; IP; media; ICT; insolvency and bankruptcy)
Property and environment (general property; transactional property; construction and infrastructure; environment)
Litigation specialisation, including large-scale and sensitive litigation
Taxation
Competition and consumer law
Workplace, industrial relations and compensation (Employment and IR; workers' compensation; WH&S; compensation, damages and PI)
Tied work (Constitutional law; Cabinet work; national security; Public International law).
How we make a meaningful contribution to the wider community
AGS understands that while everyone needs help from time-to-time, not everyone can afford quality legal representation. We have an extensive pro bono program, and won the 2019 Lawyers Weekly Australian Law Pro Bono Award.
Our graduates take part in our pro bono program, which has helped many clients both nationally and internationally.
Helping you be the best lawyer you can be
We are a supportive organisation that embraces diversity in all forms. We understand that work is only part of your life and while our workplace can be demanding at times, we also provide access to a range of flexible working options, generous leave entitlements and wellbeing benefits to support your diverse needs throughout your career.
To be eligible for the Legal Practice stream you must:
have completed a minimum of a Bachelor of Laws or Juris Doctor and be eligible to enrol in a practical legal training course that leads to admission in Australia, be eligible to be admitted in Australia, or be admitted to practice in Australia.
have completed your qualifications within the four year period between December 2017 to December 2021.
have achieved a distinction average or above at the time of applying, for the relevant qualifications (law degree) completed in the last four years.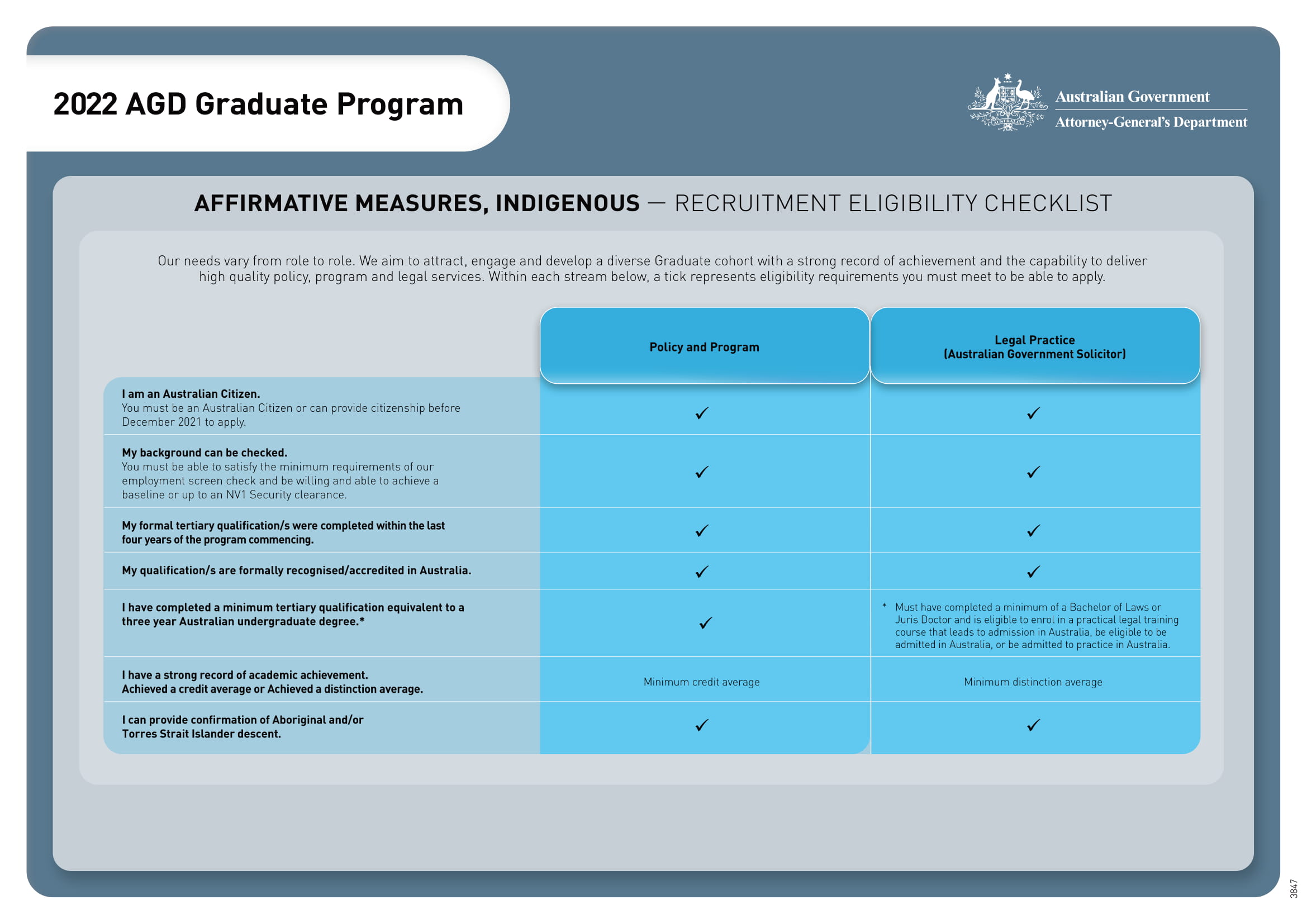 17-03-2021
Job type:Graduate Jobs
Disciplines:
Work rights:

Locations:

SALARY

$61,000-$63,000

VACANCIES

5-10

POSITION START DATE

Feb 2022 (approx)

Program Duration

12 Months

Closing Date:15th Apr 2021, 1:55 pm
Search
Enter an employer or university you want to find in our search bar.