Apply now
At Aurecon, we make the recruitment process as straight forward as possible. We keep in touch with all applicants at each stage of the process, so you will be up to date on your application's progress and know if there are any delays to the recruitment process.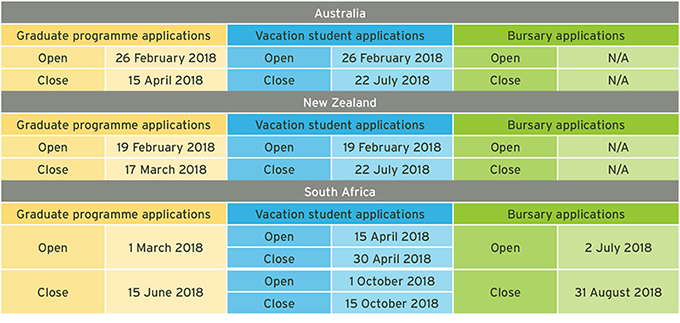 How do I apply?
To apply or find out how you can reach your full potential at Aurecon, visit www.aurecongroup.com/graduates
FAQs
So, I've submitted my application – what now?
Applications are continually monitored by Aurecon's recruitment team throughout the process. So even if you've applied early, rest assured that your application will still be reviewed and, if successful, included in our interview process.
For graduate positions, applications close in April (Australia), with a view to having all of our positions filled within five months.
I have applied with Aurecon before. Can I re-apply?
Yes, if you have unsuccessfully applied for a position previously, we strongly encourage you to re-apply the following year, as long as your graduation has been within two years of the date of your application.
What disciplines will you be looking to recruit?
Engineering - Chemical, Civil, Electrical, Environment & Water, Geomatics/Geotechnical, Mechanical, Structural
Project Management
Surveying Urban/Town Planning
Commerce*
Science*
Finance*
Arts*
Creative Industries*
IT and related*
Law*
*Double degrees from these disciplines is preferred.
**Graduates seeking to work in Advisory can be a part of our teams in: Communication and Stakeholder Engagement, Infrastructure Advisory, Environment and Planning, Programme Advisory, Asset Management and Digital Advisory
Can I apply for more than one sector or business unit?
While you will only need to submit one application, our process will allow you to nominate a first and second preference for the team you would like to work with i.e. Built Environment, Advisory, Energy & Resources and Infrastructure. Ideally we will always attempt to place you in your first preference, but nominating a second market will allow us greater flexibility matching you with a suitable graduate position.
I am an international student. Am I still eligible to apply?
Yes, you are welcome to apply for a graduate position. But it is important for you to know that Aurecon does not sponsor international students for relevant visas so you will need to make sure you have a visa that permits you to work in Australia (or elsewhere) before the start dates of our graduate intake, which are between February and March each year.
Can I still apply if I have already graduated?
Yes, at Aurecon we accept applications from students, with or without relevant work experience, up to two years after graduating from university with a Bachelor or Masters level. If you do have more than two years of experience, we'd recommend you apply for a relevant position on the Aurecon careers website or reach out to the recruitment team either via Facebook or LinkedIn.
What is Aurecon's Emerging Professionals Programme (EPP)?
The EPP is Aurecon's global graduate development framework designed to develop our people to grow into specialist consultants that are not only problem solvers, but problem finders. We achieve this by offering a comprehensive mix of technical and non-technical personal development programmes to our emerging professionals.
Do you provide training and opportunities for professional development?
We certainly do. Not only do we provide formal, internal training ranging in focus from technical to business skills, we also hold lunchtime presentations covering a variety of topics from current projects to industry trends.
In addition, Aurecon's Education Assistance Scheme provides employees with financial and study leave support to undertake further study in recognised qualifications.
What about professional accreditation?
We strongly support and promote our emerging professionals to work towards gaining professional accreditation with a relevant industry body. Gaining accreditation means you will be at the industry best practice level, which reflects the highest standard of professionalism.
The direct costs associated with applying for and maintaining one professional registration will be covered by Aurecon. In addition, one professional membership will be funded by Aurecon, for all technical and professional staff.
Will I get rotated through different service groups on the graduate programme?
Our graduate programme is a little different to most. We offer graduates the opportunity to play to their strengths and fast-track their career by offering specialised work at the outset in the Built Environment, Advisory, Energy & Resources and Infrastructure teams. In our experience, this is a better approach than rotations as it gets young professionals 'on the job' as early as possible in their career. We do, however, offer rotation for those who wish to work across teams. Quite often our graduates are afforded the opportunity to work on projects outside their team whilst still maintaining their management and mentoring relationships in their 'home' team.
Where will I be based?
Our graduates are located throughout all states of Australia, apart from Tasmania. The majority of graduates are posted in metropolitan areas, with some work done in rural locations.
When would a graduate expect to commence employment if they were offered a position?
If offered a role with Aurecon, graduates can expect to start work between January and February the following year, depending on  personal circumstances and that of the team they will be joining. Some states do offer a limited number of mid-year intake positions, but it is best to confirm this with an Aurecon representative.
Please note that mid-year graduates who join the company in the second half of the calendar year are classified as graduates of the following year. So, if you start in August 2017, you would be considered a 2018 graduate. This is to ensure you still gain access to the same, complete suite of training during your graduate programme as your graduate colleagues.
Where can I meet an Aurecon representative?
Throughout the year, current Aurecon graduates and members of our recruitment team attend a number of university career fairs, in addition to other industry events on an ad hoc basis. Visit our website or follow us on Facebook for updates.
Who can I speak with if I have any other questions?
You can follow us on Facebook. If you have any questions not answered by these FAQs. Simply post a comment on our wall or send us an email via Facebook and one of our recruitment team will get back to you as soon as possible.
You can also follow us on our other social media channels: