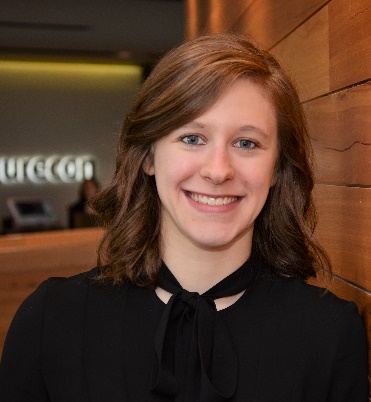 Lauren Thompson
Systems Engineer
Location: Melbourne, Australia
Time at Aurecon: 2 years
Degree completed: Bachelor of Engineering (Hons) (Chemical and Pharmaceutical) at the University of Adelaide.
Strongest Aurecon Attribute: Resourceful
I moved to Melbourne when I secured my first job as a Risk Engineer in the oil and gas industry. I had my eye on Aurecon for a while and was eager to find an appropriate role for myself in the company. After working at my first job for nearly two years, I was lucky enough to make some good industry connections and after some discussions, found myself being offered the role of Systems Engineer in a completely new sector – rail!
My experience with Aurecon
I like to call what I do 'technical project management'– ultimately making sure that the components of a design work together at project completion! This involves ensuring that the client needs are understood, that interfaces and hazards are managed, and that the design meets standards and requirements. It's a great multidisciplinary role that involves technical skills, but also strong coordination and management skills.
The latest project I worked on was Inland Rail – a once-in-a-generation project connecting regional Australia to domestic and international markets. It completes the 'spine' of the national freight network between Melbourne and Brisbane. It is a great team to work with, and an exciting, monumental project which will significantly impact Australia's future and freight network.
A typical work day for me would include designing projects, writing project reports or managing data using various digital tools. This is complemented by meetings with clients and collaborating with project design teams through using our in-house 'design-to-innovate' tools. In a nutshell, the tools use design thinking principles and diverse thinking to enable us to develop unconventional solutions for our clients.
Aurecon has a great global support network of emerging professionals called 'Limelight', which really helps develop my personal and professional skills while also giving me the opportunity to meet other emerging professionals and senior leaders. We also have a great culture of diversity and inclusion where everyone is encouraged to bring their authentic self to work. These things coupled with excellent policies such as flexible working allows everyone to feel supported.
As my career progresses, I am entrusted with higher levels of responsibility – and I am really enjoying the challenges and new skills that I am gaining from these experiences. This can sometimes be stressful, but I wouldn't ask for it to be any other way.
My best advice to graduates
Join a volunteering committee: This will provide you great opportunities and networks to learn about your industry or could help you land a job and give you great experience to speak about in your interviews.
At work, make time to get involved in work outside of your project work: Get to know others in your company, join a committee, do some volunteering.  These will allow you to build networks and grow skills outside of your role skillset and this may benefit your role or may create an opportunity in the future.
Get some professional engineering experience while at university: This is great for technical knowledge but experiencing an operations or consulting company will help you to understand the application of this theory significantly.
---