Australian Government Graduate Program
Australian Government Graduate Program - Data Stream
Are you ready to kick-start your career in data? Apply for the Data stream and have the opportunity to work on exciting projects across the Australian Government.
Commence a full-time position in an Australian Government department or agency, with a generous salary range between $50,000-$80,000 a year
Advance to a higher classification and salary at the successful completion of the 12-month program
Undertake rotations in different work areas
Access on-the-job and formal learning and development opportunities
About the role
The Data Stream includes Australian Public Service (APS) and other Commonwealth agencies seeking to recruit recent university graduates who are interested in pursuing a career in data and contributing to Australian society.
Data roles are varied and support evidence-based, informed decision making, and work across all aspects of Government such as policy development, research, program management and service delivery. Roles cover the full data lifecycle including survey and questionnaire development, research, data acquisition, data engineering and data analysis, as well as more specialised streams such as data science, methodology, geospatial analysis and data management.
Data graduates in the Australian Government have access to unparalleled datasets – stories from these datasets help policy makers make decisions for Australia. This is a real opportunity to give back to the public and help shape Australian decision making.
Data Generalist
Data roles filled thorough this stream include Data Analysts, Data Engineers, Data Managers and Geospatial Analysts.
There are no requirements for any degrees or disciplines, though people who have undertaken data subjects are more likely to be successful. The types of backgrounds our graduates are from include analytics, actuarial studies, data science or mining, demography, economics, econometrics, engineering, finance, mathematics or mathematical modelling, machine learning, psychology, risk and intelligence analysis, social sciences, and statistics.
Data Specialist
Specialist roles filled through this stream can include Data Scientists (applied data science, data science developer, data modeller) and Statistical Methodologists (Data Collection Methodologist & Mathematical Stats Specialist).
While we consider most degree types, formal qualifications in data science, statistics, computer science, mathematics, econometrics, actuarial studies, physics, engineering, or other disciplines with a strong quantitative component are required.
Find your fit
Successful applicants will be matched with a suitable position in a participating Australian Government department or agency. In 2022, more than 60 agencies placed graduates from the Australian Government Graduate Program.
You'll have the opportunity to nominate your preferred placement when you apply.
Who can apply 
To be suitable as a Data Graduate, you will have all or most of the below criteria:
Proficient data skills
Sound communication (written, verbal and presentation)
Interpersonal skills
Research skills (analytical and thinking)
To be eligible for the program, you must:
Be an Australian citizen
Have or will have completed a Bachelor degree or higher by 31 December 2023
Have completed your qualification between 1 January 2019 to 31 December 2023
Be able to obtain and maintain a valid Australian Government security clearance once accepted into the program
Be willing to undergo any police, character, health or other checks required
How to apply
The selection process for this program typically includes:
An online application, where you'll upload your resume, academic transcript and proof of your Australian citizenship
Online testing and/or video interview, which may involve problem solving, numerical reasoning, and behavioural or emotional testing
Assessment centre, where you might participate in activities such as panel interviews, group presentations or written tasks
Matching and offers, where successful applicants are matched with a suitable placement in an Australian Government department or agency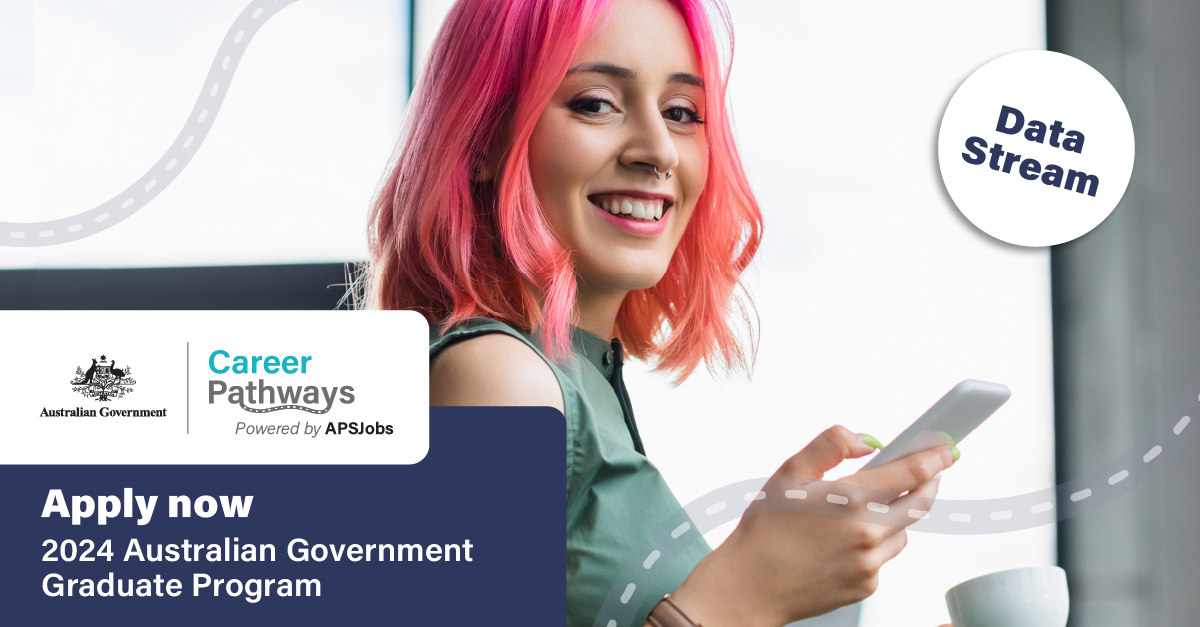 23-03-2023
Job type:Graduate Jobs
Disciplines:

Actuarial Studies, Data Science and Analytics,

...

Work rights:
Work from home:Hybrid remote

Hybrid remote

Employees are allowed to work remotely some of the time but most of the work is done at the company's physical office. Remote work is considered a perk or a privilege. For example, an employee may work from home for 1-2 days per week.

Locations:

Canberra, Regional New

...

Salary

60k - 80k plus 15.4% super

POSITION START DATE

Jan 2024 (approx)

Closing Date:17th Apr 2023, 6:00 am
Search
Enter an employer or university you want to find in our search bar.