Australian Government Graduate Program
Australian Government Graduate Program - Intelligence Stream
Do you want the opportunity to advance and protect Australia and its interests, its people and our way of life? As a graduate in the Intelligence Stream, you will.
Commence a full-time position in an Australian Government department or agency, with a generous salary range between $50,000-$80,000 a year
Advance to a higher classification and salary at the successful completion of the 12-month program
Undertake rotations in different work areas
Access on-the-job and formal learning and development opportunities
About the role
As an Intelligence Stream graduate, you have the opportunity to work on topics that matter. The work you do will influence important decisions to shape the future of intelligence, which may impact the everyday lives of many of your fellow Australians.
The Australian Government Graduate Program (AGGP) Intelligence Stream offers some of the most important, dynamic and stimulating work in Australia. Working within the National Intelligence Community (NIC), you will have the opportunity to serve the nation, progress your career and work with committed colleagues in a globally engaged community.
The National Intelligence Community is made up of the following departments and agencies:
Australian Criminal Intelligence Agency (ACIC)
Australian Federal Police (AFP)
Australian Geospatial-Intelligence Organisation (AGO)
Australian Secret Intelligence Service (ASIS)
Australian Security Intelligence Organisation (ASIO) 
Australian Signals Directorate (ASD)
Australian Transaction Reports and Analysis Centre (AUSTRAC)
Defence Intelligence Organisation (DIO)
Department of Home Affairs (Home Affairs)
Office of National Intelligence (ONI)
These agencies and departments form the Australian Government's intelligence enterprise.
Find your fit
Successful applicants will be matched with a suitable position in a participating Australian Government department or agency. In 2022, more than 60 agencies placed graduates from the Australian Government Graduate Program.
You'll have the opportunity to nominate your preferred placement when you apply.
Who can apply 
Your options are not limited by your degree. The National Intelligence Community needs a diverse workforce that is professional, agile and capable in order to make a difference. Your degree has equipped you with a wealth of transferable skills that can be utilised across a range of roles within the NIC.
To be eligible for the program, you must:
Be an Australian citizen
Have or will have completed a Bachelor degree or higher by 31 December 2023
Have completed your qualification between 1 January 2019 to 31 December 2023
Be able to obtain and maintain a valid Australian Government security clearance once accepted into the program
Be willing to undergo any police, character, health or other checks required
This program has a stringent security clearance requirement:
An NIC agency-issued security clearance is a qualifying condition for an offer of employment
To be considered suitable for a security clearance, we must establish that you possess and demonstrate the highest level of trustworthiness and commitment to Australia, its values and its democratic system of government
Our security clearance process covers all aspects of your life – it is comprehensive and can seem intrusive
The complete selection process – from advertising to employment – usually takes between 12 and 18 months
Please note that the security clearance process does not end at recruitment. If you attain a security clearance, you are required to maintain your clearance for the term of your employment
Further information about security obligations will be provided to you throughout the recruitment process
How to apply
The selection process for this program typically includes:
An online application, where you'll upload your resume, academic transcript and proof of your Australian citizenship
Online testing and/or video interview, which may involve problem solving, numerical reasoning, and behavioural or emotional testing
Assessment centre, where you might participate in activities such as panel interviews, group presentations or written tasks
Matching and offers, where successful applicants are matched with a suitable placement in an Australian Government department or agency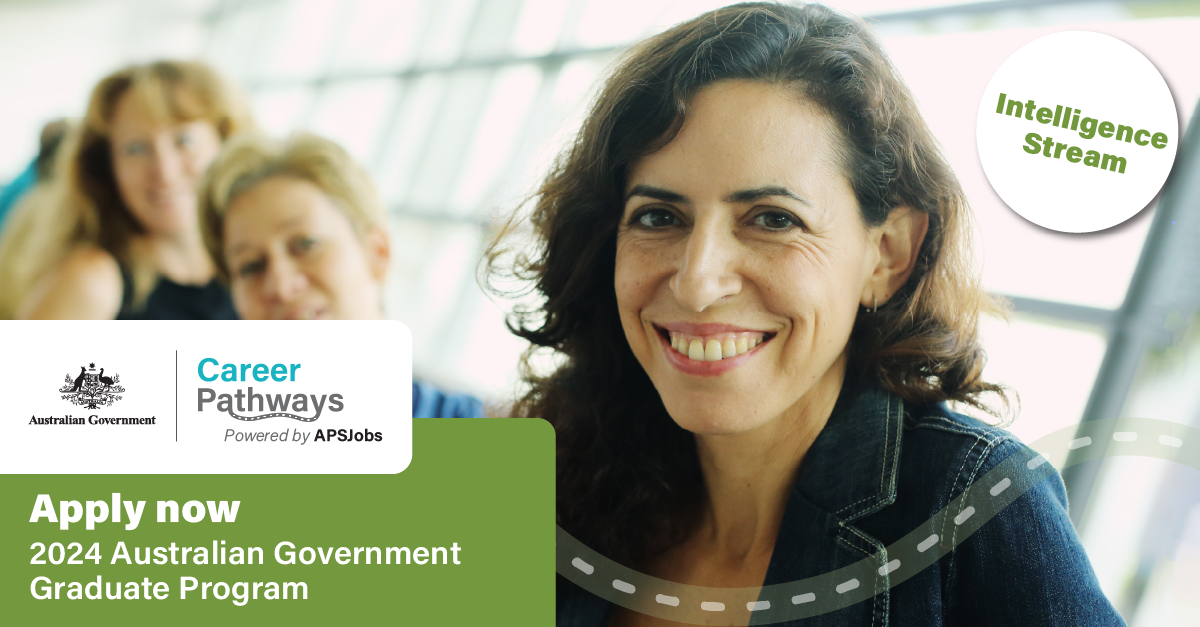 23-03-2023
Job type:Graduate Jobs
Disciplines:

Administration, Arts and Humanities, Business and

...

Work rights:
Work from home:Hybrid remote

Hybrid remote

Employees are allowed to work remotely some of the time but most of the work is done at the company's physical office. Remote work is considered a perk or a privilege. For example, an employee may work from home for 1-2 days per week.

Locations:

Canberra, Regional New

...

Salary

60k - 80k plus 15.4% super

POSITION START DATE

Jan 2024 (approx)

Closing Date:17th Apr 2023, 6:00 am
Search
Enter an employer or university you want to find in our search bar.