Australian Government Graduate Program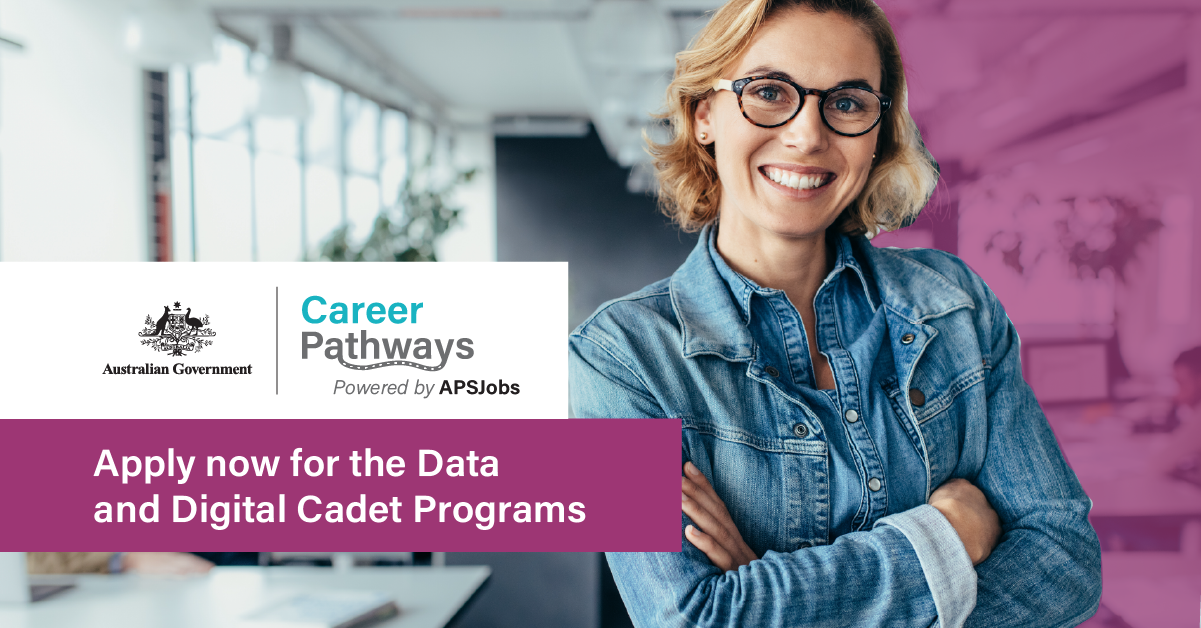 The Data Cadet Program aims to attract data talent to the public service by supporting their studies and giving them practical skills. As a Data Cadet, you will have the opportunity to source, research and use information and data to solve problems, gain insights and make decisions. 
The program is for Australian citizens who are currently studying undergraduate or postgraduate subjects related to data science, data analysis or statistics. If you're a student looking to launch your data career in government, this program could be for you. Roles are available across the public service in a variety of participating agencies. 
On the job support, career guidance and professional development throughout the program will grow you into a job-ready public servant. You will contribute to the meaningful work of the Australian Government. 
Who can apply? 
To be eligible to apply for the Data Cadet Program, applicants must be an Australian citizen. Applicants must have completed one year or equivalent of an undergraduate tertiary degree at the commencement of the program, or be currently enrolled in a postgraduate degree. They must also have a minimum of 1 year of study remaining when the program starts. 
Applicants are welcome from all degree types and disciplines who have an interest in, or are taking subjects in:
Analytics
Actuarial studies
Data science or mining Computer science Engineering
Physics
Demography
Economics
Econometrics
Engineering
Finance
Mathematics or mathematical modelling
Machine learning
Psychology
Risk and intelligence analysis
Social sciences or statistics 
What is on offer?
The Data Cadet Program offers:
Industry experience while you finish studying
Competitive salary for flexible part-time hours around your class timetable Academic support up to $800 per subject on passing (capped at 4 subjects per semester)
Potential credit towards your degree
Guaranteed permanent employment when you finish your degree 
What are we looking for from you? 
Commitment to undertaking 2 days equivalent of work per week and actively participating in all aspects of the program
Curiosity, aptitude and interest in data disciplines and a desire to build on your skills
An interest in undertaking meaningful work serving the Australian community
Contribution to a professional, respectful and positive workplace Compliance with all public service values including relevant secrecy and privacy laws if applicable
A commitment to looking after your health and well-being to achieve a healthy work/study/life balance 
What locations is the program running in?
Darwin and Townsville. You'll work from an APS Academy Campus at a university in your preferred location. 
13-03-2023
Job type:Cadetships
Disciplines:

Actuarial Studies, Banking and Finance, Compliance,

...

Work rights:
Work from home:Hybrid remote

Hybrid remote

Employees are allowed to work remotely some of the time but most of the work is done at the company's physical office. Remote work is considered a perk or a privilege. For example, an employee may work from home for 1-2 days per week.

Locations:

Darwin, Regional Queensland

POSITION START DATE

Jul 2023 (approx)

SALARY

$53,000-$58,000

VACANCIES

20

Program Duration

Approx. 1 year

Closing Date:19th Mar 2023, 6:00 am
Search
Enter an employer or university you want to find in our search bar.