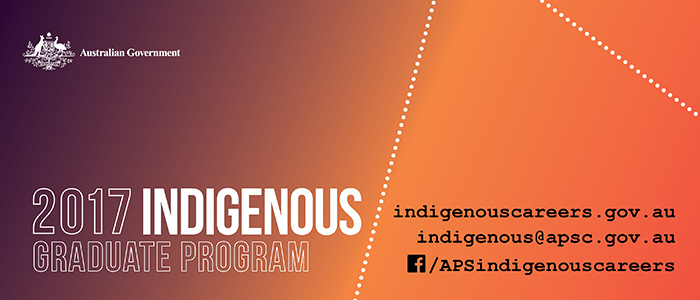 Australian Public Service Indigenous Graduate Program - 2017 Intake
Australian Public Service Commission
---
The Indigenous Graduate Program (Graduate Program) is your gateway to a rewarding career with the Australian Government. In an increasingly challenging environment, the Australian Public Service (APS) needs innovative, strategically-focused graduates from diverse backgrounds with good academic and interpersonal skills.
We are seeking Aboriginal and/or Torres Strait Islander graduates from a range of disciplines who are motivated to further their careers while contributing to the Australian community. We want your ideas, fresh thinking, energy and perspectives.
We offer great pay and conditions, and we're committed to providing our employees with work/life balance. As a graduate, we promise to challenge you and to give you the skills, experience and opportunities to succeed, no matter where your career takes you.
Typically, APS Graduates undertake a structured program which comprises:
work rotations designed to increase your understanding of the overall business of the employing agency
on the job and structured training designed to help you establish and build a fulfilling career
networking opportunities with former graduates, Indigenous employees and senior leaders from the outset to build personal and professional networks
Over 120 positions are available in more than 30 APS agencies for Aboriginal and/or Torres Strait Islander people who have, or will have, completed an undergraduate degree by January 2017. You can access these opportunities by completing a single application.
While the majority of positions are located in Canberra, agencies may provide assistance to help you move.