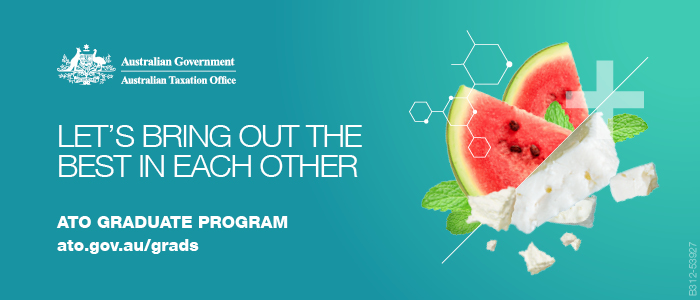 How to Apply
Australian Taxation Office
---
What you need to know
Start your journey as an ATO graduate by visiting www.ato.gov.au/grads. From there you can read more about the Graduate program, our recruitment process and start your online application.
When to apply
We recruit early in the year and applications will open in March and close in April 2020. For exact application dates visit ato.gov.au/grads
Eligibility
We encourage applications from all areas of the community, including Indigenous Australians, candidates from diverse cultural and linguistic backgrounds and candidates with a disability.
To be eligible for our graduate program you must be:
an Australian citizen, or will be by 30 January 2021
in the final year of your degree or have completed your degree in the last 3 years at the time of your application, and can provide evidence of completion before commencement of the program.
Position locations
Positions available in Adelaide, Albury, Brisbane, Canberra, Gosford, Hobart, Melbourne, Newcastle, Perth, Sydney, Townsville and Wollongong.
Further information
To find out more visit ato.gov.au/grads