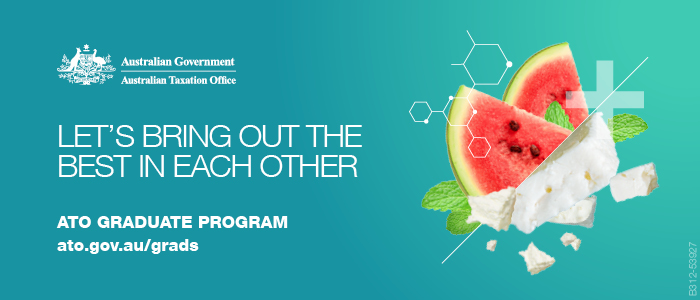 Human Resources Stream
Australian Taxation Office
---
Where could your Human Resources or Psychology degree take you?
HR management in the ATO requires a professional and contemporary approach to managing people and the workplace culture and environment.
With this focus, HR aims to provide an exceptional customer service with effective, relevant and responsive solutions that meet the needs of managers and employees at all levels.
As an ATO graduate in our HR stream, you will help build a work environment that encourages growth and learning, and seeks fresh ideas and engagement. You will assist in driving change that improves the customer experience.
We will rely on the expertise you have gained from your studies and your past experience as you will be:
assisting our leaders and managers to enhance productivity through performance management, continuous improvement and innovation
implementing enterprise-wide integrated learning and development approaches to enhance organisational capability and agility, with an emphasis on integration of business and people systems
implementing workforce management strategies to enable flexibility in undertaking work and workforce shifts and achieve the optimum workforce mix
shaping the culture of our organisation by embedding our corporate values, including targeted initiatives for increasing engagement and discretionary effort
refining prevention and early-intervention strategies and implementing the people case management system to maintain a safe and healthy work environment and a productive workforce
building and maintaining sustainable human resources systems that support our organisation in delivering to the community.
You could work in areas dealing with:
workforce strategy
workforce capability
workforce supply
learning and development
performance and conduct
industrial relations
leadership development
workplace diversity
health and safety.
Becoming an ATO graduate will give you the opportunity to experience our excellent work conditions, job diversity and career development opportunities.
To find out more visit ato.gov.au/grads