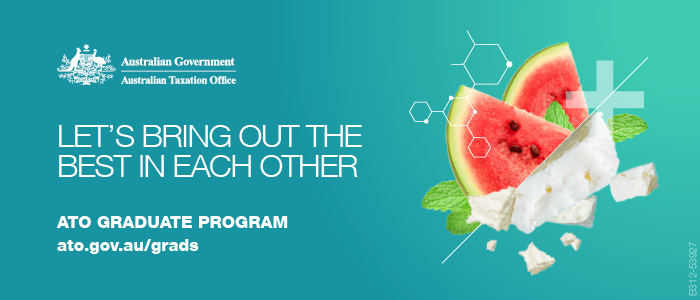 Design Stream
Australian Taxation Office
---
Where could your Design degree take you?
The ATO has a strong Service Design capability that offers exciting opportunities for design graduates. You could work with our team of internal designers, a team of like-minded creative individuals, on exciting initiatives that will make a real difference to the Australian community.
We partner with our clients to design administrative services that keep the user at the centre of the process; balancing their needs with organisational vision and government agenda to deliver optimal outcomes.
Our designers work in multi-disciplinary teams to design new or improved products, services, systems and processes. They explore opportunities to improve administrative practices and in doing so, our designers play an important role in fostering willing participation in our tax and superannuation systems.
As a graduate in our Graduate program Design stream, you may be working with teams on design engagements involving the following disciplines:
design leadership
user-experience design
information design
business improvement.
We want to engage people who have a degree or majors in:
business process design
communication design
graphic design
innovation and design
industrial design
visual communication.
The attributes we look for in our designers include; the ability to work collaboratively, the energy to take on varied work, inquisitiveness to challenge the status quo, passion to make a difference, flexibility in design approach and being comfortable with ambiguity and changing circumstances.
Becoming an ATO graduate will give you the opportunity to experience our excellent work conditions, job diversity and career development opportunities.
To find out more visit ato.gov.au/grads