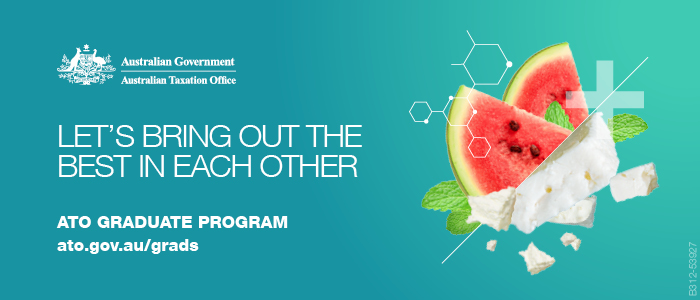 Taxation Stream (Business, Law, Accounting, Commerce, Economics, Finance)
Australian Taxation Office
---
Where could your Business or Law degree take you?
Our Taxation stream encompasses the following fields of study; law, finance, accounting, commerce, economics and business.
As an ATO graduate in the Taxation stream you may undertake a work rotation in any of the following business areas:
Client Engagement Group
Corporate & Enabling Services
Law Design & Practice
Service Delivery
Tax Practitioners Board
Becoming an ATO graduate will give you the opportunity to experience our excellent work conditions, job diversity and career development opportunities.
See below for more information on what you might be doing with your degree!
Accounting or Commerce degree
You can play an important role in providing world-leading financial and accounting advice on our tax and super systems.
Our accounting area undertakes a major program of activities to support the community to meet their tax and super obligations.
We aim to maximise the number of Australians who voluntarily choose to comply with their tax obligations and to implement strategies to deter non-compliance.
Working with us will provide you with the opportunity to be involved in the implementation of new policy and government initiatives.
You will help people by clarifying their issues, interpreting the law, and providing information through rulings, marketing campaigns and educational products. You will also respond to written and personal enquiries and could work in areas dealing with:
Public groups and internationals
Private groups and high wealth individuals
Small business and individual taxpayers
Tax practitioners, lodgement strategy and compliance support
Indirect tax
Superannuation
Smarter data program
ATO finance
Law design
Review and dispute resolution.
You will also have the opportunity to work with internal partners in relation to:
financial analysis and reporting
accounting advice on new measures and taxes
revenue forecasts, costings and advice on tax revenue, tax data issues and you may be given the opportunity to work in one of our Service Delivery business areas.
Economics degree
If you have a degree in Economics you will be exposed to a wide range of business lines in the ATO including:
aggressive tax planning
compliance support and capability
indirect tax
integrated tax design
private groups and high wealth individuals
public groups and international
serious non-compliance
small business and individual taxpayers
service delivery support
smarter data
superannuation.
Some examples of economic advice on micro-economic and macro-economics issues you could work on include:
analysis of price, profit and other outcomes arising from commercial and business contexts
identification and analysis of specific economic cause and effect relationships
analysis of taxpayer decision making, which may include examining internal and external factors such as preferences, available options, market context, regulatory framework and the tax environment
analysis of patterns and trends in taxpayer and industry performance in the context of wider market and economic cycles risk assessment and case selection
analysis of the economic impacts and compliance issues arising from tax policy.
You may also be given the opportunity to work in one of our Service Delivery business areas.
Finance degree
Finance graduates play an important role in providing world-leading financial advice on the management of the ATO resources and accounting systems. Our finance professionals manage the resources of one of the largest government departments and the principle revenue collection agency in Australia. The way we manage our resources and account to government on our performance is critical in maintaining community confidence in the Australian revenue system.
You will be part of a team of dedicated professionals that provides a range of financial services to support our organisational decision-making processes and you could work in areas dealing with:
Commonwealth budget processes
internal budgeting and forecasting
financial analysis and reporting
preparation of financial statements
accounting advice on new measures and taxes
expense and revenue forecasts, costings and advice on tax revenue and tax data issues
corporate procurement
financial policy and assurance.
Finance professionals work closely with a number of key external stakeholders including:
Department of Finance and Deregulation
Department of Treasury
Australian National Audit Office.
Our internal clients include members of the senior executive, managers and staff within each of our business areas.
Law degree
Our legal professionals provide technical leadership for our organisation and promote certainty of law interpretation for taxpayers, their advisors, the Department of Treasury and government. We establish and maintain the ATO's view of existing tax laws and oversee processes to ensure the consistency and timeliness of tax technical decisions.

We also help shape the development of new laws by working with the Department of Treasury, providing high quality advice on policy proposals and implementation of new law.

As part of a team your work opportunities will include:
having an influential role in shaping tax law, policy and design
managing our litigation cases and clarifying the law
managing interpretative advice and guidance
enhancing our relationships with professional bodies, consultative forums and the community
working with other business areas across the ATO to provide advice and clarity on law.
You could potentially work in areas dealing with:
legal advice
law interpretation
law design
dispute resolution (including early intervention and alternate).
To find out more visit ato.gov.au/grads