Babcock Australasia Graduate Programs & Internships
Babcock Australasia is a leading Defence, Aviation and Critical Services company operating across Australia and New Zealand. 
We deliver vital services and manage complex assets on behalf of our customers – supporting national defence, saving lives and protecting communities. You could be part of t…
View more Babcock Australasia has no active opportunities at the moment.
See who's currently hiring with our Job Search!
Search for jobs
Babcock Australasia is a leading Defence, Aviation and Critical Services company operating across Australia and New Zealand. 
We deliver vital services and manage complex assets on behalf of our customers – supporting national defence, saving lives and protecting communities. You could be part of this – leveraging our technology, our expertise, our infrastructure and our assets to ensure our customers can deliver.
As part of Babcock International Group, our team brings together people of many different skills and outlooks, and from many different backgrounds. To be the best – and to stay the best – we recruit, retain and reward the very best and most suitable people for the job, every time. 
Whether you're just starting out, looking to apply your existing skills to a different challenge or keen to advance your career to the next level, you can be part of a worldwide aerospace, defence and security company providing critical services across Australasia.
Join us in creating a safe and secure world, together.
Our Programme has been designed to grow Babcock's capability within Defence and create a pipeline of talent to power the future growth of our business.
Drawing on a range of development activities, you will grow and strengthen your technical and soft skills, so you become business ready  You will also expand your network and build your skills by rotating across multiple disciplines.  You will grow your capability by partnering with other graduates and interns and business leaders in our diverse Marine business.
As part of Babcock Australasia's Graduate Programme, you'll be able to contribute to your own personalised development initiatives and kickstart your career.
You'll work alongside experienced business leaders to deliver world-leading and innovative projects through a two-year programme commencing in November 2022. Rotations across several areas across the business will offer you various opportunities and are tailored to your current skills and developmental needs, as well as individual preferences and business needs. Following successful completion of the programme, you'll be placed into a permanent position in Babcock to continue your exciting new career.
In addition to day-to-day support, Babcock offers a fully-rounded programme for graduates, with personal development modules, networking opportunities and peer group activities. We encourage continuous learning across our whole team, with ongoing professional development opportunities available in a wide range of topics.
We recruit talented high achievers, who are inquisitive problem-solvers, think outcomes and who have a passion for delivering products that will create a safe and secure world, together.  
To be eligible for the Graduate Programme, you'll need to meet the following criteria: 
Completed within the last two years, or about to complete, a Degree in


Engineering: specialising in Electronics, Electrical, Mechanical, Mechatronics, Software, Systems and Naval Architecture, or 
Project Management, or
Commercial and Business Management, or
HR and Marketing 

To work at Babcock Australasia you must comply with Defence industry security requirements 
Applications are now open for Babcock's Early Careers Programmes and will close on 10th July 2022.
Babcock Australasia's Internship Programme will give you the opportunity to put into practice, what you have been learning throughout your studies and gain invaluable experience.
Our paid Internship Programme runs for 13 weeks over the November to February period. During this placement, you will work alongside our supportive business leaders gaining experience on real-life projects and case studies. You'll learn from colleagues who are experts in their field to help develop your skills and knowledge further.
As well as the day-to-day support you'll receive from your supervisors and team you'll be provided a mentor from our current graduate cohort. 
We recruit talented high-achievers, who are inquisitive problem-solvers, think outcomes and who have a passion for delivering products that will create a safe and secure world, together.
To be eligible for the Internship Programme, you'll need to meet the following criteria: 
In your penultimate year, or have completed at least three years, of a Bachelor's Degree in:


Engineering: specialising in Electrical and Mechanical, or
Project Management 

To work at Babcock Australasia you must comply with defence industry security requirements
Applications are now open for the Early Careers Programmes and will close on 10th July 2022.
If you're ready to take charge of your career and join a business that will support you in your personal and professional development, then apply for our vacancies via our careers page www.babcock.com.au/careers/. And if you know someone else looking for similar opportunities, let them know about us!
If you're not looking for something right now, you can register for alerts on our careers page that will let you know when opportunities in your specified area come up. It's a great way to get the latest information about starting your career at Babcock. 
Step 1: Application assessment
Babcock will review your application through checking your relevant degree, previous work experience and any extracurricular activities you have undertaken, your motivation for joining us (which should be included in your covering letter), and what area you are interested to work in. 
Due to the Defence orientation of this role, successful candidates must be eligible to obtain Baseline/NV1 Security Clearance, as defined in the AGSVA guidelines. 
Step 2: Phone Interview
One of our recruitment team will get in touch with you for a chat - something interesting may catch our eye on your CV, and we may want to discuss it with you.
Step 3: Assessment 
For candidates progressing following phone interview, you'll be invited to complete a psychometric assessment and an Assessment Centre where you'll have a chance get to know us better.
Throughout the selection process, you'll also need to demonstrate teamwork, communication and problem-solving skills coupled with a strong desire to learn, and a flexible approach to work.   
Step 4: Final outcome
Following selections made by Babcock, the next step is to make an offer and conduct pre-employment screening for successful applicants. Employment contracts to be released in August. 
You will then be all set to join our amazing Early Careers Programme in November 2022! 
Places on the Babcock Early Careers Programme are limited, and applications will only be open for a short period, so don't hesitate if you think this is the right opportunity for you!

Caleb Spray, Commercial Graduate: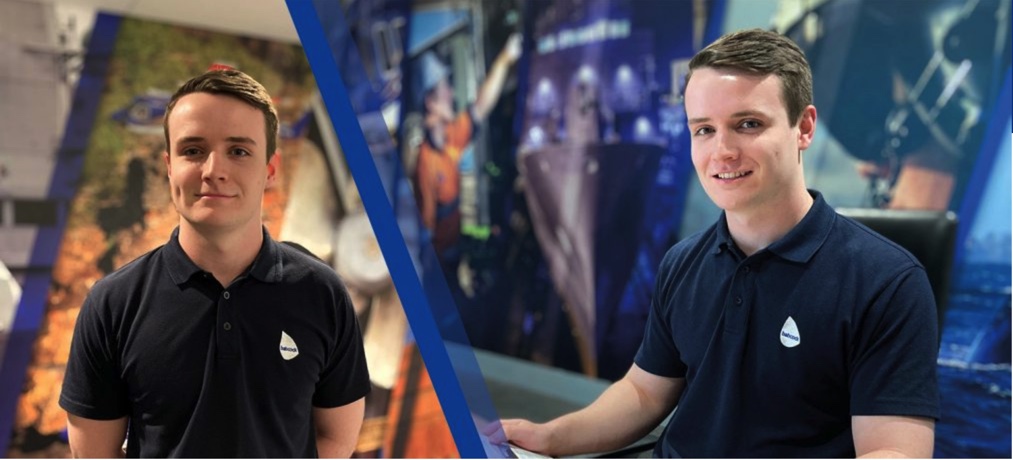 Meet Caleb Spray, Commercial Graduate at Babcock Australasia.
As a Commercial Graduate, Caleb works on a range of tasks that assist Babcock's Aviation and Critical Services team. From contract management, to client reporting and communications, to business development and bid research, Caleb is constantly learning and kept on his toes.
"No two days are identical and I love the diversity among the projects I've been involved with. I've been very fortunate to work in a team with people who are always willing to share their knowledge, and who I now consider to be good friends, as well as colleagues," Caleb says.
"At Babcock I have also been provided with opportunities for professional development through completing industry-specific courses for capture management and proposal writing."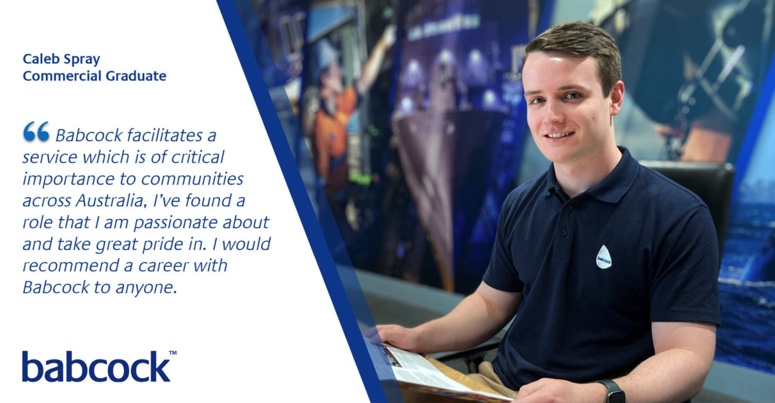 Caleb studied a Bachelor of Business (Advanced Leadership and Marketing) at Flinders University in South Australia, and upon graduating was passionate about pursuing a career within aviation.
"Coming out of university I endeavoured to find a role within an industry that was of interest to me. When I heard about the Commercial Graduate role offered by Babcock, I became excited about the prospect of working with an organisation that provides aviation services," Caleb says.
"Aviation has long been an area of great curiosity to me, so the decision to apply for the role was easy. Coupled with the fact Babcock facilitates a service which is of critical importance to communities across Australia, I've found a role that I am passionate about and take great pride in."
Babcock's work within Aviation and Critical Services involves emergency medical services (EMS), search and rescue (SAR) operations, and airborne surveillance. Assisting with aviation activities, Caleb finds this work motivating and rewarding.
"Babcock's work contributes to a service that provides critical assistance, lifesaving operations, and emergency services to communities across the nation," Caleb says.
"Babcock's work within Aviation and Critical Services, the global footprint of the company, and its contribution to the aviation, marine and land sectors means that career diversification and development opportunities are in abundance."
"There is no other company quite like Babcock in Australia and New Zealand, that operates across all of the same specialised industries as we do."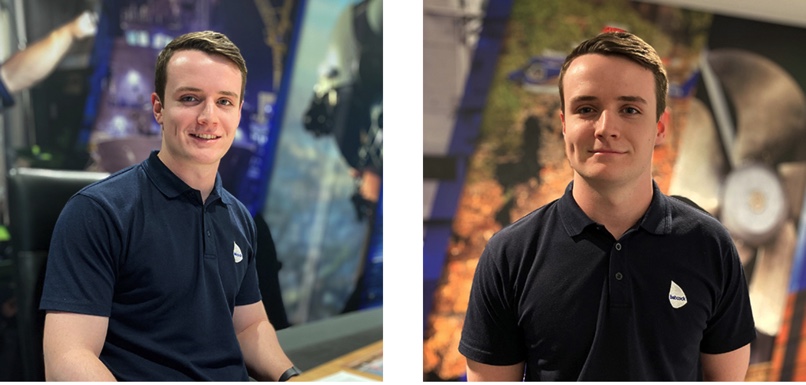 Looking ahead, Caleb is excited for his career at Babcock growing into a role where he can pass on his commercial knowledge to others.
"Coming into an organisation that operates in a complex space, there were always going to be certain gaps in my industry specific knowledge. However, those with greater experience are always willing to aid my professional development through teaching me. I hope that one day I can pass on the knowledge to others," Caleb says.
"Chasing your dream job is a daunting task. My advice to anyone is to focus on your skill set, study hard and find something you are passionate about."
"I would recommend a career with Babcock to anyone; it's an exciting, innovative and agile organisation doing great things across Australia and New Zealand."
---
Jayden Grigg, Graduate Engineer: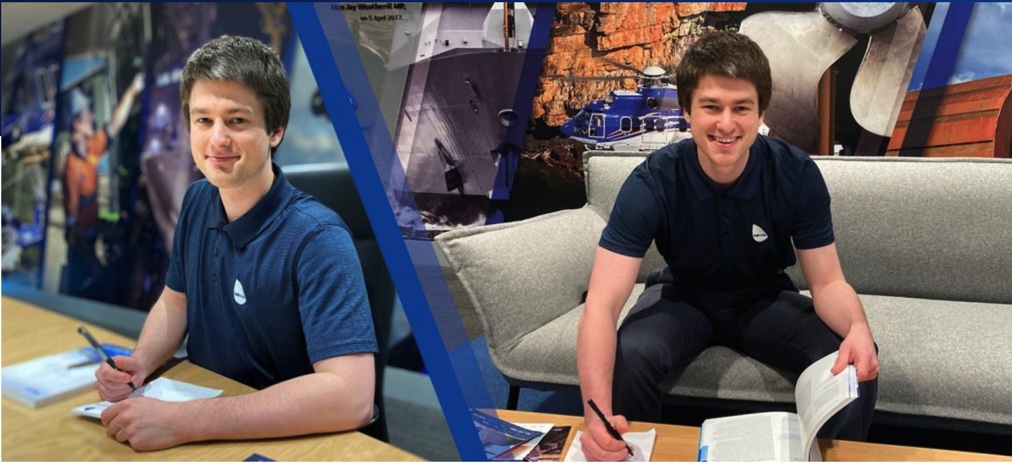 Nothing stands in the way of success for Jayden Grigg – Graduate Engineer at Babcock Australasia. With a longstanding passion for working within the defence industry, and years of hard work under his belt, Jayden is thriving within his dream career.
As a Graduate Engineer, Jayden has surveyed assets to assist with product design and created fabrication drawings for products. He has also listed accompanying materials needed for fabrication and provided assistance to other engineering team members when electrical or electronic expertise is required.
"No two days are the same in my role – one day I am writing reports and formatting documentation for the Australian Defence Force (ADF), and the next day I am testing the compliance of a device or determining how hot a radiator pipe will get," Jayden describes.
"Engineering involves a high level of reading comprehension, detail discrimination, mathematics and focus, all in that order. A critical part of my role involves understanding the standards and then showing mathematically that we meet those standards, as well as managing stakeholders, including the ADF and manufacturing industry."
"Project management skills are also required to ensure outcomes are validated, verified and delivered on-time."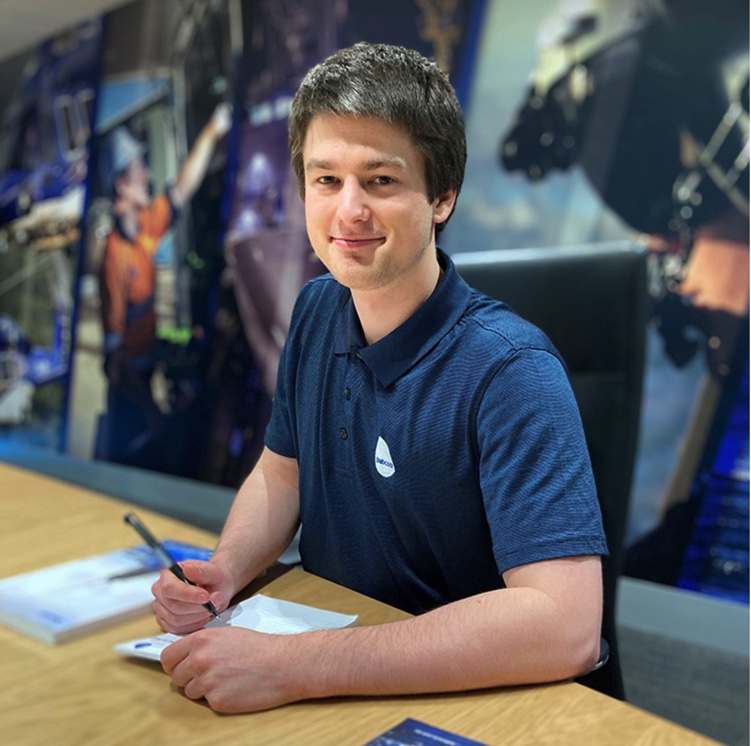 Jayden has always had strong family ties to the defence industry, with his parents having served within the ADF. Combining this passion with his love for mathematics, problem-solving, and making a difference, Jayden pursued a career in engineering at university.
"I was set on joining the Defence Force, specifically the Navy as it was where I saw that I could provide the greatest value. Because of this I studied the various ranks, assets and locations of the ADF. This general knowledge of Defence serves me well in my current role at Babcock," Jayden says.
"Additionally, I completed a Bachelor of Engineering (Electronics) (Honours) at Flinders University and finished at the end of 2019."
Whilst completing his final year of university, Jayden undertook a six month exchange with multidisciplinary engineering school and research centre, ENSTA Bretagne, in Brest, France. That same year in France, Jayden completed an internship with Thales, where he worked on the Autonomous Surface Vessel program, among various other projects.
"My project at Thales was specifically to create a small drone that would be able to operate in the open ocean autonomously for one year. This drone would operate through the use of a basic Artificial Intelligence (AI) that controlled the various systems of the drone," Jayden explains.
"By using basic AI, we were able to specify the direction of the drone via the navigation subsystem and using the sensors and propellers on-board. My role was mainly firmware, but I was also involved in the creation of the AI and the mission management tool."
Jayden is proud of his achievements, and says the investment Babcock puts into its staff will allow his success to continue.
"Here at Babcock I love the camaraderie and personal investment. Babcock is big on the development of engineering skills, even after education. I am encouraged to continue my engineering development, to the point where Babcock is willing to provide me with training external to the company," Jayden says.
"I am being provided opportunities, both in and out of projects, to take the raw skills that I learned in university and to forge them into accurate and precise tools that make me an engineering force to be reckoned with."
"The challenges I have seen my manager face and the engineering prowess I have seen him demonstrate leaves me excited about building my engineering career with Babcock."
Jayden's advice for budding engineers and those chasing a career dream within the defence industry revolves around tackling your fears and stepping outside of your comfort zone.
"The problems and challenges in the Defence Industry are similar to those you will face in other industries, but the difference is that every system is absolutely mission critical every time," Jayden says.
"This gives me a love for my job, where I can impose the beauty of mathematics on a difficult problem and see my solution become reality."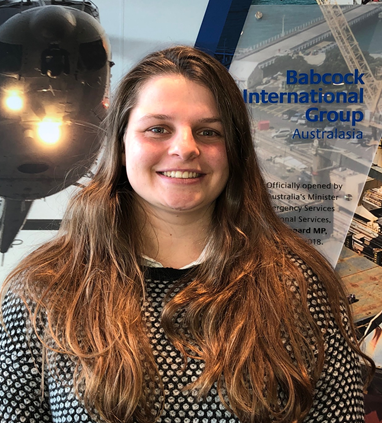 Imogen Larcombe, Graduate Engineer
"I've always been a practical person and enjoy problem-solving, so I loved maths and physics at school. I had an inspiring teacher at high school, who encouraged me in specialist maths – I was one of only two girls who studied it.
"My degree is in Mechatronics and Computer Science. That's come in very useful in my work here at Babcock, especially in a project we're working on for our Defence customer.
"I've been with Babcock Australasia since the start of 2021 and in that time I've enjoyed learning about the industry and customer requirements.
"It's been good to gain the end-user perspective, and see how my work can be applied in real-life situations.
"I recently took on the challenge of creating a data analytics tool that integrates multiple data points to produce an easy to use dashboard.
"From my own experience, it can be daunting to be in a course with mostly male students, but it helps that the female students support each other. Having a mentor is a great advantage, as they can boost your confidence and be a sounding board for ideas.
"My engineering hero is Michelle Simmons, who is a leader in the field of quantum physics and renowned internationally as a pioneer in atomic electronics. Her work inspires me to keep learning as much as I can, and be part of building the future."
Ways of Working is a comprehensive suite of flexibility and leave policies that offer you a fully-rounded experience as you work with us.
It's about providing you with options to set a balance that suits you and your life, while continuing to deliver the amazing work you do for Babcock. 
Purchase leave – when you want extra time out
Parental leave – available whether you're mum or dad, with no waiting period
Defence leave – we're proud to support our reservists 
Domestic violence leave – we hope you never need it, but it's there if you do
Flexible working – plan your working day around your other activities
Compressed working weeks – get things done at your pace
Wellbeing days – take a pause to look after yourself
And there are plenty of other benefits available to you – career development opportunities, healthcare rates, plus retail discounts through beRewarded.
Our Purpose and Principles define and underpin our ways of working together, how we create value for our shareholders and how we elevate delivery for our customers.
Our Purpose is to create a safe and secure world, together.
Our Principles keep us on the right course for achieving our vision of a safe, strong, sustainable Babcock. They unify the way we work, so whatever your role in the business or location around the world, we're all on the same page and working together in the same way.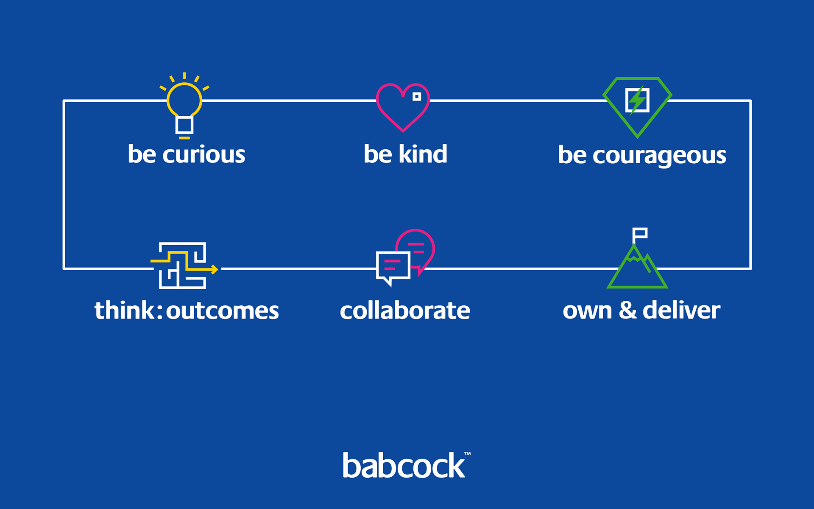 Our six Principles
Be curious – We believe in positively challenging the status quo and asking, 'how might we?'
Think: outcomes – We believe in measuring success by the results we deliver and the positive impact we make
Be kind – We believe in being kind to ourselves, kind to each other and kind to the planet
Collaborate – We believe that Babcock is greater than the sum of its parts
Be courageous – We believe in being brave, ambitious and determined
Own & deliver – We believe everybody has a part to play in Babcock's and our customers' success
Diversity & Inclusion

As a global company, Babcock is a business that unites people of many different skills and outlooks, and from many different backgrounds. To be the best – and to stay the best – we make sure we recruit, retain and reward the very best and most suitable people for the job, every time.
We believe that making the most of the differences in our workforce is key to the success of our business. A diverse mix of people brings a wealth of experience and knowledge, which helps in solving complex problems and achieving our business goals.
So when you apply for a role at Babcock you'll be assessed purely on merit, regardless of your age, gender, race, religious beliefs or background.
LGBTIQ+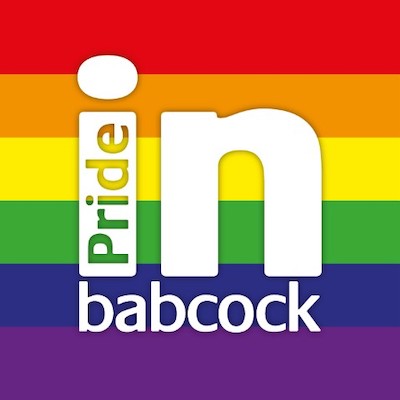 At Babcock, we are passionate about creating an inclusive company – where everyone feels they belong.
We recognise there are challenges for LQBTTQI+ people in society and the workplace, and we are committed to ensuring everyone feels respected, included and supported.
Across our global company, we support Pride Month each year, encouraging all employees to participate and actively show support for LQBTTQI+ people.
In New Zealand, our people partner with the New Zealand Defence Force and have signed the Pride Pledge.
In the UK, Babcock launched our Babcock Trans and Non-Binary Policy, and work is underway to develop the policy for our global operations.
Gender Equality

Babcock is committed to supporting gender equality. Today, when it comes to gender balance, women are significantly under-represented, particularly in senior roles. Females make up just 19% of our global workforce. We are determined to change this.
We are striving for a target of 30% women within senior leadership teams by 2025, and 30% female representation across Babcock at all levels by 2030.
We celebrate the strengths and successes of our female colleagues on International Women's Day each year, as well as activities for International Women in Engineering Day. Babcock also supports up and coming female engineers through sponsorships and partnerships with universities and schools around the world.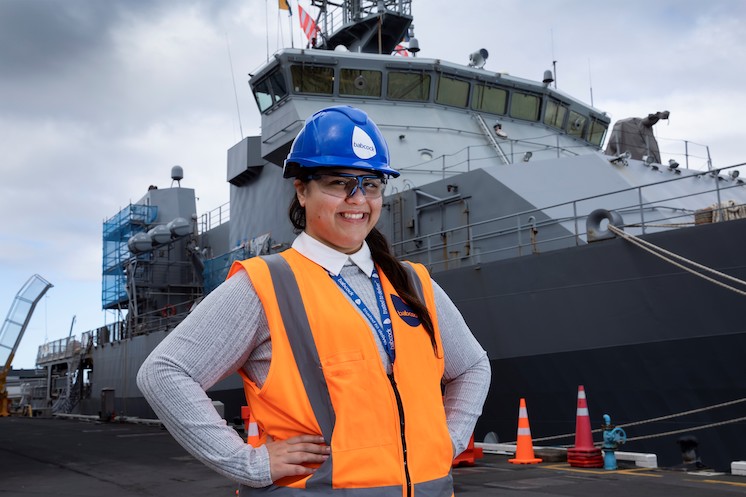 First Nations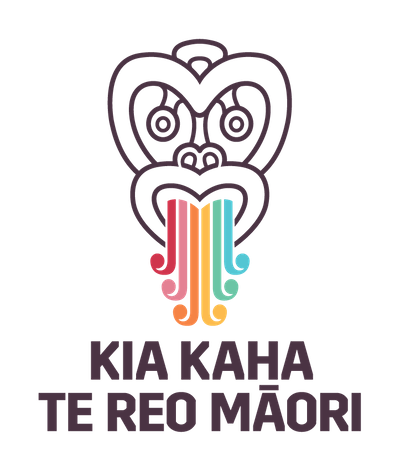 Babcock acknowledges and respects the history, traditions and culture of the communities we serve, and of many of our people.
Across Australia and New Zealand, Babcock celebrates NAIDOC Week, Te Wiki o te Reo Māori (Māori Language Week) and National Reconciliation Week.
We partner with Supply Nation to expand our supply chain to include indigenous-owned businesses and suppliers across Australia. We have an equivalent commitment in New Zealand through the Amotai initiative.
We continue to provide major long-term sponsorship to Engineering Aid Australia and to Yalari, with one of our previous Yalari Scholarship students joining Babcock as an apprentice engineer at Barrow Island.