Our Internship Program
BAE Systems
---
In 2018 BAE Systems launched a new Internship program. Offered in various locations around Australia, the key features of the new program include:
12 week structured (and paid) internship
Interesting and meaningful work
Opportunities to collaborate with Interns and Graduates across the country
Establish learning goals and performance evaluation at the end of the 12 week placement
End of internship presentation opportunity to share key learnings and achievements
Early consideration for graduate opportunities
We are also proud of our association with CareerTrackers who provide interns into our program. CareerTrackers is a non-profit organisation who create internship opportunities for Indigenous university students. In 2018 we announced a 10 year agreement CareerTrackers and committed to placing 8-10 interns annually.
As our HR Director Shelley Willsmore said;
"We are committed to bridging the gap for Aboriginal and Torres Strait Islanders and we're doing this both by partnering with Indigenous businesses to grow our supply chain and through our recruitment of apprentices, trainees, vocational students and graduates.  
"Internships are a great way to provide students with a taste of working in the defence industry and means they will be a step ahead when it comes to recruitment as graduates or apprentices.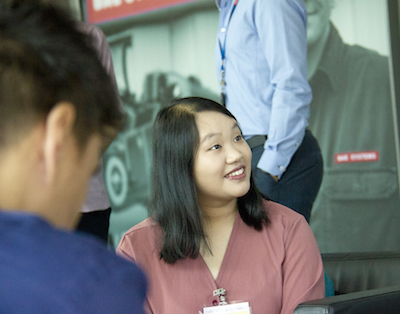 "There's never been a better time to be thinking about a future career in Defence."
To be eligible to apply for an internship, you must be in your penultimate year of study and studying a degree level qualification in an appropriate discipline.
You will also need demonstrated team work, communication and problem solving skills coupled with a strong desire to learn and a flexible approach to work.  Due to the nature of our work, you'll also need to be an Australian citizen and eligible for Australian Defence security clearance.
Applications will open in September.