Capital Transport Graduate Programs & Internships
Capital Transport is the largest, privately owned courier and taxi truck business in the country, specialising in same day delivery of freight within metropolitan areas of all Australian capital cities.
We have grown a reputation over the past 30 years of not only promoting from within, but a culture of providing support, mentorship and ongoing training, ensuring staff are developed into great leaders and business professionals.
At Capital Transport we welcome and encourage all suggestions and ideas from our employees so we can achieve the best business outcomes possible. We aren't afraid of challenges and we're willing to be dynamic and take the necessary steps to stay ahead of the game.
Capital Transport currently has 0 opportunities.
Select the following options:
Past Capital Transport Graduate Hiring Statistics
If you're interested in working at Capital Transport, understanding when they have opened up applications for their graduate programs, graduate jobs and internships is helpful knowledge to have so you know when you might need to apply. Use the below information to see when Capital Transport hires graduates, but more importantly what graduate degree's and other student attributes they target for their jobs.
---
Job types
Graduate Jobs (91%),

Internships (9%),
Disciplines
Accounting (35%),

Administration (17%),

Banking and Finance (17%),

Business and Commerce (91%),

Computer Science (4%),
Work rights
Australian Citizen (100%),

Australian Permanent Resident (100%),

New Zealand Citizen (74%),
About Us
Capital Transport
---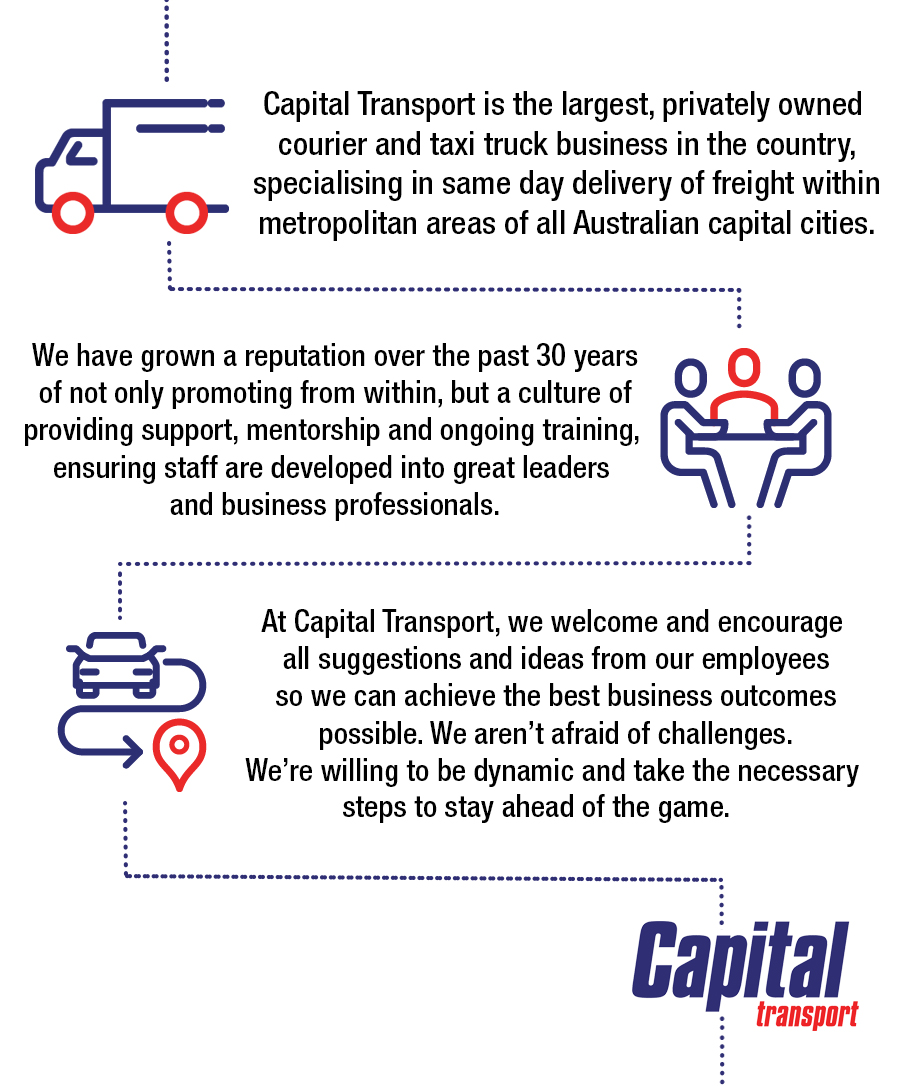 Why Join Us?
Capital Transport
---
You will receive mentoring from industry experts on a daily basis, including a monthly catch up with the State Manager
You will receive structured, in depth face-to-face training on all areas of our Operations departments, and will be signed off as competent at the end of each rotation
At the conclusion of the program you'll be placed into a permanent role
We're a growing business that will present many progression opportunities as we have an emphasis on staff development
We pride ourselves on being a business that builds and shapes career paths
We're a dynamic, forward facing organisation and are always chasing continuous improvement
We're a National company with offices in Melbourne, Sydney, Brisbane, Perth and Adelaide
You'll learn how to operate our innovative in-house, purpose-built technology
We are a socially and environmentally responsible organisation
Graduate Program
Capital Transport
---
As part of our Graduate Program, you will undergo 10 rotations over 12 months, which will consist of spending 4-8 weeks in each department of our Transport Operations. The departments include:
Customer Service
Solutions
On-road driver experience
Fleet
Administration
Couriers
Taxi Trucks
Contracts
Sales
Accounts Receivable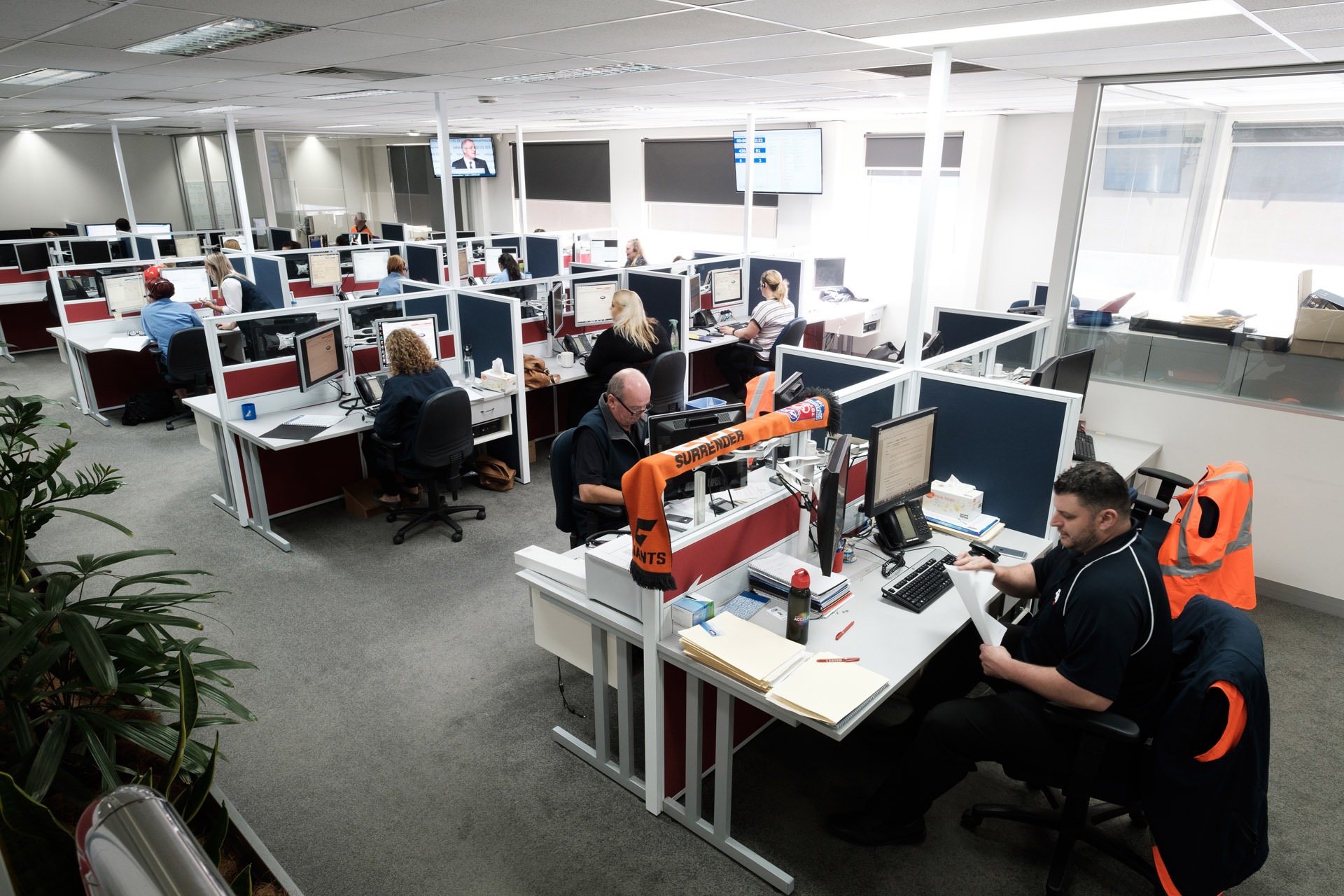 The program will give you a wholistic understanding of how we run our business and how each department plays an important role in our operations. You will be given a Program booklet upon commencement which will detail the key learning criteria for your time in each rotation to ensure you obtain all the foundational knowledge you need.
You will receive significant guidance and mentoring during your time with each team until you become an expert yourself, as well as monthly scheduled catchups with the State Manager who will oversee the program.
We're looking for enthusiastic Graduates who have a passion for all things Transport, and who are looking to dive straight into the Operations of our business and continue to learn every step of the way.
The following disciplines are preferred however applicants from all backgrounds are encouraged to apply:
Logistics;
Transport;
Commerce/Business.
Application Process
Capital Transport
---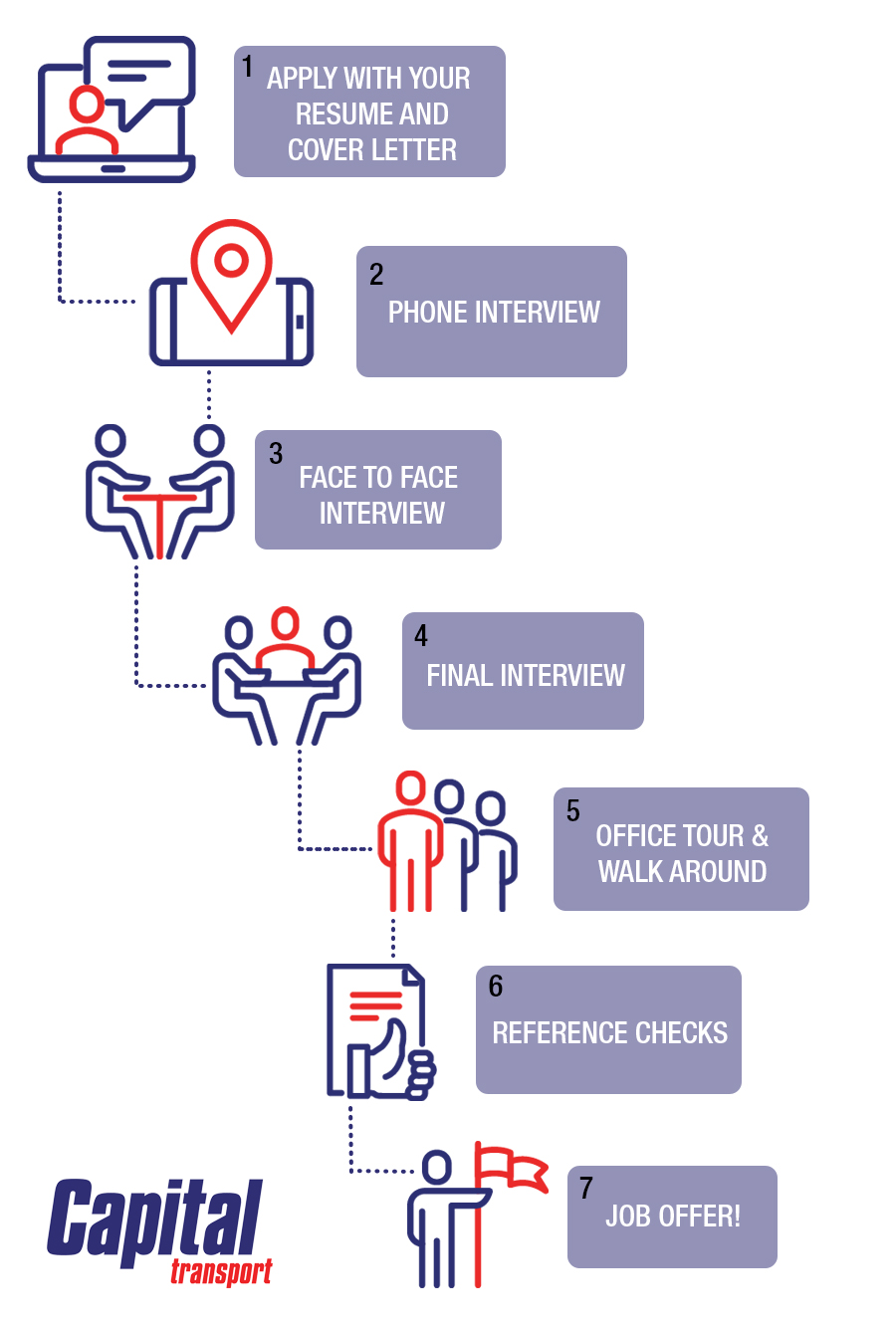 Employee Profiles
Capital Transport
---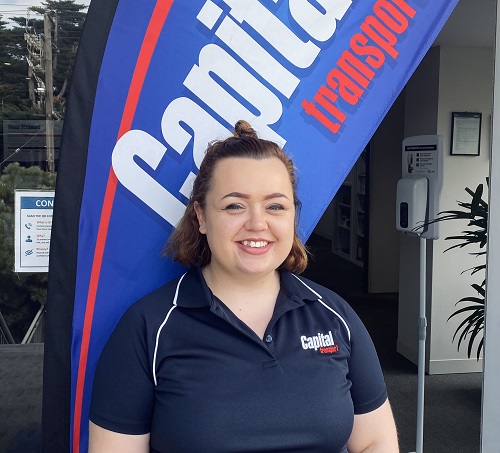 "Working at Capital has been an amazing experience so far, I'm constantly learning and there is excellent training in place. Everyone is so welcoming and always encouraging my growth and development in the transport and logistics industry. Every day is something different and you are always learning. It's such a supportive team in this fun and fast paced environment. Looking forward to the many opportunities that await me within the business." – Stephanie
---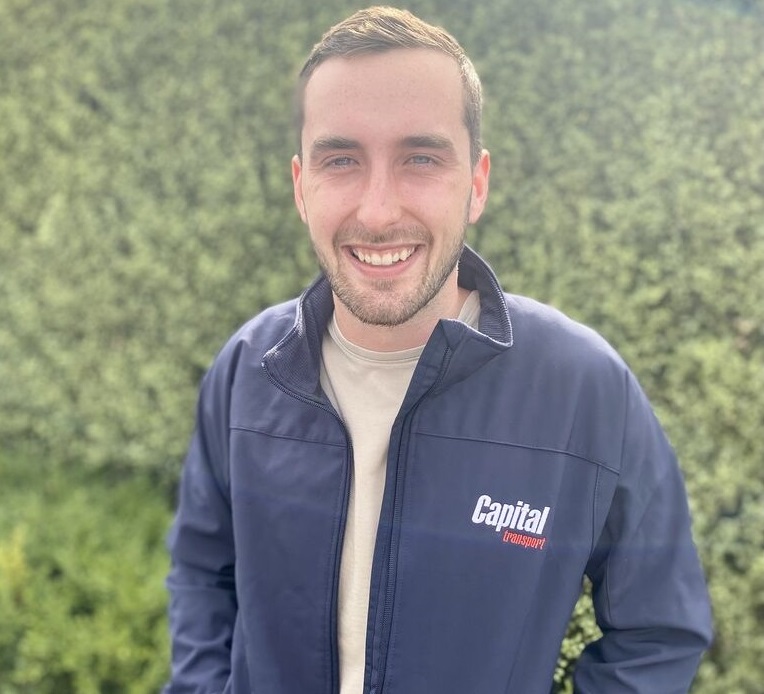 "The cadetship has been a fantastic opportunity to kick start my career within the transportation industry, gaining hands on experience amongst a variety of roles for a very busy company. The supportive staff and managers have proven to be there for me whenever I need a helping hand or a question answered. I'm looking forward to the remainder of my rotations, in particular the trucks rotation where I will be planning routes, truck loads and helping overcome any obstacles that may be present." – Sam
A Day in the Life
Capital Transport
---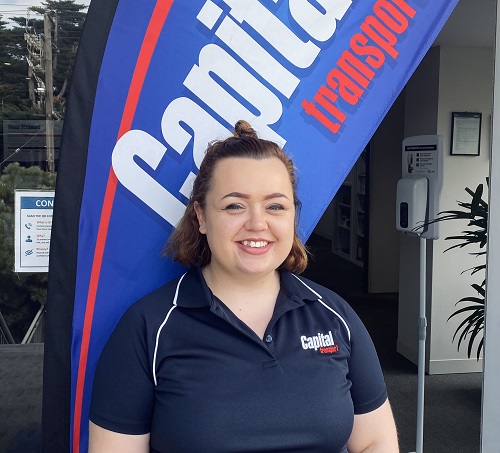 "Working at Capital has been an amazing experience so far, I'm constantly learning each day and there is excellent training in place. Everyone is so welcoming and always encouraging my growth and development in the transport and logistics industry. During my Customer Service team rotation, I was given a new responsibility weekly and no two days were the same. It's such a supportive team in this fun and fast paced environment. Looking forward to the many opportunities that await me within the business." – Stephanie
Stephanie joined Capital Transport in October 2020 after graduating from RMIT with a Bachelor of IT, minoring in Logistics.
Burning Questions with Capital Transport Grads
Capital Transport
---
We reached out to the current group of Graduates in the Capital Transport Grad Programme from their varying degree disciplines and within different rotations, to ask them some burning questions, as requested by students.  Thank you to the Capital Transport Grads for their time and effort.  Let's see what they have to say!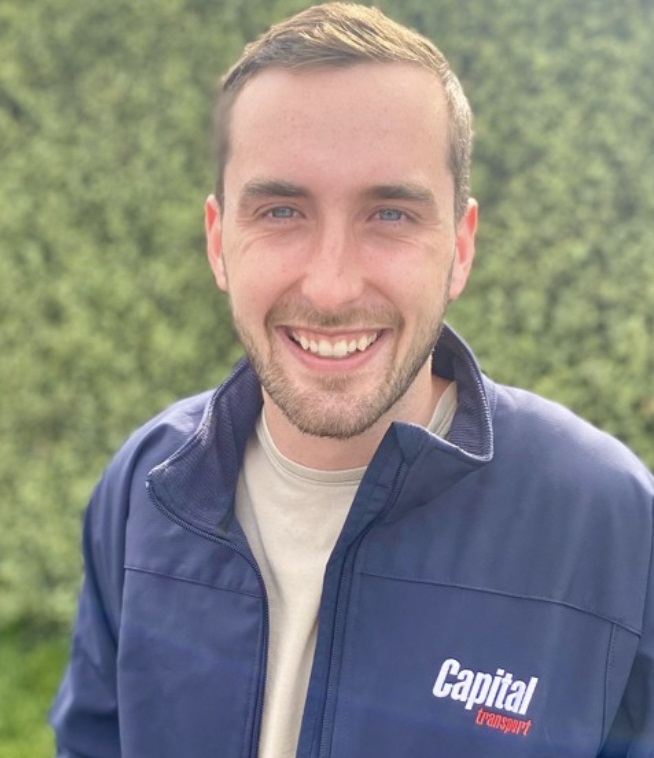 Samuel
Deakin University
Management
Can you let us know what company you are working for and which area of the business you work in or which rotation you are currently in? 
Capital Transport, Contracts department
What was the first 6 months like?  What have you really enjoyed? 
The first 6 months was a very steep learning curve. It was amazing to see the difference between what I studied throughout my degree and how that translates into the transport industry. Throughout the first 6 months I developed skills in areas such as customer service, stakeholder management, use of transport allocating software, radio operating and even courier driving. My favorite part of this period was using the radios and allocating jobs all day like a video game.
Was your position with the Capital Transport Grad Programme as you expected it to be? Did anything take you by surprise?
Overall ,yes my position was as I expected. Lots of hands on training and changing departments quickly. I was surprised to see how helpful all the graduates were in each department despite being a trainee in each one.
Everyone is keen on maintaining work/life balance, with that in mind what is the longest day you have put it and have you worked weekends at all?
10 hours would have been the longest day I worked. I have never been forced to work a weekend. I have been offered and have asked to work weekends during some of the companies busy projects that carried onto the weekend.
On a day to day basis, what do you work on?
Allocating vehicles for pick up and delivery, Day to day client and subcontractor relations, Warehousing and admin tasks.
Have you worked on any projects at Capital Transport?
Day to day my main projects is vehicle routing and communications. During the year I was involved in some larger scale warehousing and distribution solution projects, as some large retailers relied heavily on transport throughout the Covid 19 pandemic.
What systems do you use for your role in the graduate programme?
Microsoft suite, in-house built transport allocating and booking softwares
What sort of support are you provided at Capital Transport?
My mangers have regularly checked in on me to see both how I'm doing and where I want to be in the further. Capital even provided me with support as I moved state by immediately introducing me to the other states team and involved me in discussion regarding potential positions I could fit into.
What skills do you think you need to succeed in your role and do they differ from what you envisioned?
Confidence, written and verbal communication skills and a willingness to adapt to change.
What are the best perks or benefits at Capital Transport?
Flexible work schedule, working from home for some roles.