Achiever Alumni
Chartered Accountants Australia and New Zealand
---
What's an Achiever Programme internship really like?
We speak to students Krizelle Requilman and Courtney Creighton about their Achiever Programme internship experience, and how it's helped to prepare them for careers in finance and accounting.
Courtney and Krizelle are studying at the University of Waikato New Zealand in a Bachelor of Business, Management, Marketing and Related Support Services, and Bachelor of Business Analysis courses, respectively.
They were looking for a way to gain valuable workforce experience to pair with their studies and discovered the CA ANZ Achiever Programme. The Programme places tertiary students in paid internship positions at CA ANZ's network of participating employer organisations.
Courtney and Krizelle both applied and ultimately were placed as accounting interns at NZ fuel supplier, Waitomo Petroleum Ltd.
The application process
Designed to be similar to graduate recruitment processes, the application process includes an online form, cognitive testing, video interview, attending an assessment centre or phone interview (depending on your state/region); and a face-to-face employer interview for successful candidates.
"It was initially nerve-wracking but I think it's essential that the process is really detailed because it did help find a well-matched company for me. It provided me with good practice for applying for graduate roles after the Achiever Programme as the processes were really similar to each other. I knew what to expect and learned how to manage my nerves," Krizelle says.
For Courtney, the recruitment process taught her to always aim to put her best foot forward.
"I learnt how important it is to keep a positive attitude and try your best. It's important to make sure you read all the role requirements clearly and have good references lined-up if needed," Courtney says.
The Achiever Programme experience
In terms of day-to-day tasks, Courtney worked with the finance team, providing admin and project support. She also got the chance to see the customer-facing side of the business, taking part in a 'truck day'.
"I spent one day in the truck with a driver. That was really good because it gave me a diverse experience and broad understanding of the operations management in the petroleum industry. Then I also got to learn about supply chains, where fuel comes from and how to transport it.," Courtney says.
For Krizelle, her tasks initially revolved around data entry, invoice reconciliations and transaction reviews as an introduction to the company and its accounting system. Eventually, she began taking on asset management responsibilities.
"The Achiever Programme was great because it gave me an opportunity to see how accountants work in other industries." Courtney Creighton Student & Achiever Programme Intern
"At the start, account analysis, journal entries and reconciliations formed my day-to-day responsibilities. Eventually, the tasks became more detailed and complex. At one point, I had one-on-one meetings with the sales and operations teams to discuss key tasks and decisions being made," Krizelle says.
As part of the Achiever Programme, students are paired with mentors within their host organisation to help show them the ropes and monitor their progress. Krizelle and Courtney each had senior team members as coaches and reported to Waitomo CFO, Leanne Milligan.
"Being able to work with Leanne, and hear about her experience and have her share her knowledge was incredible," Courtney says.
How it's shaped their future
Krizelle says one of the best parts about the programme was gaining insight into how an organisation works and the connections she made.
"My favourite part about the placement would be the relationships I gained. Waitomo Petroleum staff have been nothing but supportive and friendly. It was a good networking opportunity for me because I spoke with people about their different roles and that helped me to decide what I'd potentially like to pursue after uni," she says.
For Courtney, she credits the Achiever Programme with providing her a clearer idea of the career opportunities she could have as an accountant.
"The Achiever Programme was great because it gave me an opportunity to see how accountants work in other industries. I really want to work somewhere like Waitomo which isn't primarily accounting, but as a CA. This opportunity showed me that was a possibility."
Golden ticket: How the Achiever Programme kick-started Ryan Loo's career
For Ryan Loo, an accounting career was practically written in the stars. As a youngster, his role model was his godbrother - a Deloitte accountant who was respected and revered by his colleagues - and it became his dream to one day follow in his footsteps.
As a student on the way to becoming a Chartered Accountant, Ryan was drawn to the Achiever Programme primarily because of the opportunity it presented to discover what it was like to work as an accountant at a large, prestigious firm.
In 2017, the Achiever Programme placed almost 200 Australian and New Zealand tertiary accounting students in paid industry experience working at one of 130 partnering employers. Students went through a typical recruitment process - similar to what they will experience after graduation - and successful candidates were then placed with employers over the summer.
The Achiever Programme struck me as a wonderful opportunity to gain insight into the accounting industry and valuable firsthand experience working for one of these renowned companies, and it turned out to be a great programme for me, especially in terms of getting to know the industry. Ryan Loo
During the first step of the recruitment process, Achiever Programme hopefuls aren't told who will be interviewing them or what company they are from. The best way to handle that, Ryan says, is by keeping an open mind, preparing for the unexpected and trying to remain relaxed.
After being assessed and shortlisted, Ryan attended a one-on-one formal interview as well as a second meeting in the office of Pitcher Partners. Once he'd landed the gig, he was assigned a 'buddy' to look out for him during the six-week placement. Pitcher Partners takes this part of the process very seriously to ensure that interns get the most they possibly can out of the programme.
"A buddy typically has around three years' experience. Their job was to look over Ryan's shoulder, and not only aim to expose Ryan to the many facets of the life of a Chartered Accountant but also assist with any queries," Director in the Business Advisory and Assurance division of Pitcher Partners Alex Marchione explains.
"As a management team, my fellow managers and I ensured that Ryan gained a cross section of different work experience during the programme."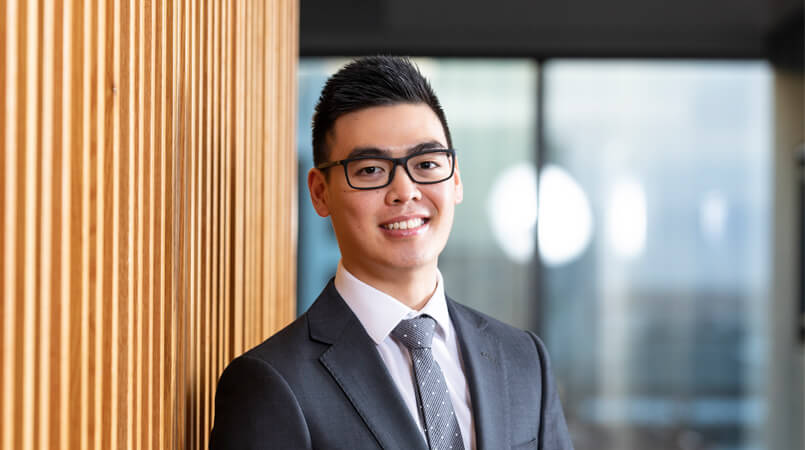 Ryan Loo
"Ryan engaged and worked well with his peers and clients alike," Marchione says. "These are the attributes that we will typically look for in candidates in the internship program - do they display a willingness to learn and are they able to engage and work effectively with their clients and peers?"
Ryan learned a lot during his six-week placement, but one lesson in particular stood out to him as being the most important takeaway.
"Just going through the programme, everyone was really supportive, and no one too intimidating, which was what I really liked," Ryan explains. "I felt comfortable speaking with them, just being who I am, rather than over-preparing and being too nervous about it."
"Don't be afraid to speak up. Everyone's more than happy to help out; lend a hand. And don't be afraid to ask stupid questions because there are none. It's all about a learning curve at the end of the day, so as long as you're progressing, that's all you can ask for."
Ryan mentioned other benefits of the Achiever Programme including boosting his resume, receiving valuable on-the-job experience and learning for the future. He also strongly advises jumping at any chance you get to talk to people outside of your intern group.
Ryan noted that seniors and managers always made time to chat with him during the workday, and it's really no wonder they did. Marchione praised Ryan as a "confident and articulate young man who displayed a consistent eagerness to learn about working in the Chartered Accounting profession."
"He brought to work each day a desire to engage with his peers and clients and learn from his experiences, and would ask intelligent questions on assignments so that he could link the 'why' with the 'how'," says Alex.
Ryan can't speak more highly of the firm, from the friendly office culture to helpful colleagues, and feels that every minute of his experience was valuable.
"Networking with such a wide range of people was amazing," he said. "That was my favourite part of working there. But I learned a lot about myself too - I'm not as shy and reserved as I thought I was, and I was able to get out of my comfort zone and meet new people."
"I've definitely learned more about myself, and participating in the programme helped me get to where I am now."