CA Student Representative Recruitment
Chartered Accountants Australia and New Zealand
---
Every year Chartered Accountants Australia and New Zealand (Chartered Accountants ANZ) employ highly motivated students majoring in accounting to become Chartered Accountants Student Representatives at selected university campuses across Australia and New Zealand.
This unique paid employment offers you the opportunity to join the community of CA Student Representatives getting exposure to industry events, networking opportunities, professional skills training, building employer connections and empowering students to pursue a career in business and accounting.
Why should I apply to become a CA Student Representative?
The opportunity to have personal introductions to Chartered Accountants ANZ contacts, partner employers and career experts within the accounting industry.
Grow your internal and external networks.
To work with an experienced Careers Engagement mentor who will advise you about graduate opportunities in your region.
What can I expect to do as a CA Student Representative?
Represent the Chartered Accountants ANZ brand at a range of industry events on and off campus, during lectures, discussion groups and at high school events.
Provide students with information about a pathway to becoming a Chartered Accountant.
Actively promote events and new initiatives either face to face or through your social media networks.
Liaise with university academics and student societies to ensure they're up to date on Chartered Accountants ANZ news and events in your area.
Inspire students to pursue a career in business and accounting by being the face on campus for Chartered Accountants ANZ.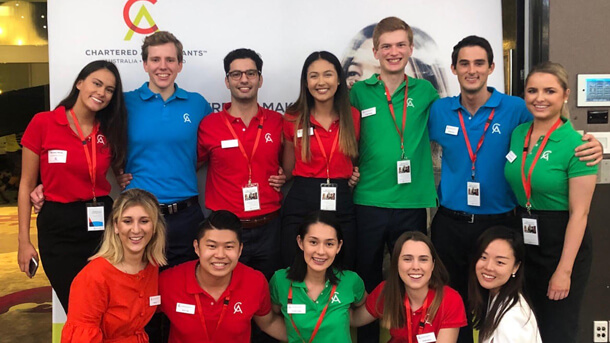 Queensland Student RepsQueensland CA Student Reps at Brisbane Employment Evening 2019
Who is eligible to apply?
You must currently be studying a degree in business or commerce, ideally with an accounting major. This opportunity is open to students at any stage of their studies. We may review applications from students with non-accounting degrees who have a strong interest in pursuing a career in accounting and finance.
Be available to commit to on average 1-2 hours of paid work per week for the duration of the year.
Be studying at university for both first and second semester the following year.
How can I apply?
Applications for Student Representatives open in September and will be advertised on GradConnection.