Citi Graduate Programs & Internships
Citi works tirelessly to serve individuals, communities, institutions and nations. With 200 years of experience meeting the world's toughest challenges and seizing its greatest opportunities, we strive to create the best outcomes for our clients and customers with financial solutions that are simple, creative and responsible.
Past Citi Graduate Hiring Statistics
If you're interested in working at Citi, understanding when they have opened up applications for their graduate programs, graduate jobs and internships is helpful knowledge to have so you know when you might need to apply. Use the below information to see when Citi hires graduates, but more importantly what graduate degree's and other student attributes they target for their jobs.
---
Job types
Internships (87%),

Graduate Jobs (6%),

Scholarships (6%),
Disciplines
Accounting (97%),

Administration (16%),

Agriculture (6%),

Architecture (3%),

Actuary (97%),
Locations
Sydney (90%),

Melbourne (58%),

Hobart (42%),

Perth (42%),

Adelaide (42%),
Work rights
Australian Citizen (100%),

Australian Permanent Resident (100%),

New Zealand Citizen (100%),

Australian Working Visa (3%),
Welcome What's Next.
Citi is more than a global financial services company. It's an engine for progress. Join us and you'll have the chance to get involved in progress in all its shapes and forms, right across the world. From the micro to the macro, from Australia to Zambia, the work we do has real positive impact. Wherever you are and whatever you do, progress starts here.
What's Next for you at Citi?
Citi is a place where the best come to get better. We've built a world-famous, trusted brand over 200 years of continuously evolving financial services. But it is our unwavering focus on delivering opportunities for growth and development to our most talented people that is best known within the industry. Here, opportunities to progress are truly open to all. It all adds up to an exciting place to be for talented, ambitious people who want to build a truly remarkable career.
What You Can Expect:
International Careers: We provide more services in more geographies than any other financial institution. This presents our graduates with a unique opportunity to travel and learn from their international colleagues. We value internal mobility across job functions and international boards. Career growth is not a question of if, but when.
Learning & Development Opportunities: Our unwavering commitment to delivering opportunities for growth to our talented people makes us a sought after employer for graduates. Continuous self-development is integral to our culture and all graduates are given the opportunity to learn on-the-job, from others, through education, and via our graduate training program.
Positive Impact: Partnering for success is not just for clients. We inhabit many environments and do business in thousands of communities around the world. Our purpose is to drive progress and make a positive impact wherever we are and whatever we do. At Citi, we are committed to proving our employees with opportunities to give back to the communities they work in.
Our Graduate Programs
Citi
---
Interns
One of the primary ways in which we identify the very best talent is via internships. These are paid programs aimed at penultimate-year students that run over the summer. Throughout the program, interns are exposed to a mixture of training, social events, and professional experiences. They also benefit from formal mentorships, volunteer opportunities, and lunch and learns with business leaders from across Citi. Our goal is to equip our interns with the skills and network necessary to embark on their professional careers.
"I had the privilege of interning at Citi over the 2018/19 summer.  The program was designed to help us understand more about Citi, the operations of a global bank, and what part our respective roles play in the bigger picture. Interning within the investment banking division was challenging but equally rewarding, and I was fortunate to work in a team with a strong culture that values transparency, communication, and hard work."  - Josh Evans, BCMA Investment Banking Intern
Full-Time Graduates
Graduates join Citi as part of a 2 to 2.5 year program with structured rotations within their business areas. Citi is one of the few firms within Australia offering rotations, which removes the focus from building expertise around a specific area or function and instead emphasizes the importance of developing strong relationships, learning quickly, and adapting to new teams.
At the end of the rotational program, graduates are better equipped to decide where they wish to start their careers and build broad foundational knowledge, skills, and networks that can be relied upon at any point in their career.
"I chose to work for Citi because of its global footprint and the opportunity to work with high-performing teams around the world. Given Citi Australia is a lot smaller than our local counterparts, graduates get exposure to incredible experiences and our input is highly valued by management" – Christopher Lam, Global Consumer Bank Graduate
Business Lines
Citi offers both internships and full-time graduate programs across our Global Consumer Bank and Institutional Clients Group.
International Careers Start Here.
At Citi we are a truly global organisation. We provide more services in more geographies than any other financial institution. This presents our employees with a unique opportunity to travel and learn from their international colleagues starting from day one.
Within our graduates program, analysts in the Markets division go to London for a month in September, Investment Banking and Capital Markets go to New York for global training in July, and TTS attends training in Hong Kong. This unique training experience gives Citi's graduates a network of peers across the globe they will be able to leverage throughout their careers.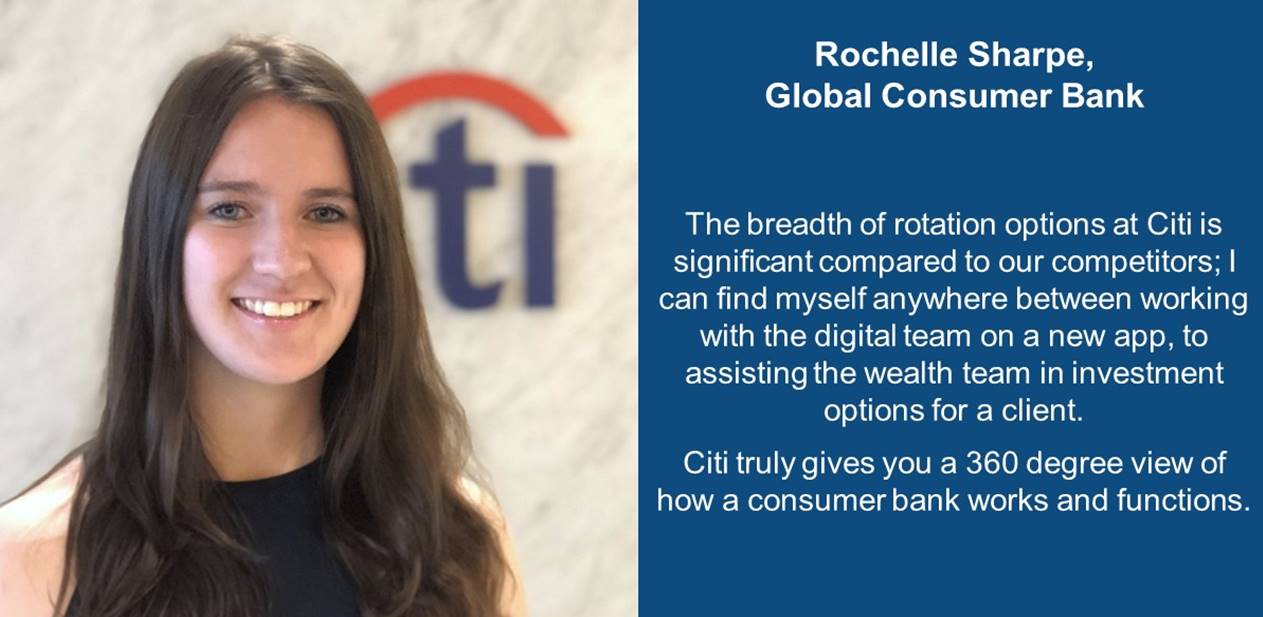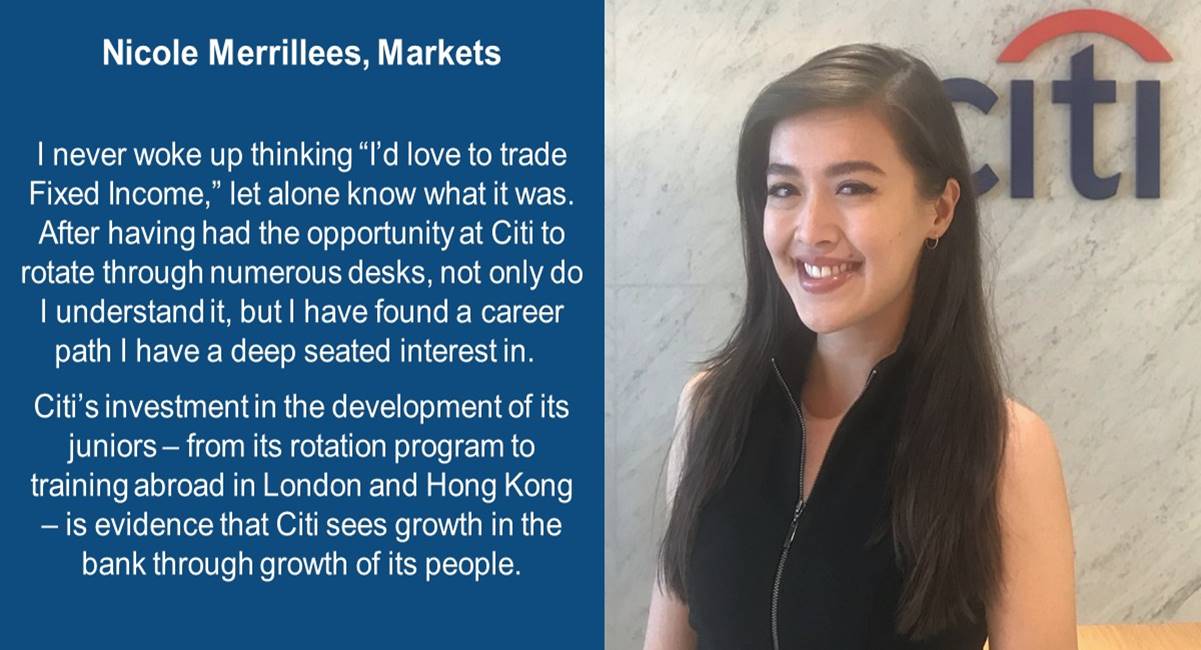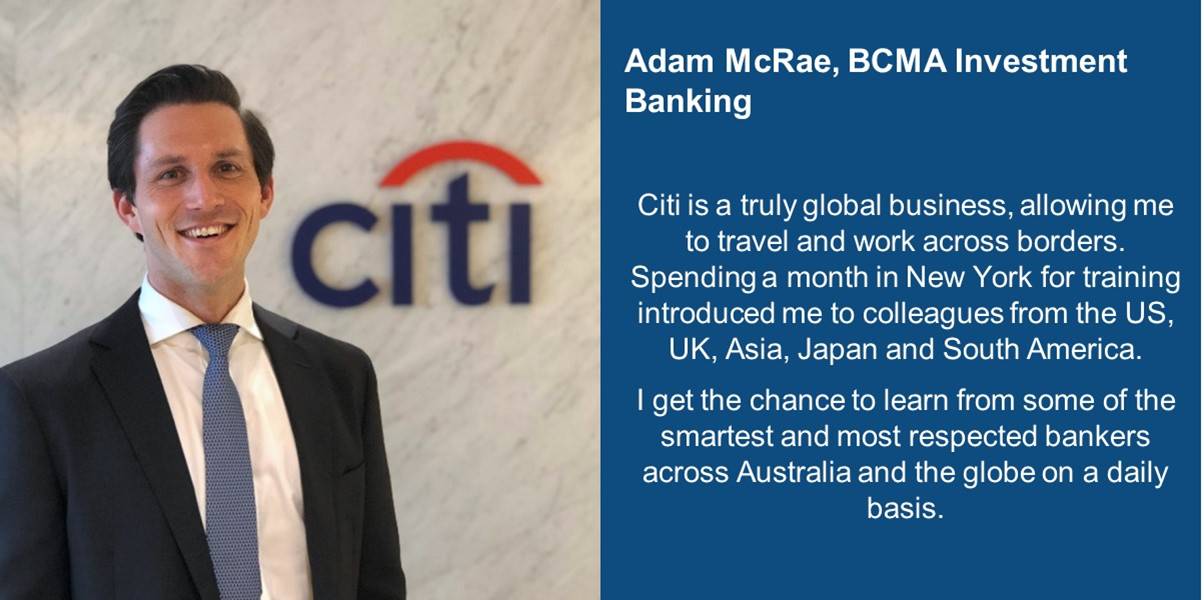 Citi's Diversity Commitment

Citi
---
Diversity is an essential part of Citi. When our workforce is as diverse as the clients, communities, and world we serve, we are a more vibrant, innovative and high-performing bank and a better place to work.

Citi's Affinity model, built on the foundation of our global grassroots Employee Network program that has existed for many years, is our approach to disseminating the company's diversity priorities and goals. The work of our senior leaders to bring our Affinities to life across Citi has been an important signal to our employees worldwide. Members of our CEO's leadership team, along with other senior leaders across the company, co-chair each of our Affinities to help provide accountability for increasing diversity at Citi. The Affinity leaders act as public champions for the priorities and needs of that demographic, both within the company and externally.
To learn more about Citi's diversity initiatives, please visit https://www.citigroup.com/citi/diversity/
Citi Women

Citi
---

Women are a powerful force for economic growth – not just in our own business, but in industries, sectors and geographies worldwide. Globally, we have over 80 networks and councils supporting and representing tens of thousands of women. Citi Women's Network also gives back to communities, from supporting female entrepreneurs to helping women invest in women in economies all over the world.
The Citi Australia Women's Network is an all-inclusive network made of women and men and is designed to address gender diversity topics in the workplace by connecting, inspiring, and empowering members. They host events to encourage networking and mentorship, highlight the stories of successful female professionals, and share advice and resources to help the professional development of women.

Citi Pride

Citi
---
The Citi Pride Affinity is committed to promote awareness and campaign for the civil rights that have yet to come for the LGBTI community. With 25 Pride Network chapters around the world, we have thousands of dedicated employees who are passionate about making Citi an employer of choice for the LGBT community.
The Sydney Citi Pride Network seeks to provide LGBTI employees, their families, and allies an opportunity to share common experiences and build awareness of LGBTI culture, identity, talent and issues. To that end, we foster professional development, community outreach, education, and awareness in Sydney for LGBTI employees and allies within the Citi community.

Employees in our Community
Citi employees have always been actively involved in the community and Citi facilitates this through its well-established volunteering and workplace giving programs.
Citi employees volunteer year-round, and the establishment of Global Community Day in 2006 has provided an annual opportunity for tens of thousands of Citi employees, along with their families and friends, to come together as a global volunteer team to use their time, skills, and expertise to make a difference in their cities. Global Community Day is one of the many ways Citi shows its commitment to the communities where we have a presence.
In addition to Global Community Day, Citi offers employees one day of paid volunteer leave to support a charity they are passionate about or participate in a volunteer program with a Citi Foundation grant recipient.

Citi Foundation
Pathways to Progress aims to help reduce youth unemployment in key cities around the world and improve the quality of the youth workforce through partnerships with non profit organisations.
In February 2017, the Citi Foundation announced its largest philanthropic commitment ever with the global expansion of Pathways to Progress. By 2020 Citi will invest an additional US$100 million to impact the lives of 500,000 youth (ages 16-24) globally. Citi will also engage at least 10,000 employees as volunteers.
Over the last two years, the Citi Foundation has awarded more than A$3 million to support a range of partners in Australia including;
Brotherhood of St Laurence
Foundation for Young Australians
Global Sisters
Skilling Australia Foundation
Social Ventures Australia
The Smith Family
Sponsorships
Citi Australia has a long and proud history of supporting the local community through ongoing partnerships. We have aligned our partnerships within the sporting, dining, and art sectors that inspire customers, employees, and the Australian community. We aim to build partnerships with organisations that not only share our values, but also provide valuable benefits to our customers.
For more information on Citi Australia sponsorships, visit www.citigroup.com/Australia/aboutus
Girl Rising
Girl Rising is a non-profit organization dedicated to the empowerment of girls and women around the world. Our movement began in 2013 with the release of the "Girl Rising" film, which tells the stories of nine girls growing up in the developing world, and how they confront barriers to their education. This film, highlighting personal perseverance and potential, remains at the heart of the global campaign to change how girls and girls' educations are valued.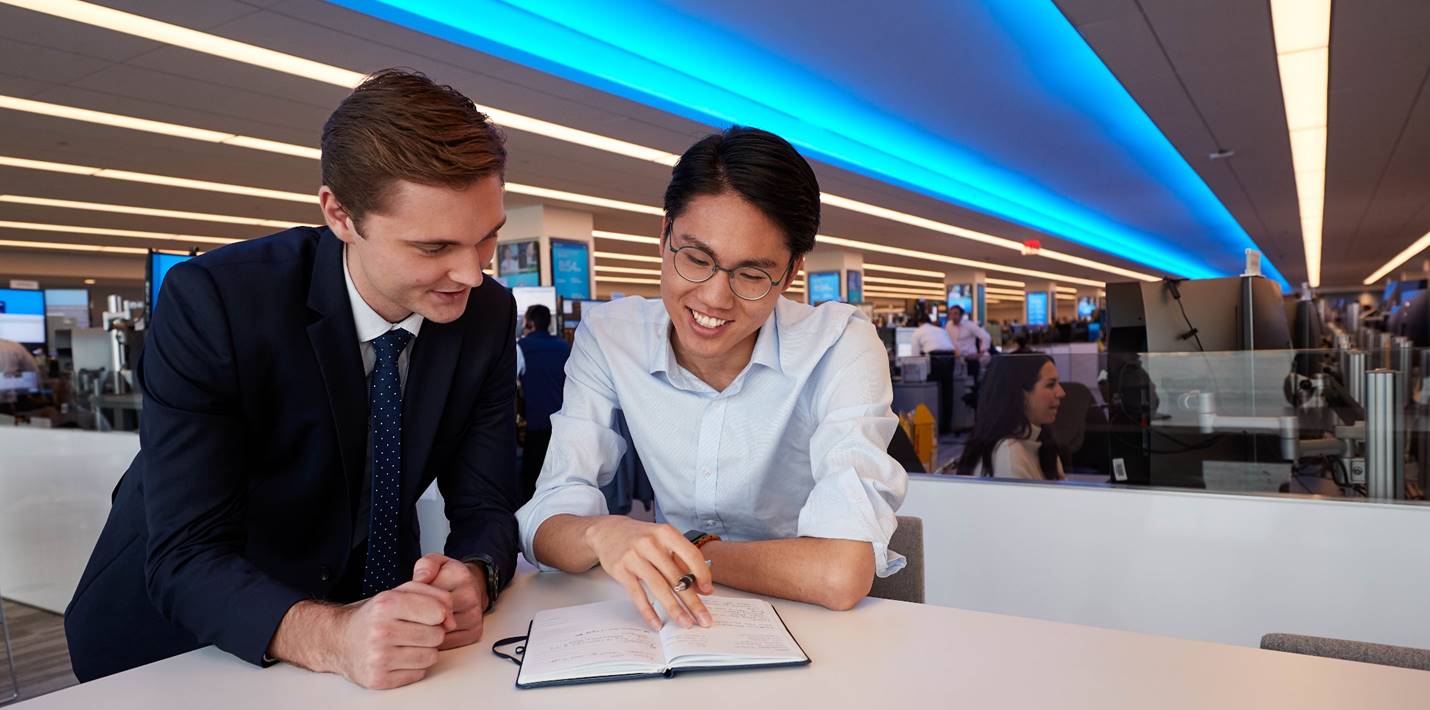 Search available opportunities


Determine which program(s) you are interested in applying to 


Complete your CV and tailor your cover letter to the business line you are applying to


Submit your application
Hear from our Recruiters: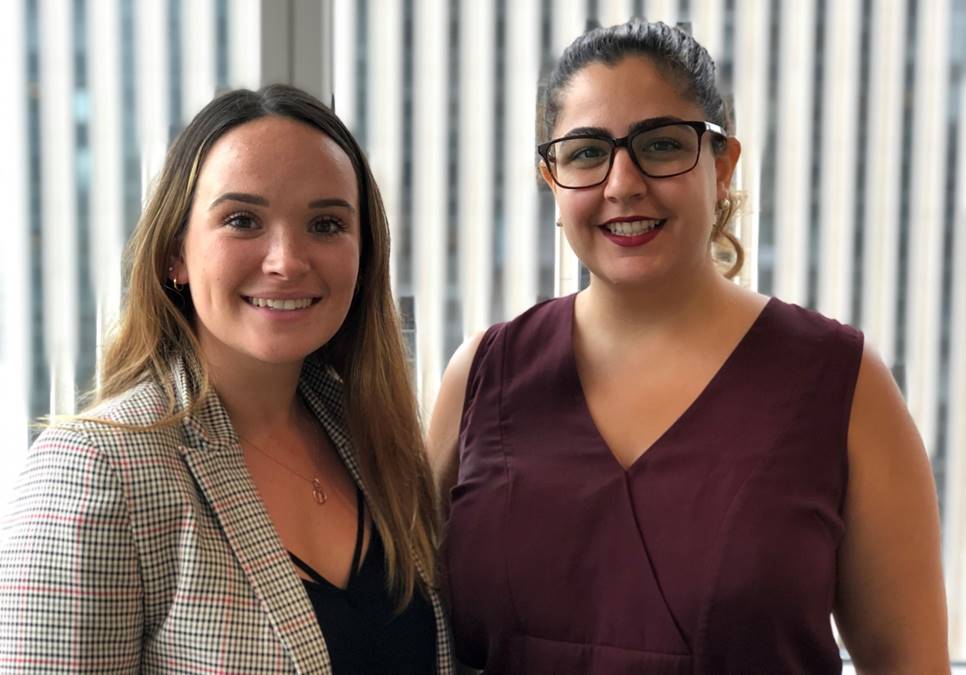 Amy Montgomery, Citi Australia Graduate Program Manager
We are looking for students who have a genuine interest and passion for the finance industry rather than a specific background or skillset. Because the products and services Citi offers are extremely diversified, the profiles we hire are equally diverse.
All applications require a CV and cover letter. Keeping your CV to 2 pages is ideal, and your cover letter should address your motivation for joining Citi and the specific program you are applying to. The more germane you can be the better, which you can do my reading up on the business and keeping up to date with local and global trends in the market. 
I encourage all students interested in joining Citi to attend on-site events, meet our business leaders, and connect with our current graduates. Citi hosts events at universities across Sydney and Melbourne, which give students a great opportunity to network, ask questions, and showcase your motivation for starting your career with Citi. 
Mona Sadigh, Resourcing Vice President
There are several simple yet often overlooked steps to make sure your CV and cover letter will stand out. Resumes should be no longer than 2 pages, consistently formatted throughout (spacing, highlighting and bolded titles), set in reverse-chronological order, and triple checked for any spelling or grammatical errors. While Citi is looking for a broad range of backgrounds and skillsets, your CV and resume should clearly articulate how your experience is aligned with the key competencies required for the graduate program.
During the interview process, Citi is looking for students who are self-starters and can thrive in a challenging and ever-changing environment. You can prepare for the interview by researching Citi, looking up your interviewers on LinkedIn, and preparing answers to commonly asked interview questions (which you can find on Google!). Having specific, predetermined scenarios you can leverage when asked to give examples will help make sure you get your key points across.  Using the STAR method (situation, task, action, result) is a great way to ensure your answers are clear and fully address the interviewer's questions.