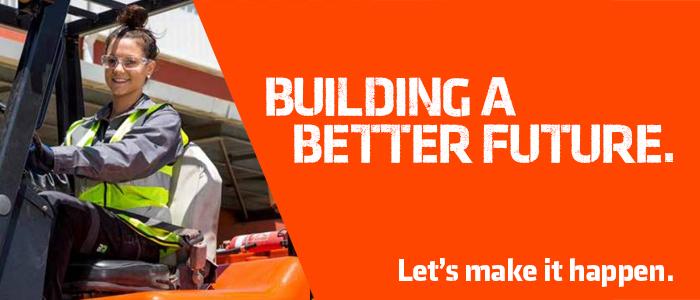 The Graduate Program & Our Graduates
Coates Hire
---
The Graduate Program:
The key to the growth of Coates Hire is our people. The development of our future leadership team relies on the success of our Graduate Program.
The Coates Hire Graduate Program is resourceful, flexible and shows initiative. We pride on talent who communicate with clarity and vision, seamlessly operate within a team, and share the same values and vision of our Coates Hire brand – always wanting to help build a better future.
The structured three-year program will lay the foundation for your successful career with Coates Hire.
During the Graduate Program you will progress and advance your skills through five rotations within the business, granting you real exposure to management, sales, operations and customers.
You will be hands-on from day one, contributing in a real job that enables a real opportunity to ignite your career within a company that believes true success comes from promoting and advancing the skillset of their people within.
We welcome graduates with a GPA of credit, distinction or above from the following disciplines: Engineering, Civil, Mining, Mechanical and Electrical Science, Occupational Health &Safety, Human Resources, Logistics, Economics, Finance, Business or Commerce.
You must be an Australian citizen and willing to relocate within Australia at the end of the program.
Ready to take the next step?
Let's make it happen.
Please click the Apply Now button to start your application.
Applications close 23rd October 2015.
Our Graduates:
 Joel Vinicombe - Victoria
I chose Coates Hire for career development and working for the best in the business. We are industry leaders and the program provided a great learning and development opportunity.  I have found the program to be much more challenging than expected. The learning curve is step and we are constantly challenged and pushed beyond the comfort zone but I'm enjoying it- particularly the networking opportunities with our customers. After spending time in the branches and then out on the road, you get so many opportunities to meet and develop relationships with customers.
Keeara Young - Western Australia
I chose the Graduate program with Coates Hire for a number of different reasons. After doing some research through their website, I noticed the huge focus on the development of their people and how happy people are in their jobs at Coates Hire. This was a huge influence for me as well as, wanting to be a contributor of something big in the future. There appears to be endless opportunities for the team at Coates Hire. The Graduate program itself is so diverse and allows you to see and appreciate so many parts of the business. The program is attractive because it is so different to anything else out there.  Not only do you get too see all these different roles in the business, you also are part of them and are given a hands on approach to each role.
You need to start with an open mind and be willing to jump in and do anything. The program has been full on from the start which makes time go incredibly quick, often makes you think on your feet and soon as you're comfortable in one role you're onto the next! The program allows you to do things you never thought you would be doing which is exciting!
Angus Crowley - Queensland
I chose the Coates Hire Graduate Program for the large variety across rotations and dedicated mentoring program alongside it, and I'm glad I did. It is more than I expected, we are given responsibility and purpose within the business from the get go! The thing I enjoy most is visiting customers on their sites! 
Justin McGregor - Victoria
A major reason for the interest in the Coates Hire Graduate Program is that you are given exposure to a wide variety of areas within the business. A key point to note within this program is the fact that in a few short years you will be formally recognised as a leader within an iconic Australian company.
As a graduate you often feel privileged from the exposure you are given into the mechanisms of Coates Hire from behind the scenes to the frontline.  You need to be a resilient individual and willing to put the effort in. You must be willing to work long hours and be flexible in the way you work. We were told from the start that we would become a key part of the Coates Hire team. I guess what is a bit unexpected is the high degree of value that is placed upon you in such a short period of time as a result of the effort you put in and the way you build relationships.  
Danielle Clark - Western Australia
There was something about Coates Hire that made me identify with the business straight away. I knew that there would be opportunity to move and grow within a strong iconic Company which is deeply embedded in Australia.
The most enjoyable thing so far has been the hands on nature of the rotations. We really have been performing the roles and getting strong insight that would not come from simply observing or shadowing someone within the role. I even have a forklift ticket which is something I never thought I would have!
Ajith Sasidharan - NSW
I chose Coates Hire because the graduate program was so varied. It allowed me to get involved in so many aspects of the business and get a more well-rounded induction into the business than a regular graduate program.
Becoming familiar with the equipment that we have for hire such as Mini Excavators, Skid Steer Loaders, Rollers to name a few has been very exciting.