Program Details
Commonwealth Superannuation Corporation
---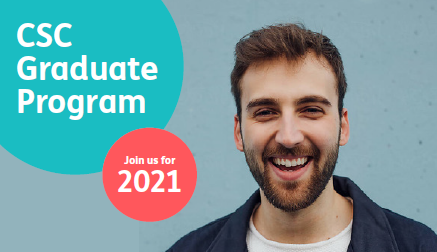 What does our program offer?
Our program starts in February where you will complete a one month induction program that includes formal and informal training, professional development, team building activities, and on-the-job learning opportunities, before starting your rotations in the business. During our graduate program you will go into a minimum of three rotations to give you the best experience of our customer, corporate and investment areas. We'll take your individual interests and goals into account when coordinating these opportunities.
Over the 17 month graduate program, you will work with the other graduates on a group project that contributes to better outcomes for our members and get the chance to collaborate with people from different business areas and in a variety of roles.
We offer meaningful and challenging work that is aligned to our strategic milestones so you can make an impact.
What's great about being a graduate at CSC?
Meaningful work that impacts our customers
Guaranteed a role if you complete the program
Training to help you grow personally and professionally
A tailored experience to find where you fit
Balancing work and life for a super you – make the most of our health and wellbeing program
---