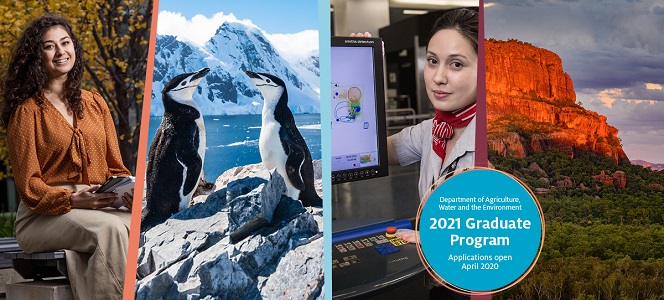 About Us
Department of Agriculture, Water and the Environment
---
Our department was established on 1 February 2020. Before this, we were the:
Department of Agriculture
Department of the Environment and Energy (Environment portfolio)
We protect Australia's natural resources and help develop strong agricultural industries. We work with others to ensure our land, water and heritage are well-managed, protected and productive.
For today and into the future.
The role of the department is diverse and far-reaching. We work across the breadth of our vast and valuable resources. On the land and water and in towns and cities. We:
assure our clean and green status by keeping pests and diseases out of Australia
protect and sustainably manage Australia's biodiversity, ecosystems, and heritage
prepare and coordinate our response to outbreaks of pests, diseases, and weeds
provide data and analysis on agriculture and the environment
support sustainable natural resource management
establish and manage Commonwealth protected areas
maintain and secure new markets for Australia's agricultural exports