Our Offer and Applying
Department of Defence
---
A graduate career in Defence could take you places you never imagined..
The Department of Defence is an equal opportunity employer and we encourage all Australian citizens with relevant skills and qualifications to apply for our graduate opportunities.
We offer a generous commencing salary and employment conditions that will help you to enjoy a happy work-life balance. We give our people support to grow in a dynamic, challenging and flexible work environment.
Applications for all streams of the Defence graduate program open on 27 February 2020 and close on 3 April 2020.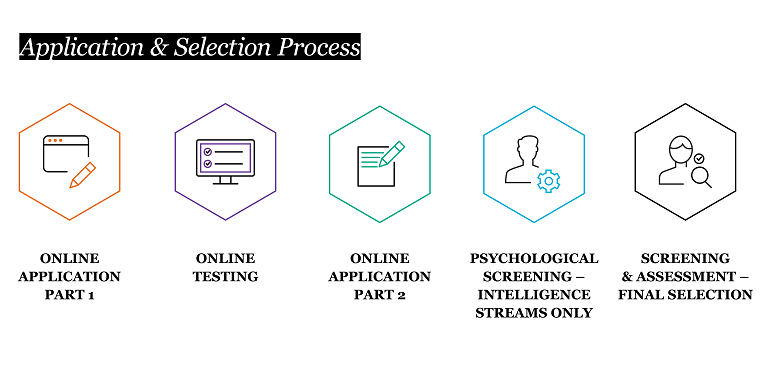 All Streams Offer:
As well as
Commencing salary for all Defence Graduate Programs of $67,100 per annum (equiv. to APS Level 4) plus a generous 15.4% employer superannuation contribution. Depending on the Pathway or Program that is successfully completed, graduates will advance to $73,256- $80,699 pa + 15.4% superannuation.
1 week familiarisation tour of interstate Defence establishments (for Generalist, Finance, ICT, Estate and Infrastructure, HR, Engineering, Maritime Engineering and Naval Construction, Commercial and Logistics streams).
Flexible working conditions.
Free access to gyms at most locations.
4 weeks Annual Leave per year.
3 weeks Personal Leave per year.
Who we are looking for
The Department of Defence is an exciting and challenging place to work offering outstanding and diverse career opportunities for dedicated professionals.
We are looking for graduates who are interested in contributing to the Defence mission to protect Australia and our national interests, while building their career. Our graduates are people who have high level communication and interpersonal skills, strong technical and analytical skills; and the ability to thrive in a dynamic and diverse organisation.
Our successful candidates are professional, self-aware team players, and adapt easily to change. You will be committed to learning and development and share Defence values and vision for the future.
Eligibility (including degree requirements)
Australian citizenship is a mandatory requirement for employment in the Department of Defence. If you have recently applied for citizenship, you must acquire citizenship prior to commencing employment.
All Department of Defence graduate opportunities require, at minimum, the completion of a three year Bachelor Degree, recognised in Australia. You will also be required to obtain a security clearance (Negative Vet Level 1 as a minimum) and undertake a medical examination to determine fitness for duty.
Other key eligibility requirements specific to some Defence programs include:
For the below streams you must be willing to undertake one 6-month rotation within Canberra, and one outside Canberra:
Engineering Stream
Maritime Engineering and Naval Construction Stream
Commercial Stream
Logistics Stream
The following agencies and career streams all require that you have completed your degree having achieved a credit average:
Defence Intelligence Organisation;
Generalist stream;
Estate and Infrastructure stream;
Human Resources stream;
Defence Policy stream; and
Commercial stream
The Research and Innovation stream requires that you have completed a relevant Honours degree within the last 2-years.
The Defence Intelligence Organisation, Australian Signals Directorate and Australian Geospatial- Intelligence Organisation all require a Top Secret Positive Vet (TSPV) security clearance. You must be willing to undertake a stringent security clearance process and have 10 year's checkable background. Visit our website for more detailed information.
How to Apply
To apply online and to find out more about Defence graduate program opportunities, please visit www.defence.gov.au/graduates.
For additional information, you may also e-mail us at [email protected]
We look forward to hearing from you.