Why Choose Defence?
Department of Defence
---
Make a Difference
If you are seeking a career with purpose, you will find it at Defence. Definitely.
Defence is seeking graduates from across all academic disciplines to take up the challenge of working for one of Australia's most dynamic organisations, with a mission of national and international significance.
As a graduate in the Department of Defence, you will enjoy experiences that, as a civilian, you simply wouldn't find with any other organisation. You will work with a diverse group of men and women who are dedicated to protecting Australian interests. You will carry out work that has true purpose. The Department offers Australian Public Service (APS) graduate opportunities across a range of career streams. Each development pathway is tailored to provide excellent learning and career progression opportunities to propel you into your future career with confidence. We are one of Australia's largest government departments and as such, we are able to offer rewarding careers across the widest possible spectrum of employment categories. You name it, we do it.
What We Offer Our Graduates
Wider Defence Benefits
A career in the Defence APS will support you from entry and onward as you professionally develop and progress. Our logic is simple - as you grow and develop your skills and experience, so does the contribution you make to corporate and team goals. You will receive training and development specific to your graduate development pathway. Further study is encouraged once you have completed the development program, with a wide range of post graduate university study supported by Defence. We value our employees and place importance on encouraging further career and knowledge development, training through such programs as Studybank and access to degree programs through the University of NSW ADFA campus.
Salary
Defence APS staff are employed under the Defence Enterprise Collective Agreement. Graduates for all development pathways will commence on a salary of that is equivalent to the bottom of the Defence APS 4: $68,442 pa plus 15.4% superannuation. Upon successful completion of the Defence Graduate Program, graduates will advance to a minimum of $75,109 plus 15.4% superannuation.
Leave Entitlements
As full-time Defence employees, graduates are offered generous leave entitlements, including 20 days annual leave per year, public holidays, paid sick leave, paid Christmas stand-down, plus one "unspecified purposes leave day", which we call the DeCA day. It's always nice to have one day up your sleeve when you don't need a reason to have a day off.
Flexible Work Options
Flexible work hours are offered as an alternative to the traditional 9–5 work day and allow staff to vary their daily arrival or departure time to fit within their work area requirements and their lifestyle. Generally, the span of time within which staff can work their required hours on a flexible basis is 7am–7pm, but individual arrangements should be negotiated to fit in with your team and work requirements. Flexible work hours can take a variety of different forms including a 'compressed working week', where employees work their standard weekly hours in fewer days than normal. Other flexible work options can be negotiated, such as part-time work or job sharing are also available to assist employees whose lifestyle or personal commitments are incompatible with full-time or standard hours of employment.
Relocation Expenses
Transition from study to career can be a challenging one. For many, it is the also first time they have lived away from home, and most graduates are moving interstate. We work hard to make the whole process as easy as possible for you, and offer a generous financial package to meet the costs involved with relocation.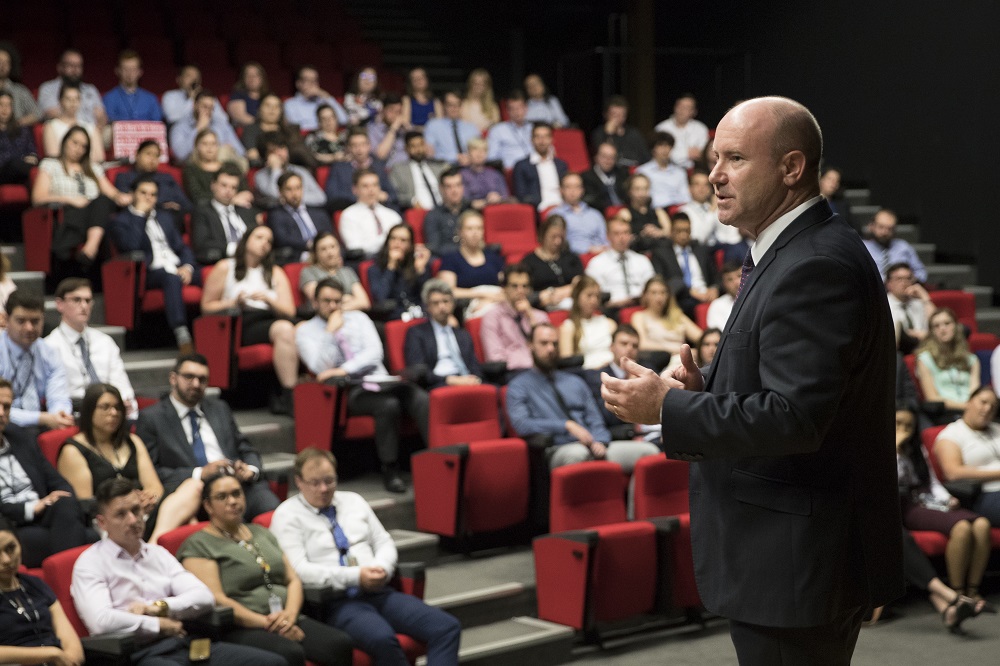 A Civilian STEM career in Defence offers you unparalleled exposure to technical and scientific expertise, diverse learning opportunities and unique development experiences. You will have access to cutting edge technology and you will experience an inclusive, stimulating and dynamic environment that fosters innovation, creativity and problem solving. Watch now to find out how you can work across a variety internationally significant Defence projects and immerse yourself in new and exciting challenges! Discover your potential at Defence.