Department of Education, Skills and Employment

2023 DESE Graduate Program - Generalist Stream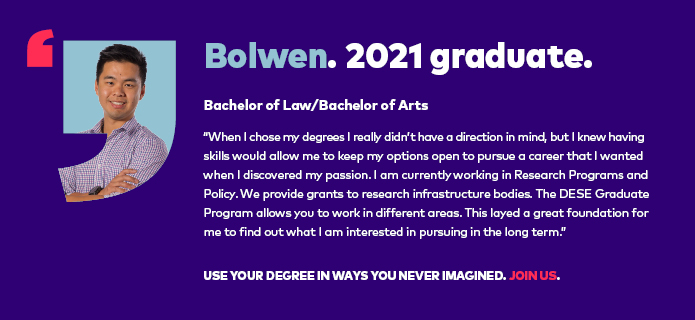 Applications are now open now for generalist graduates!
Do you have a university qualification and a desire to make a difference for all Australians? At the Department of Education, Skills and Employment (DESE), we are passionate about creating opportunities and driving better outcomes for people, through education, skills and employment pathways.
Our work is broad and requires people with all types of qualifications therefore we are focused on attracting graduates from a wide range of disciplines. Generalist graduates work on a variety of programs and policies developed and implemented by the department. Some examples of this work may include but is not limited to: contributing to policy and evaluation documents, developing and maintaining stakeholder relationships, consultation and engagement, regulation and compliance, liaising with stakeholders, legislation, research and analysis and program and contract management. 
We want to hear from graduates  from varied backgrounds and a range of qualifications including but limited to: 
Accounting, Banking and Finance
Business and Commerce
Economics
Public Policy
Law
IT & Digital Technology
Arts & Humanities
Education
Project Management and Human Resources
Information Systems
Information Technology
Media & Communications
Actuary
Administration
Data Science & Analytics. 
Our Program
As a DESE Graduate, you will be exposed to many facets of our portfolio as you build your capability during the Program.
Being part of a graduate cohort is a great way for you to transition from education to employment. We know firsthand the significance of this milestone and you'll find our graduate program connects you to friendly, experienced professionals who will help you apply your skills and knowledge as you start your career.
The DESE Graduate Program is a ten-month program and runs from February to December each year. As a DESE Graduate you will experience:
a holistic view of working in a government agency through two allocated work placements, where you will work on a variety of programs and policies developed and implemented by the department,
a formal learning and development program (including a Graduate Certificate in Public Administration),
on-the-job experience and the opportunity to work with and learn from subject matter experts.
a range of formal and on-the-job training activities designed to provide you with the tools to develop as an APS officer, 
working in a supportive, inclusive and flexible working environment, and
various opportunities to be involved in a wide range of networks, social and fundraising events.
The DESE Graduate program also offers:
relocation assistance to move to Canberra (subject to COVID-19 public health and travel advice at the time you start).
permanent ongoing employment in the Australian Public Service,
career progression from APS Level 3.1 to APS Level 5.1 on successful completion of the program
support from a buddy/alumni,
an Employee Assistance Program for wellbeing and career support,
dedicated buddy and supervisor
a dedicated Graduate Sponsor passionate about seeing you thrive.
Positions are primarily located in Canberra however some opportunities may be available in our State Offices. 
Education and jobs are central to Australia's COVID-19 recovery and our department has a big program of work to deliver. That is why It is an exciting time to join DESE. 
Join us as we work to implement transformative government policies and programs and draw on the best research and evidence to improve education and employment outcomes for Australians. Not only are we looking for strategic, fresh-thinking, innovative and high performing graduates, but also, we're looking for graduates that are enthusiastic, motivated and open to learning.
Additionally, flexibility and interpersonal skills are key attributes that will help you be successful in your graduate year and beyond as you apply your degree in ways you never imagined! 
If you have a desire to inform evidence-based policy which aims to help develop and improve outcomes for Australians, we want to hear from you.
Further information about our graduate program, including what we offer our graduates, is available on the our website: https://www.dese.gov.au/graduate-and-entry-level-programs/graduate-program
Note: From 1 July 2022 DESE will become the Department of Education and a new entity will be created called the Department of Employment and Workplace Relations. The core purpose of both departments remains the same, that is, to create opportunities and drive better outcomes for people, through education, skills and employment pathways. Through this recruitment process, we are seeking graduates for both departments, and if successful, you may be offered a position in either department.
24-06-2022
Job type:Entry Level Jobs
Disciplines:

Accounting, Actuary, Administration, Arts and Humanities,

...

Work rights:
Work from home:

Hybrid remote

Hybrid remote

Employees are allowed to work remotely some of the time but most of the work is done at the company's physical office. Remote work is considered a perk or a privilege. For example, an employee may work from home for 1-2 days per week.

Locations:

Canberra, Sydney, Brisbane,

...

Program Duration

10 months

VACANCIES

100

SALARY

$67,828-$70,648

POSITION START DATE

Feb 2023 (approx)

Closing Date:3rd Jul 2022, 1:59 pm
Search
Enter an employer or university you want to find in our search bar.