Department of Education, Skills and Employment

2023 DESE Graduate Program – Legal Stream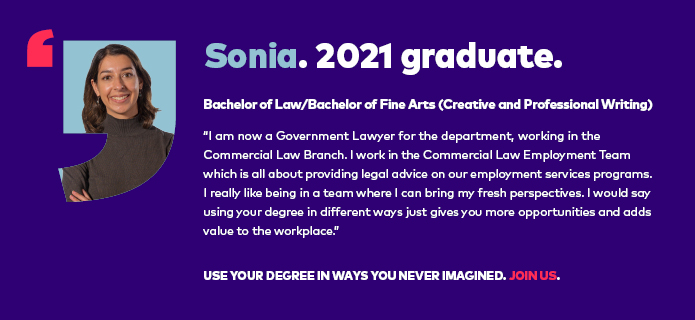 The Department of Education, Skills and Employment's (DESE) legal area is a career pathway for talented and motivated law graduates. Applications are now open and we want to hear from you. 
At DESE, we are passionate about creating opportunities and driving better outcomes for people, through education, skills and employment pathways.
Legal graduates will have the opportunity to work on a broad range of legal work in an Australian Government department and gain exposure to Australian Government policies and programs.
Our speciality legal stream graduates will undertake a holistic work program within the legal practice to gain skills and experience. Legal graduates will also have access to a specific legal blended learning program offering a combination of structured training and on the job experience. Support may also be offered towards completion of a Graduate Diploma of Legal Practice and admission as a Legal Practitioner if required.
The department's in-house legal practice offers a wide range of services. Our lawyers provide legal advice across the range of the department's responsibilities (including in relation to the development of legislation and the conduct of litigation).
Graduates are involved in the full range of work undertaken by our legal teams. Areas include government and administrative law, corporate and commercial law, intellectual property, litigation (including some advocacy work), social security, information law and legislation development.
Who we are Looking For
We offer career opportunities for highly talented and motivated law graduates. We are looking for graduates who have:
a Graduate Diploma of Legal Practice or a commitment to complete the qualification and gain admission as a Legal Practitioner.
Additionally, legal graduates should:
have excellent legal and analytical capabilities
have outstanding interpersonal and communication skills
have personal drive and enthusiasm
show initiative and flexibility
successful academic achievement
enthusiasm, a strong work ethic, and an attitude that is open to learning and innovation
possess leadership qualities
Additionally, flexibility and interpersonal skills are key attributes that will help you be successful in your graduate year and beyond.
All graduates in the DESE Graduate Program will undertake a Graduate Certificate in Public Administration as the formal learning and development component of the program. This additional tertiary qualification offers all graduates a strong foundational understanding of working in the APS and in a policy agency.
If you choose the legal pathway as your preference in the application process, you will also be considered for the generalist pathway as well.
Our Program
As a DESE Graduate, you will be exposed to many facets of our portfolio as you build your capability during the Program.
Being part of a graduate cohort is a great way for you to transition from education to employment. We know firsthand the significance of this milestone and you'll find our graduate program connects you to friendly, experienced professionals who will help you apply your skills and knowledge as you start your career.
The DESE Graduate Program is a ten-month program and runs from February to December each year. As a DESE Graduate you will experience:
a holistic view of working in a government agency through two allocated work placements, 
a formal learning and development program (including a Graduate Certificate in Public Administration),
on-the-job experience and the opportunity to work with and learn from subject matter experts.
a range of formal and on-the-job training activities designed to provide you with the tools to develop as an APS officer, 
working in a supportive, inclusive and flexible working environment, and
various opportunities to be involved in a wide range of networks, social and fundraising events.
The DESE Graduate program also offers:
relocation assistance to move to Canberra (subject to COVID-19 public health and travel advice at the time you start).
permanent ongoing employment in the Australian Public Service,
career progression from APS Level 3.1 to APS Level 5.1 on successful completion of the program
support from a buddy/alumni,
an Employee Assistance Program for wellbeing and career support,
dedicated buddy and supervisor
a dedicated Graduate Sponsor passionate about seeing you thrive.
Positions are primarily located in Canberra. 
Education and jobs are central to Australia's COVID-19 recovery and our department has a big program of work to deliver. That is why It is an exciting time to join DESE. 
Not only are we looking for strategic, fresh-thinking, innovative and high performing graduates, but also, we're looking for graduates that are enthusiastic, motivated and open to learning. Additionally, flexibility and interpersonal skills are key attributes that will help you be successful in your graduate year and beyond as you apply your degree in ways you never imagined! 
Join us as we work to implement transformative government policies and programs and draw on the best research and evidence to improve education and employment outcomes for Australians.  If you have a desire to work for a department that informs evidence-based policy which aims to help develop and improve outcomes for Australians, we want to hear from you. Apply now!
Further information about our graduate program, including what we offer our graduates, is available on our website: https://www.dese.gov.au/graduate-and-entry-level-programs/graduate-program
Note: From 1 July 2022 DESE will become the Department of Education and a new entity will be created called the Department of Employment and Workplace Relations. The core purpose of both departments remains the same, that is, to create opportunities and drive better outcomes for people, through education, skills and employment pathways. Through this recruitment process, we are seeking graduates for both departments, and if successful, you may be offered a position in either department.
24-06-2022
Job type:Entry Level Jobs
Disciplines:

Arts and Humanities, Business and Commerce,

...

Work rights:
Work from home:

Hybrid remote

Hybrid remote

Employees are allowed to work remotely some of the time but most of the work is done at the company's physical office. Remote work is considered a perk or a privilege. For example, an employee may work from home for 1-2 days per week.

Locations:

Program Duration

10 months

VACANCIES

4

SALARY

$67,828-$70,648

POSITION START DATE

Feb 2023 (approx)

Closing Date:3rd Jul 2022, 1:59 pm
Search
Enter an employer or university you want to find in our search bar.