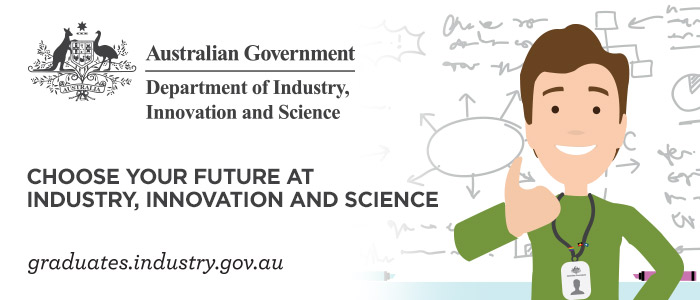 About Department of Industry, Innovation and Science
Department of Industry, Innovation and Science
---
What we do:
Our ideas and policy leadership shape the Australian economy to drive growth and productivity for globally competitive industries. We facilitate economic transformation and boost business competitiveness, and we have administrative and regulatory functions that help Australian industries prosper.
For more information, see our website – http://www.industry.gov.au
Who we are looking for
We accept all disciplines of study, and we have numerous opportunities available to use your skills, knowledge and experience.
Along with a Generalist Stream, in 2020 we are offering a Professional Services Stream for people with qualifications in ICT, Finance, Law, Human Resources and Communications/Marketing.
The work you could do:
There is a variety of work within the department and across many disciplines. We have policy work in the Australian Space Agency, Office of the Chief Scientist, Anti-Dumping Commission, and within our strategic Divisions.
Or there's scientific and economic work at the National Measurements Institute, Economic and Analytical Services, IP Australia, Questacon, or our Science and Commercialisation division.
Maybe you would like to engage with Australian businesses through our AusIndustry Divisions.
Or would a position within our Corporate, Legal, ICT workforce be a better fit for you?
There is lots of interesting work to do we are just waiting for you to join us!