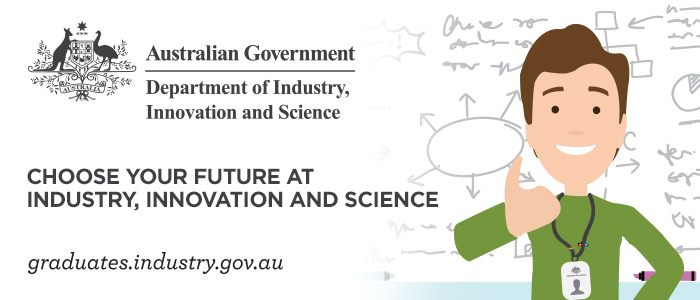 About Department of Industry, Innovation and Science
Department of Industry, Innovation and Science
---
Our department consolidates the Australian Government's efforts to drive economic growth, productivity and competitiveness by bringing together industry, resources and science.
The Department of Industry, Innovation and Science Graduate Development Program is a two year program. We accept all disciplines of study, so there are numerous opportunities available letting you use the skills and knowledge you gained through university and work experience.
Choose your future at Industry, Innovation and Science! We offer you;
a two year program
specialised on-the-job training
four work placements to experience the diversity of roles and responsibilities across the department
advancement to APS 5 after the first year on the program
the opportunity to collaborate with other graduates on a major project, tackling real-life policy issues, engaging with our stakeholders, and presenting your findings to the Department's Executive
a Post Graduate Qualification in the form of a Graduate Certificate in Business either Economics or Management
a previous graduate buddy to offer support as you settle in and provide advice on how to make the most of the program
a dedicated team to support you throughout the program
a commitment to continuing professional development after the graduate program.

We offer graduates positions in the following areas:
generalist pathway
Professional Pathway – Accounting
Professional Pathway – ICT
We support Diversity and Inclusion
The department takes a pro-active and innovative approach in creating a flexible and inclusive employment environment that values and utilises the contribution of people of different backgrounds, experiences, perspectives and abilities. We acknowledge the skills and perspectives that people may bring to the workplace because of their gender, age, language, ethnicity, cultural background, disability, religious belief, sexual orientation and work and life experiences. We recognise that the diversity of our people is, and rightly should be, one of our greatest strengths.
Applications are encouraged from Aboriginal and/or Torres Strait Islander people, people with a disability, the LGBTIQ+ Community and people from diverse cultural and linguistic backgrounds.
Contact us
There is a dedicated Graduate Team to answer all your questions.
Email: [email protected]
Call: 02 6213 6501
Interested?
If you're a graduate in any discipline and have Australian citizenship, find out more about our graduate jobs.