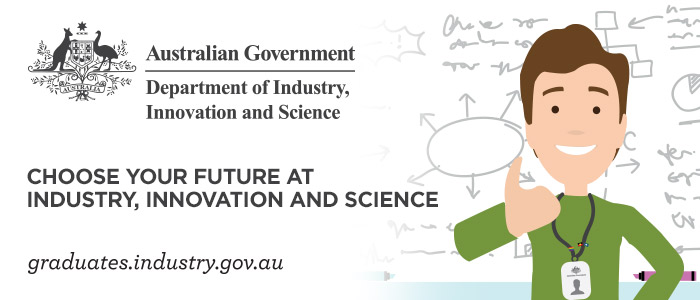 Working with us
Department of Industry, Innovation and Science
Our vision is to enable growth and productivity for globally competitive industries. To help realise this vision, the Department has four key objectives: supporting science and commercialisation, growing business investment and improving business capability, streamlining regulation and building a high performance organisation.
The Australian Government's vision is for an agile economy, capitalising on Australia's commercial and scientific strengths.
Central to this vision is the need for strong, self-reliant and innovative businesses.
The Department of Industry, Innovation and Science contributes to this vision by facilitating the growth and productivity of globally competitive industries.
We also support: scientific capability; strong science, technology, engineering and mathematics skills; and science literacy, as critical requirements for productivity and economic growth.
We support Diversity and Inclusion
The department takes a pro-active and innovative approach in creating a flexible and inclusive employment environment that values and utilises the contribution of people of different backgrounds, experiences, perspectives and abilities. We acknowledge the skills and perspectives that people may bring to the workplace because of their gender, age, language, ethnicity, cultural background, disability, religious belief, sexual orientation and work and life experiences. We recognise that the diversity of our people is, and rightly should be, one of our greatest strengths.
Applications are encouraged from Aboriginal and/or Torres Strait Islander people, people with a disability, the LGBTI+ Community and people from diverse cultural and linguistic backgrounds.
Learn more about the Department of Industry, Innovation and Science.