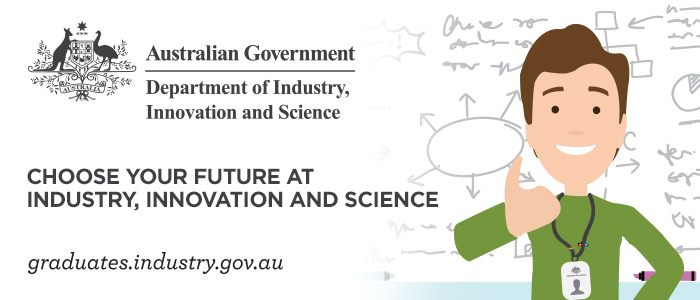 Eligibility & How to Apply
Department of Industry, Innovation and Science
---
Applications are open Wednesday 14 March 2018 at 10.00 am (AEST) and will close Monday 30 April 2018 at 11.55 pm (AEST). 
All positions are Canberra based however in your second year there may be opportunities to work in a state office. Relocation assistance is provided to successful candidates.
To be eligible for a graduate position you must:
Have completed a minimum of a three-year undergraduate degree, or have completed one by the end of 2018
Be an Australian citizen
Be prepared to relocate to Canberra.
Successful candidates will be required to undertake a security clearance and provide evidence of their tertiary qualifications and Australian citizenship.
We welcome applications from graduates from all disciplines, particularly with degrees in:
Economics
Data and Analytics
Commerce
Law
Business
Public Policy
Science
Information and Communication Technology
Accounting.
Even if you graduated a while ago you are still welcome to apply. There is no age limit for graduates. The department recruits a diverse range of people for our program and we value people who have work and life experience.
If your degree is from an overseas university it must be recognised by the National Office of Overseas Skills Recognition (NOOSR). If you have any questions in relation to your overseas qualification please contact NOOSR on 1300 636 079 or visit NOOSR's website at http://internationaleducation.gov.au.
We value people who have strong skills in:
Communication
Teamwork
Research and Analysis
Adaptability
Flexibility
Initiative
Judgement
If you also have post-graduate qualifications, work experience, political awareness and/or business acumen, it's a bonus!
How to Apply
You are required to complete your application online. Please provide:
An 800 word pitch describing the skills and experience you would bring to the graduate role and the department incorporating the following:


well developed communication skills
well developed research and analytical skills
ability to work effectively in a team environment
personal qualities including adaptability, flexibility, initiative and judgement

Your current CV (maximum 3 pages)


A copy of your current official academic transcript (noting that we understand you may still have units to complete)

Please note: Once you have submitted your application you will not be able to make any changes, however, you may update your personal details at any time.
Contact information
For more information regarding this opportunity, please contact The Graduate Team on 02 62136501 or via email at [email protected]
Learn more about the department
The department's current terms and conditions are outlined in the Department of Industry, Innovation and Science Enterprise Agreement 2016-2019 (the Agreement). The Agreement can be accessed from the department's website: http://www.industry.gov.au/
Follow us on Facebook or visit our website  www.graduates.industry.gov.au