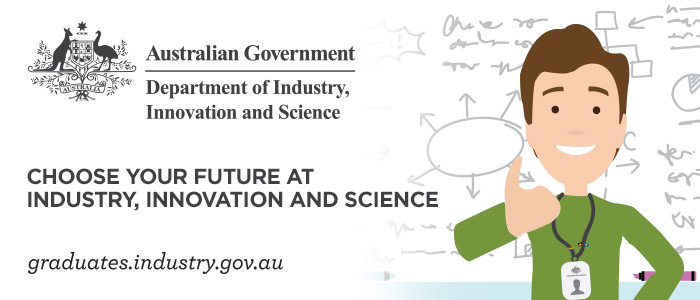 Eligibility and how to apply
Department of Industry, Innovation and Science
All positions are Canberra based. Relocation assistance is provided to successful candidates.
To be eligible for a graduate position you must:
Have completed a minimum of a three-year undergraduate degree, or have completed one by the end of 2017
Be an Australian citizen
Be prepared to relocate to Canberra
Successful candidates will be required to undertake a security clearance and provide evidence of their tertiary qualifications and Australian citizenship.
We welcome applications from graduates from all disciplines, particularly with degrees in:
Economics
Commerce
Law
Business
Public Policy
Science
Information and Communication Technology
Accounting
Even if you graduated a while ago you're still welcome to apply. There is no age limit for graduates. We recruit graduates on their capabilities rather than age. The department recruits a diverse range of people for our Graduate Development Programme and we value people who have work and life experience.
If your degree is from an overseas university it must be recognised by the National Office of Overseas Skills Recognition (NOOSR). If you have any questions in relation to your overseas qualification please contact NOOSR on 1300 636 079 or visit NOOSR's website at http://internationaleducation.gov.au.
We value people who have strong skills in:
Communication
Teamwork
Research and Analysis
Adaptability
Flexibility
Initiative
Judgement
And if you've also got post-graduate qualifications, work experience, political awareness and/or business acumen, it's a bonus!
How to apply
Online applications for the 2018 Graduate Development Programme will open on Wednesday 15 March 2017 at 9.00 am (AEST) and close on Sunday 30 April 2017 at 11.55 pm (AEST).
Commence your online application here.
You will need to fill out some personal information such as name and address, before telling us a little about your studies and work history.
There are five stages in our selection process, commencing with your application -
An online written application including a statement of claims against the selection criteria
Short-listing of applicants to determine suitability for interview
An individual interview with the selection panel
An online assessment activity for candidates to be interviewed
Offers to successful candidates
Online written application
Candidates will be required to answer some questions against the following four Selection Criteria.
Well-developed communication skills
Well-developed research and analytical skills
Ability to work effectively in a team environment
Personal qualities including adaptability, flexibility, initiative and judgment.
Follow us on Facebook to keep up-to- date with the graduate recruitment process and to receive helpful information preparing your application and interview tips..