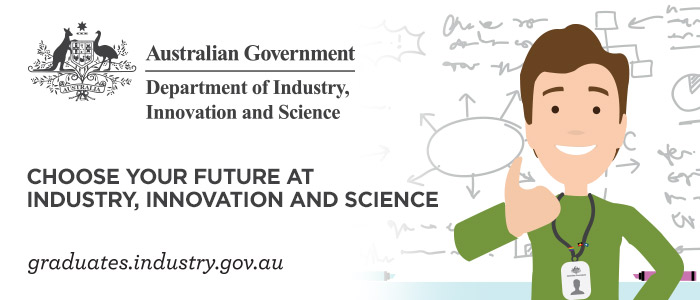 Frequently Asked Questions
Department of Industry, Innovation and Science
---
How will I know when applications open?
Applications will open in May 2019.  Send us an email – [email protected] – and we'll add you to our mailing list to let you know key dates.
How do I apply?
When applications open, go to our website - www.graduates.industry.gov.au/graduates - and following the 'Apply Now' links.
What's involved in the recruitment process?
Check our website for details on the application process, along with tips and tricks for applying!  To start with, you'll be asked to provide your CV (maximum 3 pages) and a copy of your current official academic transcript (it's ok if you haven't quite finished your degree!)
When will you be making offers to successful applicants?
We expect to make offers in August/September 2019.
Will the department help me relocate to Canberra?
If you are coming from interstate, we will pay for your relocation costs. In addition, we will also provide you with accommodation for up to 21 days (if required) in a serviced apartment while you find permanent accommodation.
When does the program start?
The program will start in early February 2020.
What support networks are in place?
You'll have a network of people who are here to support you and answer any questions you might have. This includes the Graduate Team who will be there for you all the way through the program, your workplace supervisors and you'll also be assigned a 'buddy', one of last year's graduates. Your buddy knows just what you're going through and they'll be happy to share their experiences and answer any questions as you go through the program.
What training is offered during the program?
The first year of our program includes extensive on-the-job learning, online and face to face modules to round out your core and professional skills. Some of the face to face modules you'll attend include: 
Foundations of Government 
Indigenous Cultural Awareness 
Evidence Based Policy Formulation and Advice
Evidence Based Program Development and Delivery
Administrative Law and Decision Making 
Economics for Non-Economists
In the second year of the program you will be supported to undertake study at the graduate level (a Graduate Certificate) in a field of interest to you and of relevance to us. This might include in strategic management, economics, data, or legal practice (the opportunities are endless!)
Are there Rotations or Placements?
Some departments call them rotations, some call them placements. Either way, essentially they are the same thing! Our program offers you career diversity and the opportunity to undertake four diverse work placements of approximately six months each across the two year program.
Where can I find more information?
You can find more information on our website www.graduates.industry.gov.au. You can also get in touch via phone (02) 6213 6501, email [email protected] or on facebook – www.facebook.com/industrygrads/