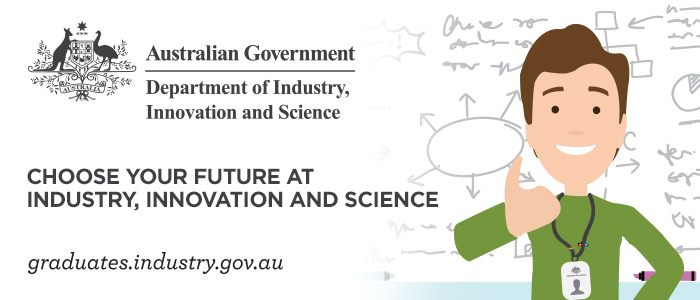 Generalist Pathways
Department of Industry, Innovation and Science
---
If you are successful in gaining a position in our Graduate Development Program, you may be placed in one of three different pathways. There are Generalist graduates, ICT graduates and Accounting graduates. All pathways undertake the same learning and development opportunities and will have exposure to different aspects of their field through rotations. You can apply for one or more pathways in the one application.
Generalist pathways are diverse and dynamic. Please see below under 'Your Placement options' for an idea of what to expect as a Generalist pathway graduate. Generalist graduates may also have the opportunity to undertake rotations in ICT and Finance roles, if they are available.
Your placement options – Generalist Pathway Graduates
Our department is so diverse that no matter what you're interested in, you're sure to find a work area that suits you. Our Graduate Development Program offers career diversity and the opportunity to test out several different work placements during the two year program. You could work in the area of economic and analytical services, policy development, program management, digital strategy & operations, legal, online engagement, marketing or media as well as delivering on the National Innovation and Science Agenda.