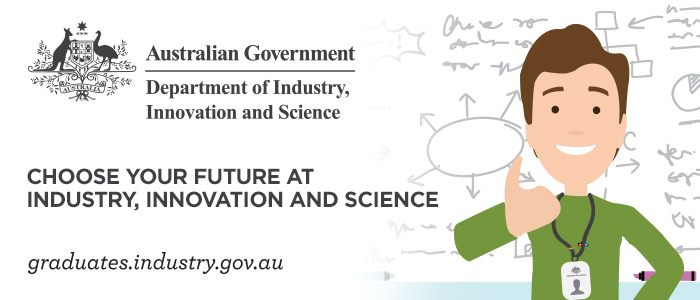 ICT Pathway
Department of Industry, Innovation and Science
---
If you are successful in gaining a position in our Graduate Development Program, you may be placed in one of three different pathways. There are Generalist graduates, ICT graduates and Accounting graduates. All pathways undertake the same learning and development opportunities and will have exposure to different aspects of their field through rotations. You can apply for one or more placements in the one application.
ICT graduates will participate in the two year Graduate Development Program with the Generalist graduates and be involved in a range of diverse technology projects throughout various stages of the two years. The formal training covers various public sector topics as well as a series of ICT Workshops facilitated by experts in their field.
During the program, ICT graduates will undertake four different work placements within the ICT Group with the possibility of a placement in another division, if an area requires the skills of an ICT graduate.