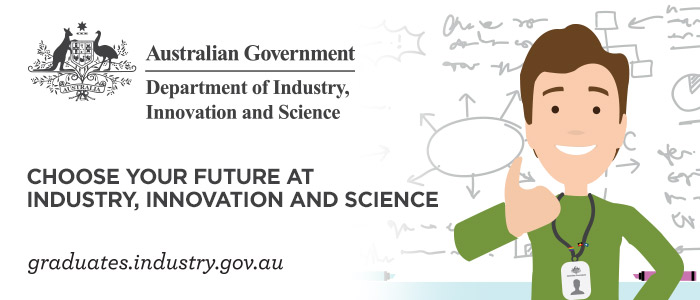 Overview of the programme
Department of Industry, Innovation and Science
Graduating this year? Already graduated? We want you!!
The Graduate Development Programme at the Department of Industry, Innovation and Science is a great way to start your career in the Australian Public Service. Our two year programme is based in Canberra and will commence early February 2018. You will be given a 2-day induction to introduce you to your graduate group and to the department and then, after some initial training, you will start work in your first placement.
Why choose us?
We are a high performing organisation committed to investing in our people. We have a strong focus on developing our staff and providing inclusive and dynamic workplaces. We offer a large variety of work experience with four rotations through the department as part of the programme. We provide extensive and relevant learning and development opportunities, a university qualification in your second year, and guaranteed advancement to the APS5 level on successful completion of the first year of the programme.
If you want to work for a department that works for Australia's future – choose your future at the Department of Industry, Innovation and Science!
The programme
The two-year programme is designed to give you the skills and capabilities required to meet the challenges of working in the Australian Public Service, including in policy development, programme management, project management and potentially as future leaders.
The first year of our 2018/19 Graduate Development Programme includes on-the-job training plus tailored and targeted learning and development opportunities. You will get the chance to attend specialised sessions aimed at graduates including:
Foundations of Government
Stakeholder Management
Cultural Awareness
Policy Development
Administrative Law and Decision Making
Strategic Thinking
Economics for Non-Economists
Want to make a real difference in your workplace? In your first year and as part of your development, you will undertake the Graduate Major Project. Major Project graduate groups tackle real-life policy issues which they then present to the department's Executive Board at the end of the year. The Major Project provides our graduates with exposure to industry stakeholders and executive. Findings from the Major Project are used to inform future processes and policy needs within the department. In the second year of the programme you will be supported to undertake either a Graduate Certificate in Management or Economics. The Graduate Certificate is currently delivered by University of Canberra's Institute for Governance and Policy Analysis.
Ok, I'm interested. What else should I know?
So you want to make a difference and you like what our graduate programme offers. Let us make your decision easy - if you choose your future with us, we will also offer you;
relocation assistance if you are located interstate
advancement to the APS 5 level at the end of the first year of the programme
four varied work placements
flexible work arrangements
dedicated departmental support
a previous graduate as a buddy
ongoing learning and development opportunities after the programme
Your graduate project
Our graduates get to work together in teams in their first year on a project of significant importance to the department. Our major projects tackle real-life policy issues and give you the opportunity to directly engage with the department's stakeholders.
As part of a high-performing self-managed project team, you'll:
develop recommendations to potentially inform policy and/or programme delivery
 liaise with local and interstate industry associations, businesses and skills and training providers
build your practical skills, knowledge of government and career development
be mentored by senior executives while undertaking your Major Project
present your findings to the Department's Executive
Topics from previous years have included:
Innovation and Gas Supply
Digital skills development in the department
Understanding the sharing economy
The rise of crowdfunding
Protecting Regional Branding in Australia and Overseas
Embedding scenario planning/ Foresight into the work of the department
Graduate Certificate
In the second year of the programme (2019), you will be supported to study and gain a Graduate Certificate in either Management or Economics as part of your capability development. Having a formal post-graduate qualification in the second year will enable you to have the theoretical knowledge as well as the capability to perform at higher levels for future public sector and leadership roles within the department and the Australian Public Service. You will be required to choose which of these two qualifications you wish to undertake at the end of the first year of the programme.
Testimonials
Here's what some of our grads have said about our Graduate Development Programme:
Working in a self-managed, diverse team on a highly complex topic allowed me to challenge myself and develop new skills and capabilities, as well as providing me with the chance to develop strong working relationships and make new friends." - Kate
"As a graduate, my skills and ideas have been valued in each rotation. I have been given ownership of tasks and projects within my team and provided with appropriate mentoring. My work has been diverse, relevant and interesting." – Simon
"The graduate Major Project challenged my team to address a specific departmental topic with innovative solutions. We have now been given a great opportunity to implement some of these solutions within the department." - Chris