2020 Graduate Program
Department of the Prime Minister and Cabinet
---
About the program 
The program is based in Canberra.
Rotations are completed at our national office and in our regional network.
You will be provided on-the-job training, and structured learning and development.
You will work on exciting projects and activities at the heart of government.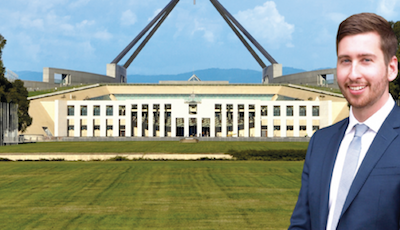 On the Job with Murray from the Department of PM&C
Murray Colless is an adviser at the Department of Prime Minister and Cabinet, he joined as a graduate in 2015.  Before that he  Rehabilitation consultant at WorkFocus Australia, after graduating with Bachelor of Psychology (Honours), University of Newcastle in 2012. 
Why the interest in PM&C? 
The department is a central agency, which meant that it offered exposure to work across a broad range of subject areas, including all Commonwealth portfolios. I also felt it would be a great privilege to be able to work in the Prime Minister's department. 
How does the grad program work? 
During my 10-month program I have undertaken two five-month rotations in different areas of the department and also engaged in shorter placements and training programs. 
When I first joined, I worked in the Network Strategy Branch of the Indigenous Affairs Group where I assisted with the launch of the new PM&C regional network. My second rotation has been in the Cabinet Division, providing support to the cabinet and its committees. I have also had the opportunity to work on the United Nations Framework Convention on Climate Change Taskforce and I recently undertook a four-week placement with the Alice Springs office where I lived and worked in remote Indigenous communities. 
Best aspects of the program thus far? 
The diversity of opportunities within the graduate program has been a definite highlight. I have done everything from four-wheel driving across the outback to assisting with cabinet meetings at the Australian Parliament House. 
What has been most challenging? 
There is a lot to get used to when you first start working in the public sector. Learning how the department operates and how it fits into the broader government took some time. Then there's the public service's obsession with acronyms; it is like learning a second language! 
The most surprising part?
To see just how much the issues of the day influence the work we do. It's exciting to see something on the news and then observe how it filters through to shape public policy and ultimately the work we do here. 
What did you do between studying and full-time work?
I travelled and worked at casual jobs in the US before returning to Australia to start my job hunt. I wouldn't change a thing – I didn't start applying until I was ready to work full time and my time overseas also gave me more experiences to draw on when applying for permanent jobs. 
Advice to current students?
  Don't be afraid of pursuing opportunities you're unsure about – you will be surprised where they can take you. Career hunting wasn't on my radar when I was at uni but it would have been useful, if only to help me decide what I wanted to do with my degree and to give me an idea of the opportunities I could apply for.