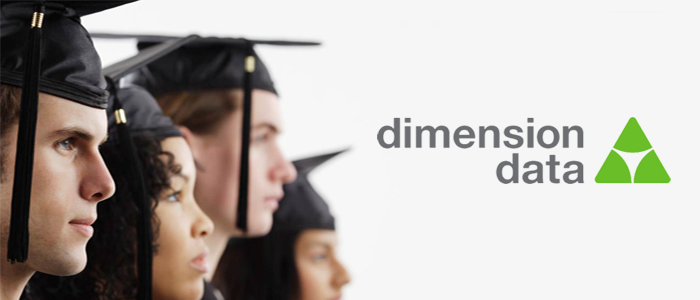 Dimension Data Graduate Accelerate Program 2017
Have you graduated? We are recruiting graduates to commence in 2017 who are enthusiastic, quick-thinking, proactive and adaptable people who want to live their passion for technology and have a rewarding career with Dimension Data.
The Dimension Data Graduate Accelerate Program
Dimension Data's Graduate Accelerate Program (GAP) provides an exciting and rewarding career path for our graduates. Our multi-faceted national graduate program supports our strategy of attracting, developing and retaining talent within our business. We are also one among the Top 75 Graduate Employers in Australia as per the recent survey by Australian Association of Graduate Employers (AAGE).
Here's what we are looking for:
Natural confidence
Resourcefulness and innovative thinking
Consistently good academic record  
A strong sense of discipline and integrity
Excellent communication and interpersonal skills
Leadership skills
Client centricity
We are interested in people with a passion for sales, commerce, and technology, targeting graduates with the following business degrees:

Bachelor of Business (IT)
Bachelor of Technology
Bachelor of Computer Science
Bachelor of Commerce
Eligibility
Applicants must:
Be an Australian citizen or hold Australian permanent residency status.
Have attained a degree (within Australia or overseas) within the last three years in one of the specified disciplines. Post graduates will also be considered.
If holding an overseas qualification, provide documented evidence confirming the qualification is recognised in Australia.
At Dimension Data we offer:
Opportunity to work with a Global Top Employer – now for the third year running!
Targeted graduate development sessions and resources to grow and develop your career
Networking events like the Quarterly Graduate Connect Sessions and the Annual Graduate Conference
Guidance, input and support from senior managers and executives
A development path tailored to your competencies and ambitions
Broad exposure to a variety of blue chip clients across most industries through focussed assignments
The opportunity to volunteer and give back to the community through our Heads, Hearts and Hands programme
For more information about Dimension Data, please go to www.dimensiondata.com
Please follow this LINK to apply for the Graduate Accelerate Program 2017 in Perth, we look forward to reviewing your application.
Search for Employers on GradConnection
---
Search for Universities on GradConnection