Equinix Internships & Entry Level Jobs
Equinix is the world's digital infrastructure company, operating 220+ data centers across the globe and providing interconnections to all the key clouds and networks. We are a fast-growing global company with 70+ consecutive quarters of growth and have presence in 26 countries.
Equinix currently has 0 opportunities.
Select the following options:
Past Equinix Graduate Hiring Statistics
If you're interested in working at Equinix, understanding when they have opened up applications for their graduate programs, graduate jobs and internships is helpful knowledge to have so you know when you might need to apply. Use the below information to see when Equinix hires graduates, but more importantly what graduate degree's and other student attributes they target for their jobs.
---
Job types
Entry Level Jobs (50%),

Internships (50%),
Work rights
Australian Citizen (100%),

Australian Permanent Resident (100%),

New Zealand Citizen (50%),
Past Equinix Internships & Entry Level Jobs
Check out some of Equinix's past jobs they have posted on GradConnection over the last 12 months. Understanding the details about what a graduate employer is looking for well before applications have opened can sometimes be the edge you need to secure your first graduate program.
---
Take on a project with high impact to the Strategic Sales team and work with some of the sharpest minds in the tech industry
Are you passionate about technology? Want to kick start your career within a leading global organisation? Our hands on role as a Data Center Technician might be the role for you.
Equinix is the world's digital infrastructure company, operating 220+ data centers across the globe and providing interconnections to all the key clouds and networks. Businesses need one place to simplify and bring together fragmented, complex infrastructure that spans private and public cloud environments. Our global platform allows customers to place infrastructure wherever they need it and connect it to everything they need to succeed. 
We are a fast-growing global company with 70+ consecutive quarters of growth. Through our innovative portfolio of high-performance products and services, we have created the largest, most active global ecosystem of nearly 10,000 companies, including 1,800+ networks and 2,900+ cloud and IT service providers in over 26 countries spanning five continents.
An internship at Equinix means you will collaborate on work that impacts the world and be surrounded by endless opportunities to learn new skills and grow in varied directions. We embrace diversity in thought and contribution and are committed to providing an equitable work environment. that is foundational to our core values as a company and is vital to our success.
Equinix is proud to be a winner in Great Places to Work – Australia as well as a Glassdoor 2021 Top Places to Work company.  We prioritize diversity and innovation, seeking to foster a corporate culture where everyone can say "I'm safe, I belong and I matter."
When you start your career at Equinix, you will be part of our global team--solving real-world business challenges and impacting the world's digital future. If you're a forward-thinking, hard-working student who's excited about acquiring knowledge of the digital ecosystem and experience its' exponential growth, join Equinix. You'll be at the forefront of innovation with constant opportunities to learn new skills and grow.
Internships & Clerkships
Equinix
---
The Equinix Global Internship Program offers wide-ranging opportunities across all our functions, where you will be given the opportunity to gain basic knowledge and understanding, working alongside our leaders. You will spend your time gaining practical work experience, learning from some of the sharpest minds in the industry, working in a culture that thrives on innovation and delivering results, while building solid relationships with industry leaders, and fellow students from across the globe.
Our programs run within the summer period plus we also have opportunities to join our global program that runs from May to September.   Each internship at Equinix offers the opportunity to work on a project that will provide impact to Equinix and span a wide range of roles from Sales & Marketing, IT and Engineering.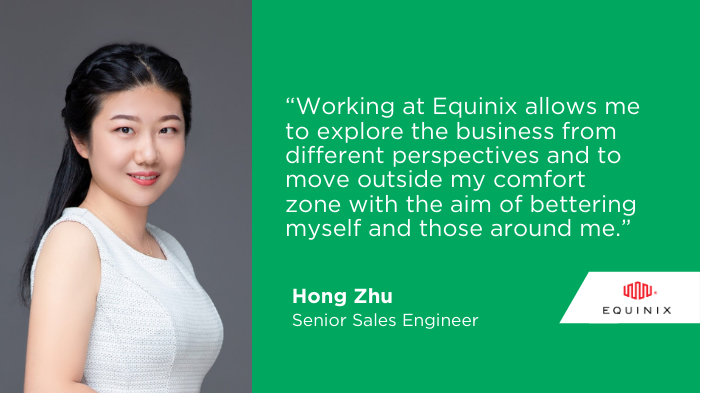 Hong Zhu, Senior Sales Engineer, joined Equinix as a data center engineer after she graduates from university. She has been promoted numerous times throughout her career at Equinix, from Field Engineer, Sales Transaction Coordinator to Sales Engineer. Read more about her career journey - https://careers.equinix.com/en-US/blogs/cro-blogs/life-at-equinix-building-my-career-in-the-digital-world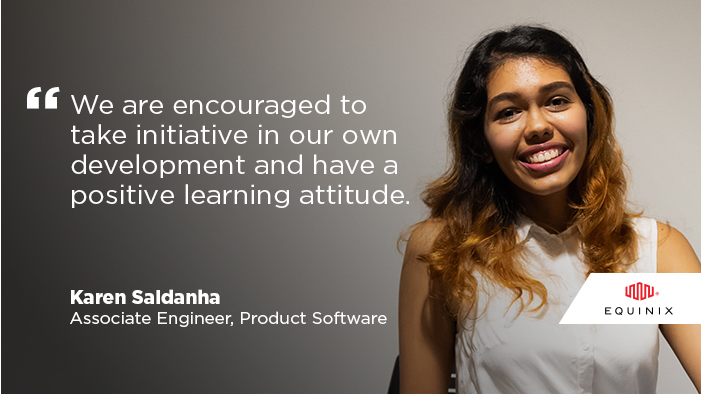 I usually start out my day catching up on Equinix news updates and reading through emails that I may not have seen yet. I spend most of my day completing the tasks assigned to me during each sprint which lasts 2 weeks. I can always reach out to team members if I have questions and they respond or reach out through calls when they are available. We also have team stand up meetings 3 times a week to interact with the team members and every member shares their progress update. We are encouraged to voice out our questions, opinions or offer solutions if we have any during team meetings.
Your health
Equinix employees receive excellent health care and counseling plans that vary by country to ensure the well-being of you and your family. We offer paid vacation leave and encourage community involvement year-round via volunteer opportunities.
Your family
Spending time with your loved ones and taking care of your family are important. Equinix provides a range of country-specific programs that ensure you have the resources needed to thrive and manage your family's needs.
Your future
Equinix offers different programs to help you build your financial security, make charitable donations and seek additional education. In many countries we also offer a flexible employee stock purchase plan.
Diversity & Inclusion

Equinix
---
While still early in our journey, our vision remains clear: for Equinix to be a culture where every employee, every day, can truly say "I'm safe, I belong and I matter," and for our workforce, at all levels, to reflect and represent the communities in which we operate. We know that teams that represent diversity of thought, identity, experience, culture and backgrounds generate the greatest innovation and business outcomes. We continue to identify new channels and on-ramps to connect underrepresented communities to meaningful opportunities at Equinix.  We are fully committed to advancing Diversity, Inclusion and Belonging (DIB) as a critical part of our business objectives and our global commitment to protect, connect and power a more sustainable digital world.