Indigenous careers

EY
---
Do you know what it takes to build a better working world?
EY is committed to increasing employment opportunities for Aboriginal and Torres Strait Islanders. It is our vision to embed reconciliation across EY to drive improved social and economic outcomes for Aboriginal and Torres Strait Islander peoples and enhance relationships between Australia's First Peoples and other Australians.
Once you start university, you will have the choice to join EY's Indigenous Intern Program, either directly, or through our collaboration with CareerTrackers. Whether you are in your first to final year, we offer an Indigenous Intern Program over both the summer or winter university holiday giving you the opportunity to join in the style that suits you.
Upon graduation, a number of our interns are offered a full-time graduate position where you can continue your career and professional development with EY. Our graduates gain broad experiences working with a variety of clients and are supported through coaching and professional learning. You may even decide to pursue post-graduate study to further your skills and qualifications.
As you progress in your career, you may also decide that you would like to join our national Indigenous Sector Practice (ISP) which operates across all service lines. The ISP is a purpose-led offering to generate transformative impact and endure positive outcomes for Aboriginal and Torres Strait Islander communities. The ISP works with and for Aboriginal and Torres Strait Islander peoples and communities and the government agencies, non-government organisations and corporates that support and work with them.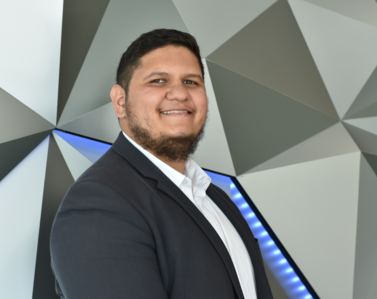 A day in the life of a Indigenous Intern
After completing his summer internship at EY, Phillip was offered a part-time role as part of the Technology Strategy & Transformation team whilst finishing his STEM degree. Phillip is currently finishing his Bachelor of Engineering (Hons) in Computer and Software Systems.
"Originally from Darwin, I moved to Brisbane to attend boarding school. Currently, I am studying a Bachelor of Engineering (Hons) in Computer and Software Systems. I started at EY through the Indigenous Internship Program and was lucky enough to obtain a position as a Consultant. My favourite part of my experience so far is being able to work closely with EY clients to help build resilience into their increasingly large and complex IT systems, applications and infrastructures. My EY Technology teams and the Indigenous Sector Services have been extremely supportive and accommodating. They not only understand my work, social and university commitments, but they respect them. The life of a Consultant is both challenging and rewarding. My advice to those who are considering applying would be to remain open, humble and don't be so hard on yourself."
EY Indigenous Sector Practice
By joining EY, you have the opportunity to share your knowledge, lived experience and understanding of the issues surrounding Aboriginal and Torres Strait Islander communities and organisations, in a role and practice where you truly contribute to improved social, economic and cultural outcomes for First Nation's peoples.
Join the Indigenous staff network
Our Indigenous staff network gives you the opportunity to connect with other Indigenous people across Australia.
Be supported by an Indigenous mentor
Whether you join as an intern or graduate, you will be supported by an indigenous mentor, and assigned a buddy and a counsellor.
Be part of the CareerTracker Program
Whether you are in your first to final year of university you can join our Indigenous Intern Program directly, or through our partnership with CareerTrackers. This program offers you up to twelve weeks paid work experience per year throughout your university degree.
Applications always open
Applications for our Indigenous Intern or Graduate Programs are open all year round. Therefore whenever you decide you would like to join EY, we encourage you to submit an application and one of our recruiters will be in touch with you. Visit here to apply now.
Busting the myth
Developing excellent relationships and delivering effective business solutions requires people from many different subject areas – not just accounting or commerce. Our people have a range of degrees, including human resources, information systems, information technology, computer science, engineering, law, science, environmental studies, actuarial studies, economics, finance, maths, arts and psychology.
Be successful
At EY, you're encouraged to create a path that reflects your individual talents and aspirations. We assess your individual strengths and development needs and provide a tailored framework to advance your progress. We'll work with you to help you succeed professionally and personally EY and you Learn through our structured, formal programs. You'll be supported to achieve professional certification. Coaching will nurture you in your day-to-day work. Get feedback, counselling and mentoring from experienced people who can show you how to realise your talents and aspirations.
Feel included
In our inclusive work environment, everyone's opinion is listened to and valued. You'll be encouraged to build strong relationships across the world and seek diverse opinions. You'll gain perspective and insights that will help you provide better answers for your clients.
---