Tech Career in Software Development and Data Engineering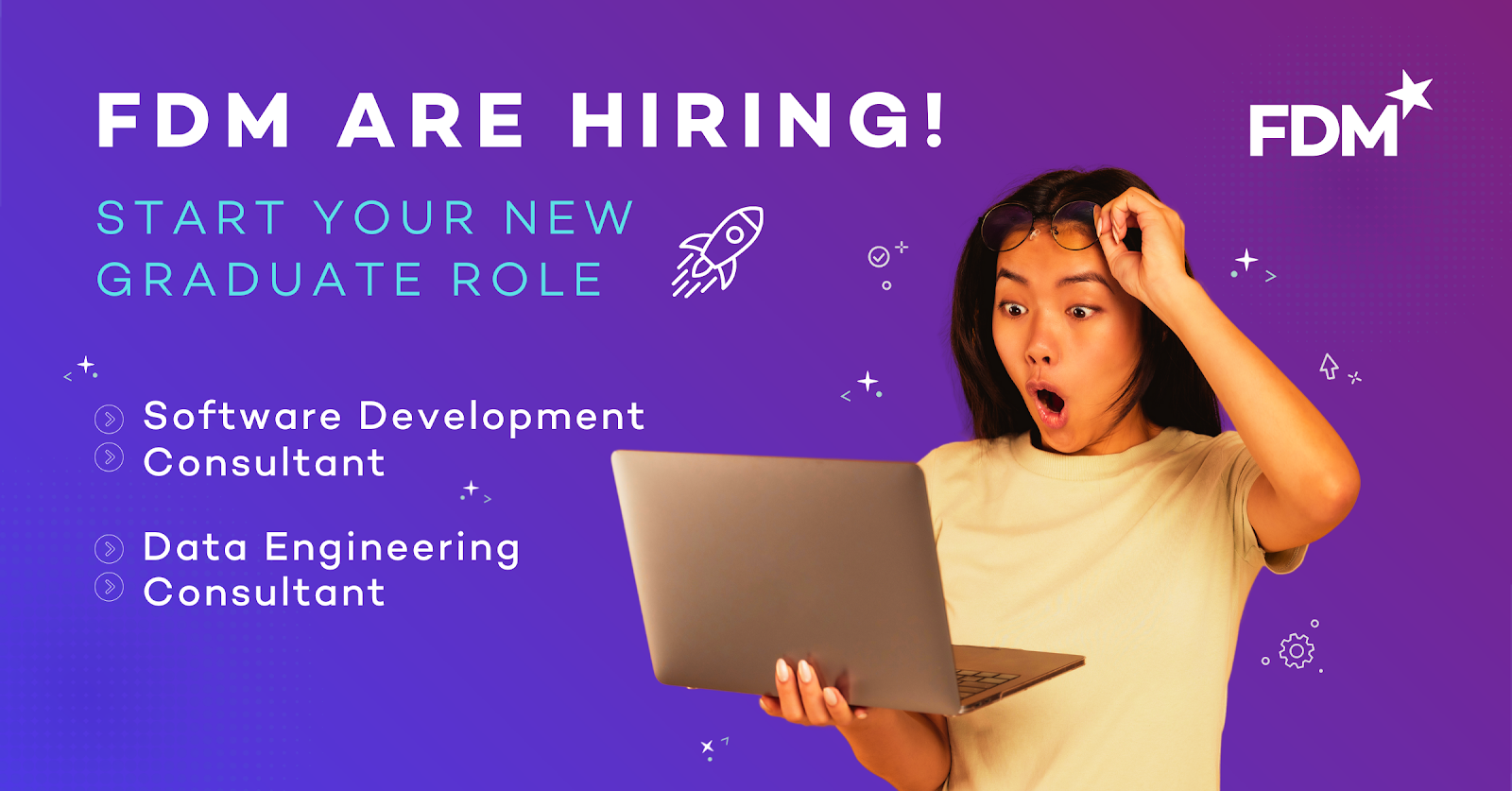 As everyone who has recently graduated, or are about to, are discovering – it can be a tough world out there.
If you've missed the latest round of graduate programmes, you may be wondering what options you have to enter the workforce.  
Give yourself a competitive advantage
The FDM Graduate Programme can give you a head start and open the doors to opportunities that could be very difficult on your own.
No matter what your degree, if you have a passion for tech, their award-winning training can prepare you for a career pathway in one of the industry's most in-demand roles. 
Software Developers 
Software Developers are the creative minds behind computer programmes. As an FDM Software Developer, you will use your coding and analytical problem-solving skills to deliver technology solutions for their top-tier clients.
This is a role for innovators and collaborators which involves understanding user needs, developing solutions that will solve a problem, provide entertainment or simply make life easier for its intended audience. 
Data Engineers 
Data Engineers play a crucial role in designing and creating data-centric scalable solutions, vital to helping organisations to drive growth. After completing training, you will apply everything you have learnt working on exciting projects, managing and interpreting data for industry-leading companies. 
FDM Consultants can progress to more senior data engineer roles or branch out into a wide selection of specialist technical roles, such as: Data Solution Architect, Technical Data Lead, Data Manager or Data Modeller.
The FDM Graduate Programme advantage
For over 30 years, FDM has been committed to helping thousands of graduates around the globe to fast-track their career development. 
👩‍💼 Fully funded, industry-leading training to get you job-ready in 6-14 weeks
⭐ Your CV gets a massive boost after 2 years working with their prestigious clients
🏎️ Recruiting year-round – put your tech career on immediate fast-track!
FDM are dedicated to your success. From the moment you apply, their experienced recruitment team will get to know you, establish your career goals, then guide and support you every step of the way. 
They look forward to being a part of your amazing tech career journey!
24-08-2023
Job type:Graduate Jobs
Disciplines:

Banking and Finance, Computer Science, Data

...

Work rights:

Hong Kong Student Visa, Hong

...

Locations:
Closing Date:24th Sep 2023, 3:59 pm
Search
Enter an employer or university you want to find in our search bar.