Ford Graduate Program
Ford Motor Company
---
Mobilise your career as a Ford Grad!
Product Development - Engineering
Do actual engineering.
As a Ford Grad you get to jump straight into real engineering roles that span the entire automotive engineering process. This can include CAD, CAE, component testing, project engineering, vehicle evaluations, and program and business management. Get ready to make a difference and see your work as an engineer come to life!
Applicants may have a background across all Engineering and Science disciplines.
Marketing, Sales & Service
Work with world-class products and services.
We are seeking creative and bold Ford Grads who think outside the box to join our Marketing, Sales & Service team. You will be rotated through our diverse divisions to understand how we work collaboratively together and with the broader business. This may include rotations through marketing and communications, digital and CRM, sponsorship and events, sales planning and forecasting, consumer experience, regional sales, fleet sales and customer and dealership support.
Applicants may have a background in Marketing, Communications, Arts, Psychology, Commerce, Business or Management disciplines.
Finance & Accounting
Make a real impact on the business.
Do you want a finance & accounting career that makes a difference from day one? Come join our Ford Grads finance team! The Finance team provides every facet of our operation with high quality financial assistance and business advice whilst at the same time playing a critical role in supporting the strategies and direction of the company. Accelerate into the world of finance business partnering with our Marketing and Sales, Engineering and other key teams to change the way we move. As a Finance graduate you will bring your strong technical skills from your university qualifications and then apply that knowledge in the real world.
Applicants may have a background in Finance, Accounting, Business or Commerce Disciplines.
Human Resources 
Join the leaders of culture.
As part of the human resources team you will experience a diverse range of career opportunities from strategically partnering with the business to being creative in the learning and development space! If you are ready to make a difference with your career in human resources then Ford Australia is the place for you.
Applicants may have a background in Human Resources, Arts, Psychology, Commerce, Business or Management disciplines.
Health, Safety and Wellbeing
Do you want a career that helps to prevent harm in the workplace, provides health and safety advice to key business leaders and enhances productivity and innovation through wellness initiatives? If so come and join our Ford Grads health and safety team! Our team supports the sales, marketing and vehicle engineering businesses in managing risks through a range of activities that include media events, engineering design, logistics, vehicle testing and prototyping. As a safety professional you will be partnering with key leaders to identify emerging risks that require innovative and enduring mitigation strategies. Not only will the role require the development of necessary health and safety technical acumen, but most critically is requires interpersonal skills that as a change agent can motivate the implementation of new processes and initiatives. This might be at our text engineering track, within one of our emissions labs, at a vehicle program launch, or in one of our warehouses. Ford of Australia continues to invest heavily in ensuring the health and safety our employees, and having the right business partners to facilitate positive safety outcomes is an important part of this success.
Applicants must have graduate qualifications in engineering or a health and safety discipline to apply for this role.
Our Professional Development Program
We drive excitement throughout your development by providing the best development opportunities which include:
A real job with real responsibilities from day one
Exposure to a variety of cool and challenging work assignments and projects 
Diverse rotation opportunities to develop your professional and technical skills
Targeted classroom training courses and state of the art online learning
Regular coaching feedback and individual development plans 
Formal buddy, shadowing and mentoring programs and unique exposure and opportunities to network with senior leaders 
Corporate responsibility, volunteering and community engagement activities
Fun social activities with fellow graduates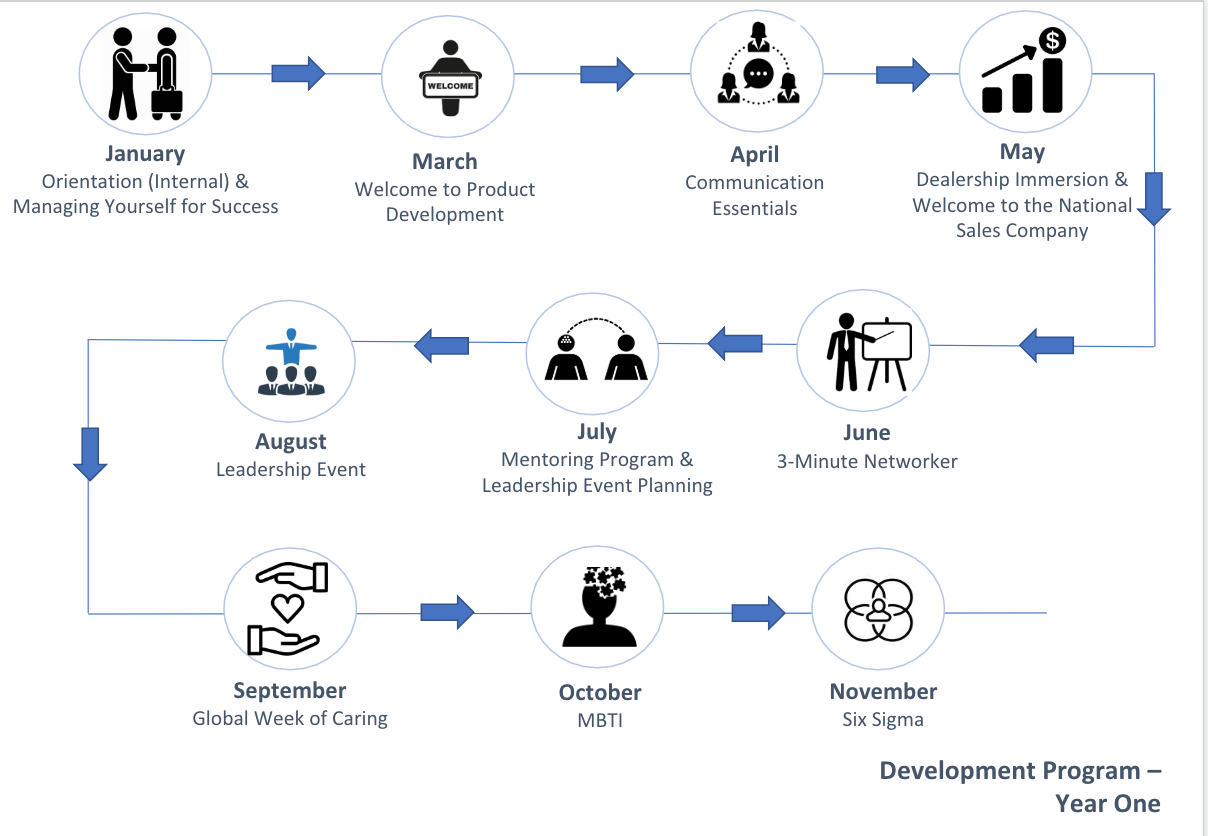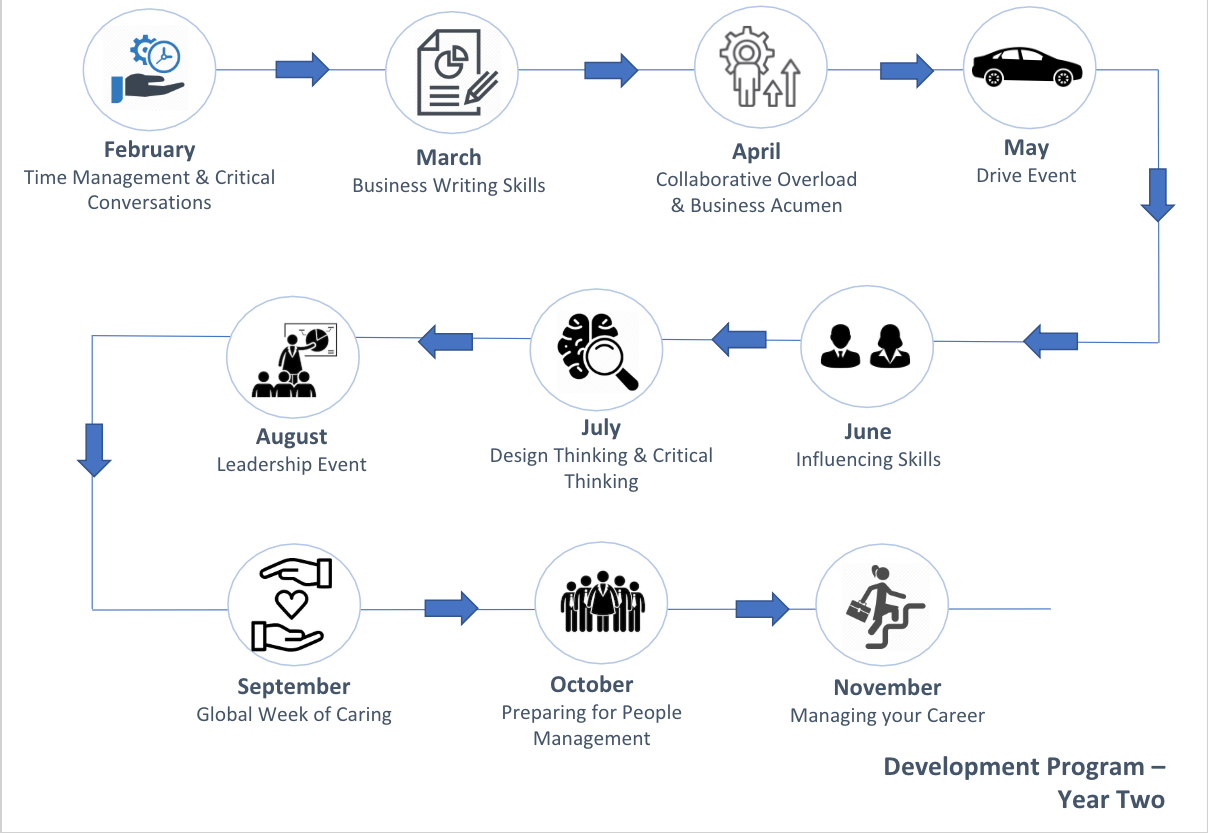 We believe rewarding and recognising our people is crucial to maintaining a fantastic culture, some benefits for our Ford Grads include: 
Additional 12 days paid leave per year
Discount vehicle programs
Health and wellbeing initiatives which includes an on-site gym at our head office and monthly wellbeing seminars 
Opportunities for business travel (depending on your role)
Social events and external networking opportunities
Recognition programs for taking initiative to go further and showing innovation attributes
Flexible working options