Fusion5 Graduate Programme - Information Technology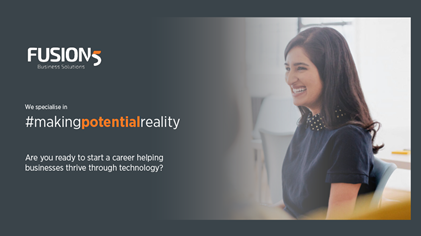 We have 600+ people in nine cities across Australia and New Zealand. And now, we're looking for a select few, high-caliber graduates to join us as part of our Graduate Program.
We're seeking a smart, enthusiastic graduates who are keen to embark on a career in business application consulting. You'll receive mentorship and training for an immediate hands-on role. This is an opportunity to develop highly sought-after skills.
No two days at Fusion5 are ever the same. The role is challenging and varied and allows you to work closely with a wide range of customers across a variety of industries and our friendly, open, and well-supported environment make it a great place to work!
What you need:
A degree in Commerce & Business, Information Technology or Computer Science
Have some experience with systems and processes
Be energetic and enthusiastic, and actively seeking a career in consulting
Hunger for knowledge with a great attitude
A strong professional service focus
If this sounds like the opportunity that you have been waiting for and you would like to become a Fusion5er, we would love to hear from you!
Please apply by 14 August 2022
#makingpotentialreality isn't just a hashtag - it's our mantra!
What happens next with my application?
Apply
If your application has been successful, you will be invited to a "Meet & Greet" session in our office where you will find out more about Fusion5, be able to talk to some of our people and get the "low down" on Fusion5. As part of our "Meet & Greet" session you will also have two 15 minute quick "chats" with some of our team to determine what you are interested in and where your aspirations might align to the graduate roles, we have at Fusion5,
After our "Meet & Greet" session we will then invite some graduates back for a more formal interview - this interview will be with the team that we see you most aligned too in terms of your aspirations and Fusion5,
Formal offers will be sent out around mid-September for starting in Feb/March 2023 (we may also have some roles that might start earlier than this).
05-08-2022
Job type:Graduate Jobs
Disciplines:

Business and Commerce, Computer Science, Information

...

Work rights:

Australian Permanent Resident, New Zealand

...

Locations:

Sydney, Brisbane, Melbourne

POSITION START DATE

Feb 2022 (approx)

Closing Date:14th Aug 2022, 1:59 pm
Search
Enter an employer or university you want to find in our search bar.