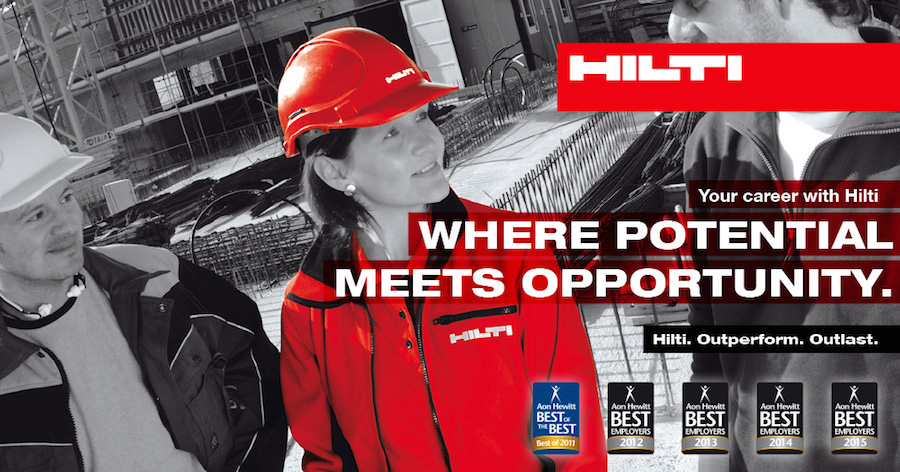 Discover a global company where you can develop your full potential.
Hilti at a Glance

Hilti provides leading-edge technology to the global construction industry. Hilti products, systems and services offer construction professional innovative solutions with outstanding added value.
With more than 27,000 team members, in more than 120 countries around the world, Hilti excels through outstanding innovation, top quality, direct customer relations and effective marketing. Two-thirds of our team members work directly for the customer in sales, marketing and engineering. 
Mission Statement & Values
"We passionately create enthusiastic customers and build a better future!" 
We do this by living our values of integrity, courage, teamwork and commitment. This forms the basis for Hilti's unique corporate culture and is also the foundation for our long-term financial success.  Hilti team members are from a diverse background, receive ongoing development and support, work in a dynamic and flexible environment and are entrusted with responsibility to act like entrepreneurs to ensure our business grows.  Watch the video below to see how our Global CEO describes our culture as a combination of a high performing culture and a high caring culture.
Worldwide recognition as a "Great Place to Work" and local recognition as "Best Employer"
Great Place to Work® Institute named Hilti as the 15th World Best Multinational Workplace, from among 6,200 participating companies. Being the top-most construction manufacturer to gain this honour underscores our commitment to nurturing the best talent in the industry.
In Australia, Hilti has won Aon Hewitt's Best Employer award 5 years in a row (2011, 2012, 2013, 2014 and 2015).
In Asia, Hilti has been regionally accredited Aon Hewitt Best Employer in Asia Pacific 2013.