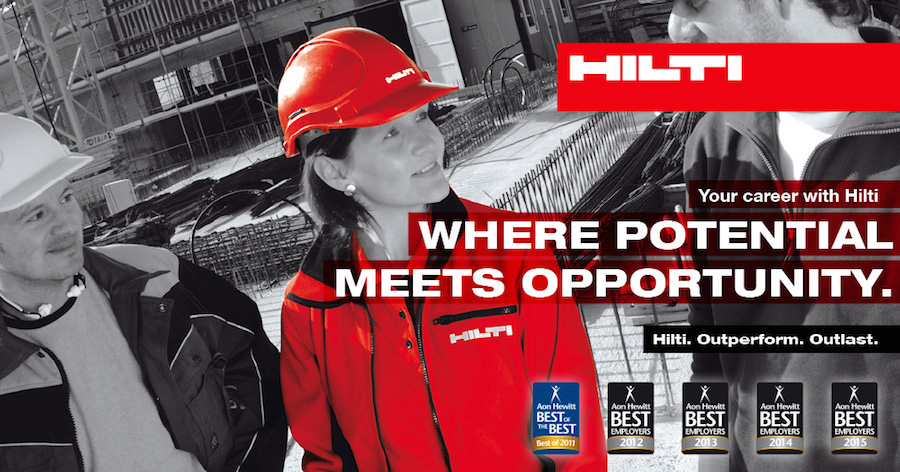 Where Potential meets Opportunity
Hilti
Hilti's Graduate Accelerated Leadership Track
Hilti offers outstanding career opportunities in one of the world's most successful companies in the construction industry. Learn about what makes a global company successful, and build a career towards a Leadership position with one of Australia's Best Employers. 
Are you ready to fast track your career development?
Our Graduate pathway offers the chance to:
Start your career in Hilti's most pivotal role, learn from the ground up as an Account Manager in the sales team to learn the fundamentals of our business
Take control of your own profit and portfolio of customers and devise your own business growth strategy
One of Hilti's talented leaders will be close to coach and mentor you and oversee your development
Attend regular Product training and launches, Strategy and Business Development workshops
Take on an international strategic business project on the Talent Advancement Program
Be exposed at an early stage to Hilti's Executive team, diverse management team and International Leadership Teams
Progress your career into other areas of the business as you demonstrate your learning agility, passion for people development, strategic thinking capacity and drive to outperform.
Other Benefits of Working with Hilti
Competitve salary, bonus structure, fully maintained motor vehicle, laptop and phone  (tool of trade as an Account Manager)
5 weeks annual leave
Award winning workplace culture with strong strategic business focus on diversity and flexibility