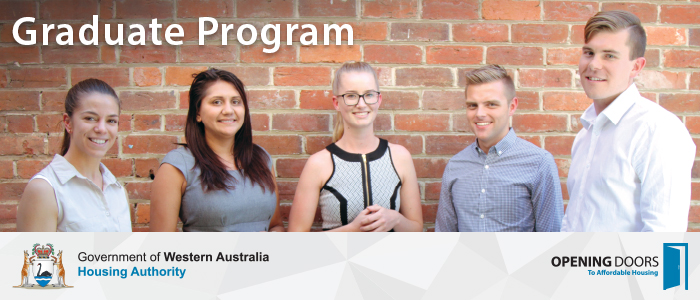 About the graduate development program
Department of Communities
---
Locations: Perth
The Housing Authority is a major provider of affordable land and housing across Western Australia, making a substantial contribution to the state's economic and social well-being. We span numerous areas of the housing industry including – commercial land development, the supply of Social housing, property management, housing construction and sales. We work in close collaboration and partnership with the private, government and not-for- profit sectors to find new and improved ways to increase the supply of affordable housing in Western Australia. And you can be part of this success!
Our Graduate Development Program provides recent university graduates with opportunities to work with experienced professionals on multi-million dollar projects in the Western Australia housing market.
During the two year program, peer support and a dedicated mentor will help you transition from study to employment within the Western Australian Public Sector.
Applications for our program generally open in late July or early August for a February start. If you would like to be notified when applications open, please register your interest by emailing [email protected]
Your Development
First Year
During your first year, you will complete four rotations of three months in different areas of the Housing Authority, building an extensive knowledge base and diverse skill set. You will participate in the Public Sector Commission's Graduate Future Leaders program as well as other structured and on the job training.
Second Year
In your second year, you will use your networks and experience developed during your first year to obtain rotations in areas of your own choosing. Your leadership capabilities will be further developed through the Housing Authority's internal Foundations of Leadership course.
Throughout the program you will be supported by managers, mentors, buddies and the graduate program coordinator.
Program Rotations
The rotational program ensures each of our graduates have a unique experience, with opportunities to work across various business streams - including but not limited to: project management, strategic planning, policy analysis and development, regional and remote planning, strategic finance and economics, contract management, innovation programs and organisational development.
We hire graduates from all disciplines. The Housing Authority undertakes a diverse range of work and we are looking to recruit a mixture of talented graduates from a broad range of universities and academic backgrounds. Some of our previous graduates' degrees include commerce, psychology, arts, sociology, sustainability, business, anthropology, law, project management, urban and regional planning and architecture – to name a few!
Aboriginal and Torres Strait Islander Stream
The Housing Authority acknowledges Aboriginal People as the Traditional Owners of the country that we live, work and travel on in Western Australia, and pay our respects to the Elders both past present and into the future.
Each year, we dedicate two graduate positions for recent Aboriginal graduates.
Our Aboriginal and Torres Strait Islander graduate program is designed to provide both professional development and cultural support to recent Aboriginal graduates, while they work with experienced professionals on multi-million dollar projects in the Western Australian housing market.
The Aboriginal and Torres Strait Islander stream runs in conjunction with our generalist program.
Please see the Graduate Program page for full details and information.