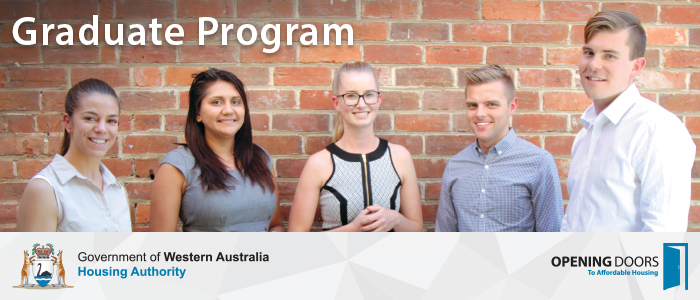 Requirements and how to apply
Department of Communities
---
What you need to know
Our culture & values
"We have broad responsibilities that our clients give us and it's our independence and rigour that they come back for. We are guided by the fundamental principle that our clients are crucial to the economic wellbeing of our organisation and our employees."
-- Quote from the A/CEO, Paul Whyte
What does the Housing Authority look for in a graduate?
We encourage applicants for our graduate program from all disciplines. We're after graduates who: 
Enjoy a challenge and who work hard to achieve goals
Can communicate with a wide range of people in different situations
Use initiative to identify problems and develop solutions
Can research, analyse and present findings in a concise way.
Degree/Disciplines
We recruit graduates from all disciplines, but we particularly welcome graduates of: TBC by Mgr Workforce Development
Project management
Human resources
Economics
Social Policy
Internal Relations
Political Science
Organisational Psychology
Behavioral Science
Politics
Construction Management
Mathematics/statistics
Accounting
How to apply
Applicants are requested to apply online via the JobsWA website.
You will need to supply:
A comprehensive resume
A written submission
Names and contact details of two referees (preferably work or academic)
A copy of your Academic Record and evidence demonstrating your Bachelor Degree (or higher), was completed in this, or the previous calendar year, or will be completed by the end of this calendar year.
Intakes
Applications for our program generally open in late July/early August for a February start.
If you would like to be notified when applications open, please register your interest and details by emailing [email protected].
Eligibility
To be eligible for the Graduate Development Program you must:
Have a Bachelor degree or higher, that will be completed by the end of this calendar year, or has been completed this year or in the previous calendar year and
Be an Australian citizen or have permanent residency status in Australia for a permanent appointment to the Western Australian public sector. Alternatively you may have documentary evidence (i.e. working visa) of your entitlement to live and work in Australia for the duration of the full program (two years) prior to applying.
If you are successful, you will also need to provide a National Police Clearance before you can commence work. The Housing Authority reserves the right to withdraw the offer of employment where an applicant possesses a conviction that Housing considers to be at conflict with their employment.
Eligibility for Aboriginal and Torres Strait Islander Stream
To be eligible for the Aboriginal and Torres Strait Islander Stream of the graduate program you must:
Identify as of Aboriginal of Torres Strait Islander descent; and
Have a Bachelor degree or higher, that has been completed within the past two years before applying for the program, or will be completed before the start of the program (February for the yearly intake)
Position locations
Rotations are generally located at the Perth CBD and Regional Offices within the Perth metropolitan area.
Further information
Please refer to our FAQ page for Graduates: www.housing.wa.gov.au/careers/graduatedevelopmentprogram/faqs/Pages/default.aspx
We also encourage graduates to seek out junior roles at Housing! You can view our current vacancies here please review the selection criteria make sure you meet all requirements before applying.
We look forward to receiving your application!